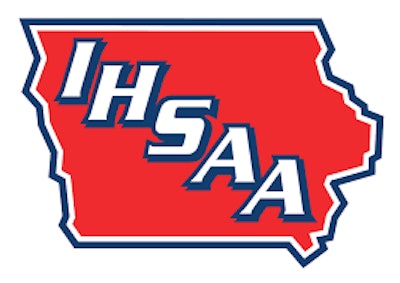 The Iowa High School Athletic Association wants to consider socioeconomic factors when scheduling high school football games next year, potentially impacting 40 or so different schools.
As reported by CBS affiliate KCCI in Des Moines, a formula has been created to configure what classification a school may fall into. Each school will factor how many kids are enrolled at the school — their so-called BED enrollment figure — then take the percentage of those kids who receive free or reduced lunch and multiply that by 40 percent. That number is subtracted by the BED enrollment to give the school its classification number.
The proposal must still be voted on by the state's athletic directors, but some have already voiced their openness to change.
"If you look at football scores, oftentimes the scores are very lopsided. Some schools have even not been able to complete seasons due to injuries and low numbers," Hoover High School athletic director Jacob Burke told KCCI.
Brad Rose serves as athletic director for Valley High School, which has a large percentage of free and reduced lunch recipients, but he would rather remain in the 5A classification. He told KCCI that nearly 40 percent of Valley's students receive lunch assistance and "that could knock us down, but I don't think it would. I've looked at it. It would be interesting. We would petition to play up if it happened to us. We would stay up in the large class if we could,"
According to the Des Moines Register, the IHSAA's Board of Control approved the recommendation, for football only, on Monday. If approved by all IHSAA member schools — voting will be conducted by email Dec. 16-22 — the amendment would then be submitted to the Iowa State Board of Education for approval.
If approved there, the new model would go into effect starting in the 2023-24 school year.
"Our schools have asked us to consider socioeconomic factors in classification, and the IHSAA, after much study and discussion, is pleased to offer such a strategy," IHSAA Executive Director Tom Keating said in a statement, as reported by the Register.
The IHSAA has had many internal conversations about classification over the last several years. The 40 percent free- and reduced-price lunch model was the first idea that proposed an adjustment to a school's enrollment figures, the IHSAA said. Currently, classifications for all sports, both through the IHSAA and Iowa Girls High School Athletic Union, are determined solely using school enrollment figures.