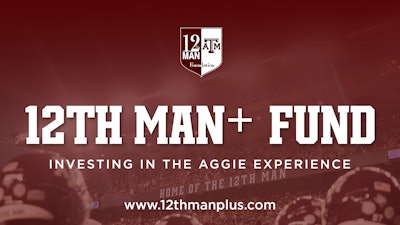 The NCAA sent a memo to member schools Monday addressing the limits of their name, image and likeness involvement, seemingly triggered by a first-of-its-kind NIL initiative announced by Texas A&M two weeks earlier.
In the short email obtained by Sports Illustrated, NCAA executive vice president of regulatory affairs Stan Wilcox reminded administrators that the association's current rules prohibit a school from compensating athletes for NIL, including "entities acting on behalf of the institution." The memo also expressly stated that schools are prohibited from providing assets to "entities engaged in NIL," such as priority points to stadium seating and access, Ross Dellenger of SI reported.
On Feb. 15, Texas A&M's 12th Man Foundation announced the creation of the 12th Man+ Fund, an NIL initiative that allows donors to contribute to the fund, which then distributes payments to athletes. It is believed to be the country's first NIL approach whereby a school's official booster organization is so closely involved to NIL transactions.
NIL collectives are normally kept completely separate from a school's athletic department and its fundraising arm, according to Dellenger, who wrote, "Donations to the 12th Man+ Fund, like those to the 12th Man Foundation, are tax-deductible and earn benefits such as priority points, the foundation's announcement said. In satisfying the NCAA's policy for a quid pro quo, athletes are paid by 12th Man+ to promote the foundation itself through social media posts and appearances."
Texas A&M athletic director Ross Bjork told SI this week that the athletic department's compliance arm had cleared the initiative, and that A&M notified the NCAA and the Southeastern Conference before announcing it. However, notification alone didn't amount to a blessing from either governing body.
"Texas A&M notified the NCAA that an NIL-related announcement was upcoming," NCAA spokeswoman Meghan Durham says. "However, the NCAA did not review or approve any concept prior to the announcement."
Proponents of the A&M model argue that school's should have more oversight of NIL deals. According to Dellenger, officials from multiple SEC athletic departments are exploring the concept of running their NIL operations through their fundraising arms.
"This is going to be the way we all do it eventually," one school athletic official told SI. "What does that mean for collectives? Maybe they go away."