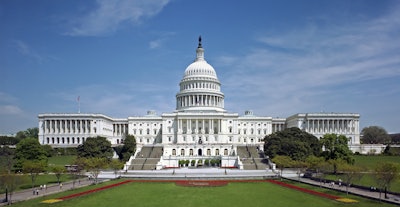 A draft of a bill that would regulate name, image and likeness at a federal level was shared with CBS Sports on Tuesday.
The discussion draft of the bill, shared by Rep. Gus Bilirakis (R-Florida), would aim to establish a federal regulatory NIL body, CBS Sports reported. The Fairness Accountability and Integrity in Representation of College Sports Act (FAIR College Sports Act) would preempt all existing and future state NIL laws, a limitation that the NCAA is asking Congress to address.
Bilirakis is a member of the House of Representatives' Energy and Commerce Committee. In that role, he is chairman of the Subcommittee on Innovation, Data and Commerce, which has already conducted two NIL hearings, CBS Sports reported.
In addition to creating a federal regulatory body to address NIL, the suggested legislation would:
Protect athletes' rights to earn NIL compensation and sign with agents. (The NCAA allows for a limited scope of NIL benefits and currently allows athletes to have agents for NIL marketing purposes only.)
Ban "pay-for-play" by prohibiting boosters, collectives and other third parties from "offering inducements to attend or transfer" to specific institutions.
Require registration within 30 days for agents, boosters and collectives when NIL deals are signed.
Good afternoon, (college) sports fans!https://t.co/U3jRWRUDcJ

— Chris Krepich (@chris_krepich) May 23, 2023
Legislation would not address health and medical benefits for athletes — as contained in other proposed Congressional bills — nor would it address athletes' potential employee status nor establish liability protections for schools or the NCAA itself. House sources said such protections would be out of the body's jurisdiction at the moment, according to CBS Sports. NCAA president Charlie Baker has been seeking a limited protections for the association to control NIL deals.
The proposed regulatory body would be named the U.S. Intercollegiate Athletics Commission, or USIAC, and charged with overseeing NIL, including setting rules, enforcing the rules and providing guidance to athletes and collectives on the NIL process. The USIAC would basically stand as a clearinghouse for NIL deals, though it would not be allowed to "fix athlete student athlete compensation."
"It is Congress' responsibility to establish a clear set of rules so our young people are protected, opportunities for them are promoted, and amateur sports of all kinds are preserved. Our goal is to ensure that NIL deals are transparent and fair, while protecting the integrity of college athletics," Bilirakis said, as reported by CBS Sports. "I am intent on following a deliberative process that is open to more recommendations so we strike the delicate balance of preserving the ability of college athletes to profit from their own NIL while maintaining the amateur status of all college athletes.
"I am confident we can create a system that is fair, transparent, and beneficial for all."
The subcommittee held two bipartisan hearings in September 2021 and late March. There will be a comment period with the subcommittee receiving stakeholder feedback on the draft. Bilirakis' subcommittee has jurisdiction over when a bill would move forward.