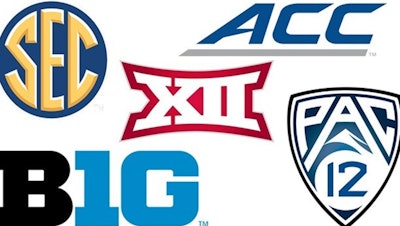 Public-school athletics departments combined for more than $2 billion in operating revenue in both the Southeastern and Big Ten conferences during their 2022 fiscal years, according to analysis by USA Today.
The data come from financial reports the schools provide annually to the NCAA, and that USA TODAY Sports obtained in partnership with the Knight-Newhouse Data project at Syracuse University.
"The figures provide some stark illustrations of the disparities that already exist among the Power Five conferences," wrote Steve Berkowitz. "Those disparities seem almost certain to get even wider starting in the 2024-25 school year, when Big 12 titans Oklahoma and Texas will move to the SEC and the Pac-12 will lose UCLA and USC to the Big Ten."
When money from student fees and forms of institutional and government support is not counted, there was a $62.1 million difference between the median revenue generated by an SEC school and that generated by a Pac-12 school in 2022, Berkowitz reported, That year, only nine public schools outside the Power Five conferences had more than $62.1 million in total operating expenses for their entire athletics program.
In 2022, the SEC's 13 public schools combined for $2.17 billion in total operating revenue, a figure that includes money from student fees and forms of institutional and government support, while the Big Ten's 13 public schools combined for $2.04 billion.
The breakdown of revenue actually generated by athletics departments, which includes conference and NCAA revenue shares, looks like this:
SEC: $159 million, with a range of $203 million for Alabama, to $110.7 million for Mississippi State.
Big Ten: $147.1 million, with a range of $251.6 million for Ohio State, to $85.6 million for Rutgers.
ACC: $125.2 million, with a range of $151.9 million for Clemson, to $94.8 million for Georgia Tech.
Big 12: $106.9 million, with a range of $239.3 million for Texas, to $91.4 million for Oklahoma State.
Pac-12: $96.9 million. The top amount was $153 million for Oregon, which reported that total included nearly $13.1 million in the form of a one-time, non-cash gift: a video board that was part of a massive overhaul of the Hayward Field track and field complex, which hosted the 2022 track and field world championship. The lowest amount was $69.7 million for Washington State.
"The numbers for each Power Five conference showed a significant, expected rebound from 2021 amounts that were heavily impacted by the COVID-19 pandemic," Berkowitz wrote. "But when taking inflation into account, neither the combined revenue nor the combined spending of the 52 Power Five public schools in 2022 returned to pre-pandemic levels."