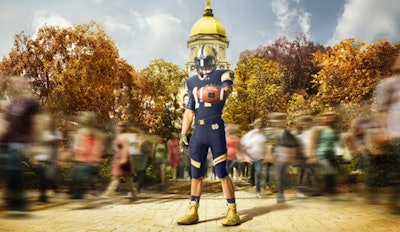 First Notre Dame installs synthetic turf at its football stadium and now this? Is nothing sacred?
Earlier this year, the Irish Athletic Department ditched adidas, and its goofy uniform designs, and signed a 10-year shoe and apparel deal with Under Armour. The deal is worth about $90 million over those 10 years making it the richest shoe and apparel deal in college athletics. It seems that for its first rendition of Notre Dame uniforms, Under Armour was determined to make a splash.

The school unveiled its new Under Armour duds on Tuesday. The good news for traditionalists is that the timeless home and away uniforms remain largely unchanged. Where things get interesting is with the alternate Shamrock Series uniforms the Irish will wear in their matchup against Purdue, which will be played at Indianapolis' Lucas Oil Stadium.
According to Under Armour, the Shamrock Series uni draws its inspiration from the famous golden dome that sits atop The Main Building on Notre Dame's campus.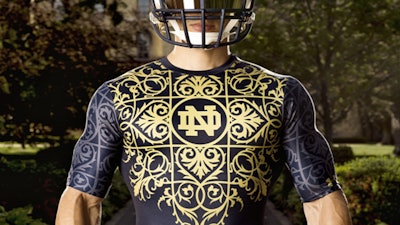 "When you look into a uniform it's one thing to just say 'What are your colors?' Slap it on a jersey and let's go," says Kevin Plank, Under Armour's founder and CEO. "Give me a story. You can show me a jersey all day long, but what is the story? The Shamrock Series is a great event for us to do that. It's a nod to those who really know Notre Dame."
And while those who "know" Notre Dame are probably accustomed to the school's classic uniforms, for one game per year, these probably aren't so bad.
RELATED: Notre Dame Announces $400M Stadium Expansion
RELATED: Fraud Scandal Further Tarnishes Notre Dame's Rep

RELATED: Opinion: Notre Dame Scandal Blame Starts at the Top