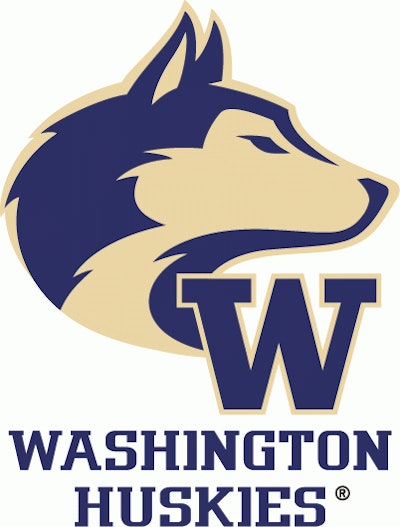 The University of Washington has suspended head football coach Jimmy Lake without pay for Saturday's Arizona State game, athletic director Jen Cohen announced Monday.
As reported by The Seattle Times, the suspension, which includes all football-related activity, stems from a sideline incident in Washington's 26-16 loss to fourth-ranked Oregon on Saturday night, in which Lake was shown on national television attempting to separate walk-on linebacker Ruperake Fuavai from a sideline scrum by hitting him in the facemask, then shoving Fauvai in the back when the player had turned to walk away.
Defensive coordinator Bob Gregory will serve as the Huskies' acting head coach until Lake's suspension expires Sunday.
"Our staff has spent the last 24-plus hours reviewing video of the incident, as well as speaking with Coach Lake, the involved student-athlete and several other student-athletes and members of the staff, and I have made the decision to suspend Coach Lake for next Saturday's game against Arizona State," Cohen said in a statement. "President (Ana Mari) Cauce, our Faculty Athletics Representative, Alexes Harris, and members of our executive staff are in agreement that while we do not believe that his actions were intentional or deliberate, we can have no tolerance for a coach interacting with a student in the manner Coach Lake did. We have high expectations of conduct for our coaches, and we will not shy away from those expectations."
Related: U. of Washington AD Investigating Coach's Sideline Shove Incident
On Sunday, UW fired offensive coordinator and quarterbacks coach John Donovan after just 13 games with the program. Wide receivers coach Junior Adams was elevated to interim offensive coordinator and play-caller, while quality control analyst Payton McCollum assumed the role of quarterbacks coach.
Lake has gone 7-6 in less than two full seasons. It's his first head coaching position in any capacity. His contract runs through the 2024 season. The 44-year-old coach from Walnut Creek, Calif. — who played defensive back at Eastern Washington — is scheduled to make $3.2 million in 2022, $3.3 million in 2023 and $3.4 million in 2024.
Given Cohen's assessment of a one-week suspension and the statement declaring that Cohen, president Cauce and faculty athletics representative Alexes Harris "do not believe that his actions were intentional or deliberate," it may be unlikely that Cohen and Co. eventually pursue firing Lake with cause.
According to Lake's contract, "just cause" includes — among other criteria — "any significant, serious or intentional act of misconduct by the Employee (Lake), including but not limited to, an act of dishonesty, theft, or misappropriation of University property, moral turpitude, insubordination, or act injuring, abusing, or endangering others." It could also comprise "any other conduct of Employee seriously and materially prejudicial to the best interests of the University of its athletics program, as determined within the reasonable discretion of the Director (Cohen)."
If Lake is fired for cause, all obligations of the University to make further payments or provide other consideration hereunder shall cease," his contract states.
In the more likely eventuality that Lake is fired without cause, the university would owe him the remainder of his contract — $9.9 million guaranteed — unless UW and Lake agree to a settlement on a more modest buyout, the Times reported.