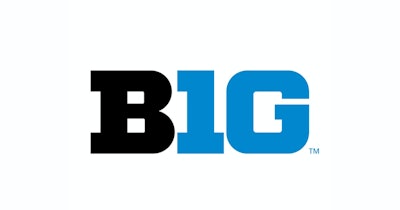 University of Michigan men's basketball coach Juwan Howard has been suspended five games and fined $40,000 for his role in a physical altercation after Sunday's Big Ten Conference game at Wisconsin.
Howard's suspension means the Wolverines will finish the regular season without their head coach on the bench.
"In collaboration with University of Michigan and University of Wisconsin, the Big Ten Conference has reviewed the postgame physical altercation between the Michigan Wolverines and Wisconsin Badgers men's basketball teams on February 20, 2022, in Madison, Wisconsin," reads a statement from the conference posted Monday. "It has been determined that there was a clear violation of the Big Ten Conference's Sportsmanship Policy by Michigan Men's Basketball Head Coach Juwan Howard. Additionally, the University of Wisconsin Men's Basketball Head Coach Greg Gard was in violation of the conference's sportsmanship policy."
Gard was fined $10,000 but not suspended
Related: Coaches, Players Clash After Michigan-Wisconsin Game
Howard swung at Wisconsin assistant coach Joe Krabbenhoft moments after engaging in a heated verbal exchange with Gard, who grabbed Howard's arm in an attempt to stop him from walking past in the postgame handshake line. By then, Howard had told Gard that "I'll remember that s---," in reference to Wisconsin calling a time out with 15 seconds left on the way to its 77-63 victory.
Gard, who likely was alerted to Howard's displeasure with the timeout earlier when Michigan committed an otherwise pointless foul with only seconds remaining in the game, claimed his intention in the handshake line was to explain that calling timeout reset the 10-second clock for his reserve players who had just checked into the game to bring the ball across mid-court against Michigan's pressure defense. Howard would hear none of it, instead twice shouting "Don't f------ touch me!" while pointing a finger in Gard's face and appearing to grab Gard near the collar of his pullover.
As a crowd formed around the two, Krabbenhoft came within reach of Howard, who struck him in the head with his open hand.
The situation deteriorated from there, with players and personnel from both teams in various stages of physical engagement and efforts to maintain separation, all while the band played "On, Wisconsin" and boos rained down from Kohl Center seating sections. CBS Sports cameras covered the entire scene before signing off its national broadcast, and a local ABC affiliate's on-court cameraperson captured audio of the exchange between Howard and Gard.
Three players — Michigan's Terrance Williams II and Moussa Diabate, and Wisconsin's Jahcobi Neath — will serve one-game suspensions effective immediately.
"Big Ten Conference coaches and student-athletes are expected to display the highest level of sportsmanship conduct," stated Commissioner Kevin Warren. "I am grateful for the partnership with Michigan Athletics Director, Warde Manuel and Wisconsin Athletics Director, Chris McIntosh. Our expectation is that the incident yesterday will provide our coaches and student-athletes with the opportunity to reflect, learn and move forward in a manner that demonstrates decorum and leadership on and off of the court."
In a statement, Michigan athletic director Warde Manual said, "Today's disciplinary actions underscore the seriousness with which we take the incident that unfolded on Sunday. Simply put, there is no room at U-M for the behavior we saw. We will learn from this incident as a department, work to improve ourselves while operating under a spotlight, and move forward in a positive light."
As part of that statement, Howard is quoted as taking a more contrite tone than he had in his postgame press conference in Madison.
"After taking time to reflect on all that happened, I realize how unacceptable both my actions and words were, and how they affected so many. I am truly sorry," Howard said in the statement.
"I am offering my sincerest apology to my players and their families, my staff, my family and the Michigan fans around the world. I would like to personally apologize to Wisconsin's Assistant Coach Joe Krabbenhoft and his family, too.
"Lastly, I speak a lot about being a Michigan man and representing the University of Michigan with class and pride, I did not do that, nor did I set the right example in the right way for my student-athletes. I will learn from my mistake and this mistake will never happen again. No excuses!"
Wisconsin athletic director Chris McIntosh followed the Big Ten's announcement with a statement of his own, which reiterated his already voiced opinion that what happened Sunday has no place in college athletics. He then added, "Neither Coach Gard nor his staff had any intent to provoke or incite any of what took place. I want to commend those on our staff — and student-athletes — who were trying to de-escalate the situation.
"Our staff has my complete support, as do our student-athletes. I consider the $10,000 fine from the Big Ten to be a 'Wisconsin fine' and not a 'Greg Gard fine.' Wisconsin Athletics will assume the responsibility for paying the fine.
"Our program is in the midst of the race for the Big Ten championships and my hope is that the focus can now be turned to our game at Minnesota on Wednesday."
As reported by The Sporting News, Michigan associate head coach Phil Martelli will run the team in Howard's absence as the 14-11 (8-7) Wolverines pursue a precarious NCAA tournament bid. He joined Howard's staff for the 2019-20 season after being fired by Saint Joseph's, where he was fired after 24 seasons.