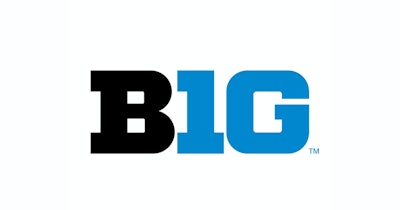 The University of Wisconsin's victory over Michigan in men's basketball Sunday was marred by an altercation between coaches and players during the postgame handshake lineup.
Michigan head coach Juwan Howard at first appeared reluctant to enter the handshake line and then seemed determined to walk past Wisconsin head coach Greg Gard as they crossed paths after the Badgers' 77-63 win at the Kohl Center. Raw postgame video shot on the court by ABC affiliate WKOW in Madison captures Howard telling Gard, "I'll remember that s---.
CBS Sports broadcast the game live to a nationwide audience and lingered to capture the ensuing melee — the announcers stunned by the "ugly scene" they were witnessing.
Things escalated when Gard attempted to stop Howard in the handshake line by grabbing for his right arm, at which point Howard said, "Don't f------ touch me! Don't f------ touch me!" as WKOW's video later revealed. The two coaches engaged heatedly for a moment, with Howard extending a finger in Gard's face. Soon coaches and players from both teams began pushing and shoving, leading to Howard, a former member of Michigan's fabled Fab Five recruiting class, throwing a hand at Wisconsin assistant coach and former player Joe Krabbenhoft, striking him in the side of his head and face.
Howard explained during a postgame press conference that he "didn't like the timeout being called" by Wisconsin with 15 seconds remaining in the game and the Badgers ahead by double digits. Gard said he called the timeout after a game official told him doing so would reset the 10-second rule that dictates how quickly a team in possession of the ball must bring it across mid-court. At the time, a ball had been knocked out of bounds in the backcourt, leaving Wisconsin, now playing its reserves, only four seconds to break what appeared to be man-to-man backcourt pressure by Michigan had Gard not called for the timeout.
"I thought it was not necessary at that moment, especially with it being a large lead," Howard said afterward. "I thought that wasn't fair to our guys. And so that's what happened."
Athletic directors from both schools have condemned what happened, and the Big Ten Conference says it is investigating the situation.
"I am aware of and watched the end of our men's basketball game," Michigan athletic director Warde Manuel said in a statement, as reported by ESPN. "There is no excuse for any of our staff or student-athletes to get into a physical altercation with others regardless of instigating factors. I reached out and apologized to [Wisconsin athletic director] Chris McIntosh and [Michigan] President [Mary Sue] Coleman has reached out to UW Chancellor [Rebecca] Blank to apologize for the totally unacceptable behavior. We will review the situation more thoroughly and work with the Big Ten Conference as they determine their disciplinary actions and will determine if further disciplinary actions are warranted."
McIntosh, appearing next to Gard at the postgame press conference, said, "There's no room, no space for conduct like that in any competition, much less a Big Ten competition. The Big Ten takes pride in sportsmanship. The Big Ten takes pride in acting with class. That didn't happen today.''
McIntosh claimed injuries were sustained during the fracas but wouldn't elaborate.
The Big Ten weighed in almost immediately, stating, "The Big Ten Conference is aware of a physical altercation involving Michigan Head Coach Juwan Howard at the conclusion of the Michigan Wolverines and Wisconsin Badgers men's basketball game. The conference is in contact with both member institutions and is currently assessing the incident. The conference will provide more information and will take swift and appropriate disciplinary action when it completes its review."
As reported by mlive, Howard, in his third season as Michigan's head coach, has had a history of displaying a temper. He was assessed two technical fouls in Michigan's previous game, Thursday at Iowa — one for arguing a call, another for accidentally picking up the ball during play — as well as one in the final minute of Michigan's game before that, for arguing with the officials. He was ejected from Michigan's Big Ten Tournament game against Maryland last season for an altercation involving Maryland coach Mark Turgeon. There was also an incident in the postgame handshake line after Michigan played at Rutgers earlier this season, with Michigan freshman Moussa Diabaté needing to be restrained.