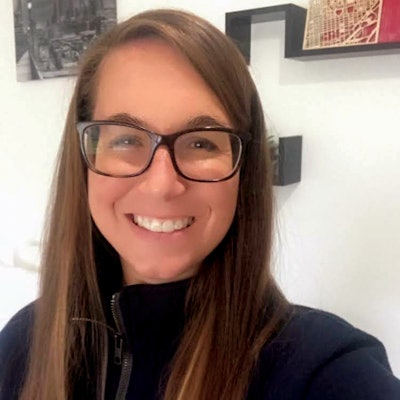 When the University of Pennsylvania searched for the first-ever mental health professional to serve its athletic department, it didn't have to look far. Liz Nobis, a newly minted clinical psychology Ph.D. from Biola University in Los Angeles, was already working since August in Penn's postdoc program as a member of its student counseling team. AB senior editor Paul Steinbach asked Nobis about the sharpened focus on athlete mental health nationwide and how she views her new responsibility of working exclusively with Quaker student-athletes.

Why now? Was there specific impetus for Penn wanting to create this position?
That is probably not a question I know the full answer to, but I can certainly express that it's been a position that has been desired for quite some time, and that they have been wanting someone to be able to work specifically within the athletic setting to try to prioritize the importance of mental health in conjunction with the importance of physical health, and try to change things in the system.

At what point in your life did you feel psychology was a point of particular interest for you and maybe a viable career path?
I had a little bit of a winding road in figuring out where I wanted to go. I got a master's of public health and was looking at things from a research perspective on a community level and ended up moving more toward individualized care. I worked within several nonprofit settings, in different areas on the east coast, in New Jersey and in Philadelphia, with different populations with high needs — marginalized identities, different socioeconomic backgrounds — and really saw the need for change on both a systems level, as far as things such as homelessness or racial inequities, health inequities, as well as the impact that that is going to have on an individual level, on one's mental health. It was in that direction where I recognized that if I wanted to play a role in impacting individuals' mental health, I needed more skills. That led to going back to school and getting a Ph.D. in clinical psychology, to be able to speak to and uniquely work with things such as trauma and depression and anxiety, and anything else that is part of human experience and is often not talked about and can carry a lot of stigma.

Were you an athlete yourself at any point, and is that even important to what you do now?
Yes. I think it's important in the sense of, while I don't have the exact experience of anyone I'm working with, I can certainly align with caring about athletics. Basketball was my first love, and that's turned a little more into running these days. With any subset population of college students, there's high pressure, high stress. Yes, there are the specific stressors unique to student-athletes, but we all share a lot of the ways in which we respond to stressors, regardless if it's a specific athletic stress or other types of stress. I think we've seen that in the pandemic, just the overall levels of stress and how that can impact everyone.

According to the NCAA's latest wellbeing survey of 9,800 student-athletes, less than half of both women's and men's sports participants answered that they agree or strongly agree with the statement that they would feel comfortable seeking support from a mental health provider on campus. What's your reaction?
It feels like a very important point that I think is, to some degree, understood in wanting to be part of the culture shift, in having a position like mine created. We know there is hesitation to seeking support, so we're wanting to increase access, to decrease stigma in individual athletes, from a team perspective, from coaches — really inputting shifts into the entire system. I think it's really informative and really important to pay attention to this statistic and what it means, and to use that information by having someone who is located in the athletic department, where it's not a walk across campus, where that might be a barrier to seeking access. Or to feel like someone gets it at a different level, who's more available and really trying to build the culture where people look out for each other, and coaches feel comfortable to refer to my role or me being around. Not only increasing psychoeducation about some of the mental health things, but also students feeling comfortable to come talk to me and talking at a team level of how we recognize some of these things. What things are allowed to talk about that maybe haven't felt allowed to be talked about?

What did Penn athletes do in the past? Were they coming to the counseling center that you're leaving now for help if they needed it?
Yes. And that would be pretty typical at the university counseling center level. All students have access to the university counseling center, and that would be pretty standard. There certainly are athletes who utilize the counseling center, and I will still be using, I imagine, the counseling center in ways of helping support student-athletes.

There won't be a requirement to see you personally. They could still go to the old model if they wanted, I assume.
Right. Certainly, if they have been seeing someone at the counseling center and want to continue to work with them, and that is what they agreed upon as a treatment plan, that is a wonderful option. Really, I think part of what my role is going to look like is connecting to the people who don't feel as comfortable doing that.

Have you been building trust to the point coaches can say, 'Go see Liz. She might be able to help you'? Have you had a chance to familiarize yourself with any of the coaching staff or athletic department administrators?
Yes. That's how I would say the bulk of my transition time so far has been spent — connecting with the coaching staff or having the one-on-one meetings. I came in right at the end of the season, so I haven't had too many meetings where I've met students at this point, but I'm starting to get connected. I think one of the most important pieces is being around in the spaces where there's some visibility with teams in athletic training, at practice or at events — really being seen as an integrated piece of the whole system.

The NCAA survey found mental exhaustion, anxiety and depression have seen little change since fall 2020 and remain one-and-a-half times higher than identified before the COVID-19 pandemic. However, student-athletes reported lower levels of hopelessness in the fall of 2021 than in the first year of the pandemic. What do you make of that?
I think I want to be cautious about making any particular interpretations or speculations about what a specific decrease from one year to another year means and looks like. From my interpretation, the data across the board for the most part look about the same from last year to this year. I think one way — and I'm sure there are plenty of other ways to make sense of the decrease in hopelessness — is that maybe by students hoping at the beginning of this fall that things were more 'back to normal' and, with a majority of students on campus, that things were kind of coming out of the pandemic in a way that they didn't in 2020, maybe some of that hopefulness of what life could look like, what this year could look like, what sports could look like, was there. I would be curious what the numbers would show out of the spring of 2021.

Sixty-five percent of women's sports participants and 58 percent of men's sports participants agreed or strongly agreed that they take mental health concerns seriously and that their teammates do, according to the NCAA survey. Along those lines, 56 percent of both men's and women's sports participants reported that they knew how to help a teammate experiencing a mental health issue. When asked whether they thought their mental health was a priority to their athletics department, 55 percent of men's sports participants and 47 percent of women's sports student-athletes agreed or strongly agreed. When asked whether their coaches took their mental health concerns seriously, 59 percent of men's sports participants agreed or strongly agreed, and 50 percent of women's sports participants did. Maybe this is overgeneralizing, but I read that as women expect more from their peers than men, but men appear to think their athletic departments and coaches are more supportive when it comes to mental health than women do. Is there anything to take out of that?
I do feel hesitant about drawing any of those particular conclusions with the smaller distinctions between genders and recognizing that, you know, this is kind of gender on the binary as it was being collected. I imagine additional research and additional studies on this might help flesh out some of those pieces. I think the hope in this position and the hope moving forward is certainly to increase all of those numbers — to increase the feeling of interpersonal support among peers, among teammates, certainly feeling that by coaches. I think the leadership on the team makes such a big difference in how individuals and teams see themselves, see what it means and what it looks like to ask for help. Those feel like important numbers that hopefully can be tracked on a longitudinal basis to see if things are shifting.

Perhaps my next question is unfair given what you just said, but I was curious if there are any differences in how the two genders see and cope with mental health. Is that fair to compare or not?
I think I definitely want to stay away from making any conclusions on that piece. I think what I can say, and this is true about college students in general as well as what we've seen in student-athletes, is that any of the additional potential layers of stress — being a student-athlete or any other of these pieces — can be really nuanced. Being a student-athlete can be a protective factor. Being in college can be a protective factor. And it can also be a stressor. Being in college can be a stressor. Being a student-athlete can be a stressor. Having and being on a team can be incredibly protective from a social support standpoint. It also could be incredibly isolated or unsupported, depending on the nuances of those teams. In speaking to the vulnerability of an individual person, specifics of each of those systems as well as identities, being on the queer spectrum, racial identity, marginalization, students who are reporting more family economic hardship, all of those things have a factor, too, in the overall picture.

You touched on the binary nature of the NCAA survey numbers. I don't think there's a campus in the country that has experienced gender fluidity more than Penn this past academic year, given the attention drawn by Lia Thomas and the impact that had on the athletic department and student-athletes, who were rather split in their support of Thomas as she advanced to the NCAA championships.
I actually don't feel qualified to even be able to speak on this piece, recognizing I wasn't in the athletics department at that time. While I was at Penn in student counseling — Penn is pretty decentralized. I think what feels important here, if in wanting to get a picture of kind of what things were like at Penn, is that students often have a multitude of reactions and responses, and maybe speaking with specific students or student-athletes could kind of guide that discussion in a way that I can't speak to.

One last set of numbers from the NCAA survey that I wanted to mention — it says that when contemplating a transfer to another school, 61 percent of women's sports participants and 40 percent of men's sports participants cite mental health, 56 percent of women and 34 percent of men cite conflict with a coach or teammates, 34 percent of women and 36 percent of men cite playing time. Now that the NCAA allows athletes to transfer once without sitting out a year, do you find it surprising that mental health is the leading percentage for both men and women in terms of their reason to transfer?
I don't know if I would say surprising. I think it feels encouraging in the sense of people thinking about their quality of life and paying attention to their mental health. I would want to know what goes into what individuals end up thinking about when they do say mental health. That's kind of a broad term. What are the nuances that people are considering when they're saying this? Would a reason I would be transferring be because of what my day-to-day looks like, how I end up feeling around a team or a coach, or is this related to the part of the student-athlete that's the student and the environment and culture at the school or the academic piece? It does feel important, specifically, that that quality of life and students feeling like they have the agency and the autonomy to make a shift toward hopefully something that will be a better environment for them. I want to make sure I'm also communicating in the conversation about mental health issues, what does intervention look like? Do these students, if they're thinking about transferring, feel like that's kind of their only way out to take care of themselves? Or are there other means of intervention where they're currently at? Does it feel like these are places they can have these conversations within their teams, within the university, within their social support network? Or do they end up feeling isolated and not being able to engage with where they're currently at, and needing to have an exit plan?

You use the term autonomy, and while some coaches have called the transfer portal chaotic, it seems like a good thing to empower student-athletes in this way so they can take control of their wellbeing if it means a change of venue is going to help them.
I think it's certainly fair to say that the more anyone feels autonomy and agency to make choices, whether that choice is staying with a team or transferring — and obviously there's consequences to any choice we make — the more we can feel in control of those decisions and feel that autonomy, those typically have better outcomes.

The NCAA last convened a formal task force on mental health in 2017, and though it updated its best practices in 2020, critics have said the organization has not done enough to prioritize athletes' mental health when it comes into conflict with issues such as practice time, coaching and compensation. Is there a mental health crisis among college athletes and, if so, is the NCAA doing enough about it?
I'm hesitant to speak on whether the NCAA is doing enough in the sense of I'm still getting my feet wet on what all of that means. What we do know is there are major concerns around student-athletes, for college students in general. That demographic, between 18- and 24-year-olds seems to have a particularly intensified response to the COVID pandemic. We can't speak to the adolescent statistics as much — because they haven't been collected for as long — in order to make some of those historical comparisons, specifically around teen anxiety or depression. I think we know that college student-athletes, as I mentioned earlier, can have a really unique set of intense pressures, both externally and internally, imposed to succeed not only in the classroom but in their athletic competition.

You've worked with general student populations and student-athletes. How do mental health concerns differ between those two groups?
Historically, the sports culture of toughness and fighting through pain can heighten stigma and impede help-seeking or seeking support — a view that mental toughness means I have to push through something, or it would be hard to talk about something. Talking about something would feel dangerous, or would feel like it's not going to be helpful. And what we largely know is the seeking of help through therapy, medication and access is largely helpful — talking about the things that maybe are unspeakable and not having a kind of private pain, which I think is often what we see, not only in student-athletes, but college students in general.

Do you think student-athletes were better equipped mentally to handle the pandemic?
It depends. In all of these conversations, I think it feels really nice if we had kind of some quick fixes or some easy answers. And I don't think that one is true. And the answer to the larger foundational pieces is that for some students, athletics could have been a way to channel some of the uncertainty of the pandemic, the unknowns, the extra time. And then there's a spectrum. You could be doing that in ways that have been really helpful your entire student-athlete career, and it can turn into too much if that is where all of the energy is going. Same thing for anyone. Maybe the habits or the ways of living and the ways of being that used to be helpful stop being as helpful. I think that the pandemic exposed a lot of what happens when all our systems are stressed.

Within a span of two months this spring, three Division I women athletes died by suicide — one a team captain, one an academic all-conference athlete in two sports, one had just been named her conference's player of the week. Outside observers may look at these women and think they're on top of their game. How could they be suicidal? What do you say to people who take that away from tragedy?
I think a response to tragedy in that way speaks to how sad it is to hold a picture of things from the outside, looking like everything is going well, and we don't know what is happening inside in anyone. We all have the capacity within particular environments, with a certain set of situations, to find ourselves in a position that we feel trapped, we feel isolated, we feel hopeless or helpless to change anything — things that we know are associated with warning signs for suicide, but we often don't know what is happening inside someone.

Subsequent to that, we learned that at least six University of California women swimmers have contemplated suicide based on the bullying of their head coach, widely considered the best women's swimming coach in our nation's history. If you learn through a one-on-one counseling session with a student-athlete that a coach is bullying team members to the point of suicidal ideation, what as a professional are you allowed to do about that?
This is where things can get complicated. In the professional therapeutic relationship, where confidentiality is of the highest priority and within the limits of confidentiality, being able to break that if concerned about someone's safety, I think, involves needing to think about things not only on the individual level of treatment, but also the prevention level. What does it mean to have conversations with coaches? Not naming any specifics from any athlete, but just trainings in how we interact and how we communicate and how the ways we communicate impact other people.

In terms of nationwide trends, are you aware that positions like the one you are assuming at Penn are becoming more common in Division I athletic departments?
That is an excellent question. From what's on my radar, the numbers are rising, but I don't know at what rate or if there are pockets within the country where that's been more prioritized versus other places. I do know at Penn that has been a priority, not only within student-athletes, but within other schools, whether that's a medical school or a vet school or a law school, of trying to have a mental health person embedded within different schools or different specific departments.

It must be hard to quantify success in your profession. How will you gauge how you're doing in terms of the Penn athletic department and its athletes moving forward?
I think success looks like decreasing stigma of paying attention to what maybe feels allowed, what feels normalized on all these different levels we've talked about — within individual athletes, within team conversations, within relationships to other team teammates, within relationships with coaches. And that in all of these pieces, even all of the articles that we've talked about, or plenty of other articles that show college mental health, or student-athlete mental health, there's a lot of different numbers that are provided. And so I think the way success is being looked at from this position is: Can we shift both of those arms — the prevention from the bottom up and the intervention, management and crisis prevention from other levels?