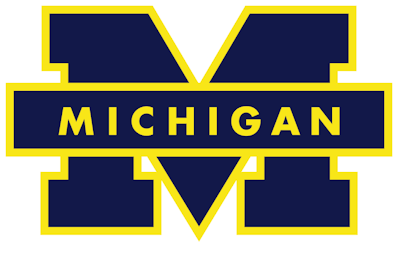 Three months after a commission released a report into allegations of misconduct against University of Michigan men's hockey coach Mel Pearson, the university fired Pearson on Friday and had his replacement tabbed two days later.
On Sunday, Michigan named Brandon Naurato, an assistant under Pearson, as interim head coach for the 2022-23 season.
Naurato is a Michigan native and U of M hockey alum who spent three years in player development with the NHL's Detroit Red Wings.
"I am honored to lead my alma mater and will give everything I have to what is the most storied program in college hockey," said Naurato, as reported by USA Today's WolverinesWire. "I want to thank Warde Manuel and our student-athletes for their trust and look forward to working positively with our talented coaching and support staff."
"We are fortunate to have someone of Brandon Naurato's caliber to lead our ice hockey team for the upcoming year," Michigan athletic director Warde Manuel said. "I had conversations with many individuals who care greatly about this program and appreciate the insight they shared. Brandon will do a great job leading the program, and I look forward to our student-athletes and staff benefiting from his leadership."
However, according to East Lansing-based sports radio station WVFN, Manuel wanted to retain Person and, in fact, extend his contract despite the investigation and subsequent 68-page report on Pearson and Michigan's hockey program completed in May by WilmerHale, a Washington D.C.-based law firm.
The independent third-party firm found that Pearson retaliated against players who raised concerns about issues within Michigan's hockey program, encouraged players to violate COVID-19 protocols, allowed for a toxic workplace against women, called a player a "Jew," and lied to the firm investigating him and his program.
Related: Report: U. of Michigan Hockey Coach Lied to Investigators
However, U of M regents and interim president Mary Sue Coleman had other ideas.
As reported by The Michigan Daily, last season was Naurato's only year behind the bench, far less experience than some other options for the interim job. "Throughout his career, Naurato has shown a knack for finding key information that others overlook. He notably tracked and discussed every power play goal in the 2017-18 NHL season to compare how they were scored, and he also analyzed the offensive output of the Red Wings during that same season," wrote Connor Earegood. "His writing background shows that he not only understands what statistics mean, but he can also tell their story. That will be key to passing those lessons on to players."
Naurato played four years at Michigan, from 2006-09, making the NCAA Tournament all four years. In 130 career games, he scored 32 goals and registered 32 assists, WolverinesWire reported. He helped the Wolverines to the CCHA Championship in 2008, which led to a Frozen Four appearance. He played four years in the pros, making stops at Stockton (ECHL), Toledo (ECHL), Port Huron (IHL), Fort Wayne (CHL), and Dayton (CHL).