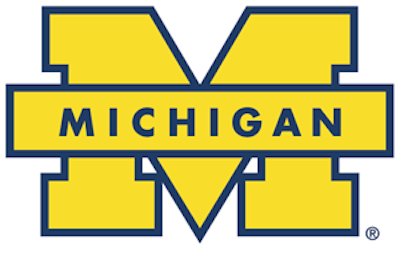 The University of Michigan fired linebackers coach Chris Partridge on Friday, a day after Jim Harbaugh accepted the remainder of a three-game suspension from the Big Ten Conference as punishment for the team's scouting and sign-stealing scandal.
The team did not disclose a reason for Partridge's firing, but according to The Athletic, two Michigan sources said the school believes Partridge interfered with the NCAA's investigation into the Michigan scandal, which had already brought the departure of Connor Stalions. Stalions is believed to have established a network of scouts to attend future Michgan opponents and steal their sideline signals..
Related: Report: Alleged Sign-Stealing Michigan Analyst Purchased Tickets at CFP Contenders' Games
Having been denied the sidelines in unbeaten Michigan's victory Nov. 11 victory of Penn State, Harbaugh missed Saturday's win at Maryland and won't be with the team this Saturday for Michigan's regular-season finale against rival Ohio State in Ann Arbor.
"The announcement that Michigan was dropping its legal challenge to the Big Ten's suspension was an abrupt about-face from the school's defiant posture in response to Harbaugh's suspension," wrote Austin Meek of The Athletic. "An industry source briefed on the investigation said new information continues to come to light through the NCAA's interviews with Michigan staff members, widening the scope of a scandal that was initially tied to a single staff member, recruiting analyst Connor Stalions."
Officials from Michigan are participating in those interviews, the source said, and learning information in "real time" as the NCAA investigation unfolds, Meek added. The Big Ten sought information from the NCAA before assessing Harbaugh's three-game suspension but has now stepped aside as part of Michigan's decision to drop its legal challenge.
"Although the Big Ten has closed its investigation, we are continuing to cooperate with the NCAA as it moves forward with its ongoing investigation," a university spokesperson said in a statement. "Consistent with our commitment to integrity, we will continue to take the appropriate actions, including disciplinary measures, based on information we obtain."
Partridge was in his second stint on Michigan's staff. An industry source said Partridge was one of the coaches who helped Stalions develop a role with the program during his previous stint at Michigan.