A third-party health club certification effort is afoot that could benefit club users and owners alike.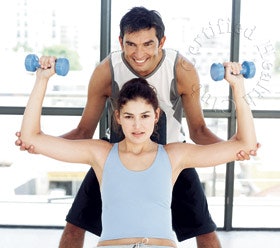 The American College of Sports Medicine's Health/Fitness Facility Standards and Guidelines, the object of some industry scorn through 16 years and three printed editions, is on the verge of gaining the ultimate measure of respect - wide acceptance as the basis of new national standards.

The third-party health club certification effort has brought together representatives of several organizations that sometimes don't see eye to eye on such matters - ACSM; the International Health, Racquet and Sportsclub Association; YMCA of the USA; the American Council on Exercise; and the Medical Fitness Association - as well as club owners and longtime industry stalwarts in the fields of insurance, medicine, risk management and academe.

Steve Tharrett, president of Club Industry Consulting in Highland Village, Texas, and the co-author of the ACSM standards, was in the ACSM delegation that two years ago took the first tentative steps toward health club certification by contacting NSF International (an Ann Arbor, Mich.-based independent organization that develops standards and certifies products for various industries). He says the nature of the third-party certification process "pretty much eliminates any chance that I or IHRSA would have to push the standards in a particular direction," pointing both to NSF's rules for standards development and the broad range of representatives sitting on the joint committee charged with crafting the document.

"It'll be better than the ACSM standards, even though I thought we did a good job with them," Tharrett says. "This will create one universal set of standards that will be good for the consumer and good for the club operator."

Many of the 22 joint committee members (NSF senior standards specialist Lorna Badman holds the 23rd seat) can boast experience with the process, having been involved with IHRSA's accreditation initiative targeting organizations that certify personal trainers. (As of this writing, 11 certifying bodies had successfully attained accreditation from the National Commission of Certifying Agencies; see "It's Getting Personal," July 2004, p. 52.) Some have been linked to the standards issue even longer; the initial delegation consisted of the ACSM standards committee put together by Tharrett and his Health/Fitness Facility Standards and Guidelines co-author James Peterson. To this group was added representatives of IHRSA to create an ad-hoc "task group," as Badman calls it, charged with looking at various areas of the ACSM document and squaring it with IHRSA's 1998 Health and Safety Standards. NSF then "took the standard and melted it down to the bare essentials, because the standard is supposed to have the minimum requirements," Badman says, adding of the joint committee, "It's a group that is willing to work together; there have been a lot of compromises made."

One need look no further than section 4.3 - "public access defibrillation (PAD) program" - of the NSF's draft document to find an area of intense negotiation. ACSM has long pushed for AEDs in all health/fitness settings, whereas IHRSA has recommended that health clubs consider purchasing AEDs at the same time that it has lobbied against legislation in a number of states that would mandate them in ways it considers onerous to club owners. As it stands now, however, section 4.3 stipulates a PAD program that includes an AED located within a "1.5-minute walk" of any potential collapse site; requirements for skills reviews, practice sessions and drills a minimum of every six months; and various rules delineating staffing, monitoring and maintenance requirements. The draft document (available under "Joint Committee on Health Fitness Facility Standards" at standards.nsf.org/apps/group_public/documents.php) shows an entire subheading that has been struck (4.3.6) pertaining to the need for relevant certifications for any staff member who might have to administer an AED; in its place is a new section devoted to the placement characteristics of AEDs within clubs.

Helen Durkin, IHRSA's executive vice president of public policy, concedes that the battle against mandated AEDs has been lost. "Of course, the devil's in the details, which is why we've been involved with this effort from the beginning," she says. "We have sometimes had problems with ACSM and the breadth that their standards cover, but there are certainly areas of agreement. The beauty of the NSF process is that it's designed so it doesn't get hijacked by any zealot who has a strong opinion. The process that NSF uses provides a layer of protection - the resulting standards will be ones that can truly be met by the industry, and not just aspirational goals that are being imposed upon the industry." (See "Objection!" April 2008)

The other advantageous aspect of the process, from IHRSA's perspective, is that the draft document is open to public comment, and Badman oversees both the addition of comments and the right of participants to appeal to NSF if they feel their comments haven't been taken seriously by the joint committee. IHRSA therefore began publicizing its participation in December and has scheduled a session at its convention later this month in San Francisco, in the hopes that club owners will weigh in with their comments and concerns.

Actually, Durkin admits to mixed feelings on the comment front. "I hope we'll have some real good comments to give back to NSF after the convention," she says, "but it will be a good sign for the process if the IHRSA session plays to an empty room. We want everyone to have a chance to speak, but if it's a non-event it'll mean that the clubs just accept the need for standards."

Third-party certification is a long process - the standards document currently online is in its tenth revision - and there's still a ways to go. Public comments must be considered and, if accepted, incorporated into the document. Each new revision must withstand scrutiny until there is a document considered final that can be voted on by the joint committee. After it is clear just how many standards clubs will have to meet to become NSF certified, NSF will be able to make a determination of how much it will cost clubs to seek certification, with the ultimate fee reflective of how many independent auditors will be needed to regularly scrutinize club paperwork and schedule site visits to ensure compliance. Tharrett doesn't believe the percentage of clubs seeking certification will be particularly high - at least at first.

"There are 35,000 facilities in the United States; I can't imagine more than 3,000 will earn that accreditation," he says. "The really good clubs will do it, because they're always focusing on the level of service and environment they provide, and on differentiating themselves from the chains. But most clubs will say it's voluntary and not do it, either because it's time-intensive or they don't want to pay for it."

For those that do, there should be several benefits - potential reductions in liability and property insurance costs, and a possible boost in medical referrals. "A doctor might feel a lot more comfortable sending a pre-diabetic to a certified club than just telling a patient, 'Go to a club,' " Durkin says. "We hope that it's useful to clubs in a lot of ways - if it's done correctly, it really is an opportunity."

In Tharrett's view, however, the biggest benefits will accrue to end users. "We're trying to get our industry to work on its biggest weakness - its failure to be accepted by the public as an honest and reputable industry that really cares about the consumer," he says. "We need to educate consumers about where their money is well spent in a club environment, that they should expect to have people there who are certified trainers and qualified to handle an emergency. The club industry is in a better place than it was five years ago, but it's not where it could be. This process, we hope, will push it along."