Bob Geiger, a physical education instructor and girls' cross country coach at Whitney M. Young Magnet High School in Chicago's Near West Side neighborhood, knew it was likely that Chicago Public Schools teachers would go on strike in September.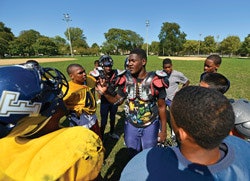 CHANGE OF PLAN Edwin G. Foreman High School football team captain Johnny Daniels ran an unofficial practice at a public park while Chicago Public Schools teachers were on strike in September. (AP Photo/Brian Kersey)
Bob Geiger, a physical education instructor and girls' cross country coach at Whitney M. Young Magnet High School in Chicago's Near West Side neighborhood, knew it was likely that Chicago Public Schools teachers would go on strike in September. So by the time teachers took to the picket lines on Sept. 10, Geiger had already handed over practice plans for the entire season to several upperclassmen - stating that he had no intention of crossing those lines. "Any union member that coaches a [Chicago Public High School League] team is a scab," he told the Chicago Sun-Times. "I told them, 'You guys organize practice. You guys have learned everything you need to know, pass that knowledge on.' "
"Everything about that screams 'liability,' especially if the kids are on school property, and that scares me," says Mike Blackburn, associate executive director of the National Interscholastic Athletic Administrators Association. "If kids were to gather spontaneously on public grounds, choosing to band together and continue to practice on their own, I wouldn't see anything wrong with that. But if it's on school grounds, they obviously have to be supervised. And that responsibility would fall back on the coach."
Geiger was just one of many teachers who also coach an estimated 11,000 student-athletes in fall sports programs in the Chicago Public Schools system. The teachers' strike, which lasted seven school days and resulted in a deal that could give teachers a 17.6 percent pay raise over four years, impacted 350,000 students and left sports seasons and athletic scholarships hanging in the balance.
"With 7.6 million kids participating in high school sports and an average of only two or three percent going on to play college sports, I'm just as concerned - and maybe more so - about the other 97 percent of the kids who also are having their opportunities to participate taken away," Blackburn says.
Indeed, Jason Richardson, head football coach at Percy L. Julian High School, expressed concerns about what would happen to his players if they weren't on the field - especially because the Illinois High School Association refused to waive bylaws and policies related to strikes that would have allowed games to be played during the walkout. Granting such a request extended beyond the association's authority, IHSA executive director Marty Hickman said, leaving the decision of whether teams could even practice up to local school boards.
"A lot of guys are still planning on meeting at different places and practicing," Richardson told the Chicago Tribune before the IHSA handed down its decision. "Football teams have to stay active. You just don't want to put them in the streets. What will happen is you will lose your team. Especially in the Public League, it is tough enough getting 40 or 50 kids in your program. If you just let them loose and tell them you don't know when you're coming back, you're going to lose them. Even in the offseason, I try to make sure my guys … [are] not out there with the after-school crowd, where a lot of stuff happens. We get them in the weight room, talk and have study hall so they don't get caught up in the element."
Members of the George Washington High School football team spent some of their downtime meeting informally at a local park and running plays, reported NWI.com blogger Mike Nieto. "We had guys who are not on the football team also come out and play some defense," quarterback Aaron Cruz told Nieto. "Our guys ran routes and I threw to them. We were trying to stay in shape because we didn't know when the strike would end."
Even though CPS opened 144 schools for half-days, there was still plenty of idle time to fill, which worried teacher-coaches who didn't want to cross picket lines. "I don't think other teachers will consider it crossing the picket line if it's done away from school," King College Prep High School physical education teacher and football coach Lonnie Williams told the Tribune.
Jake Serfass, athletic director and a health, physical education and nutrition teacher at Monsignor Bonner & Archbishop Prendergast Catholic High School in Drexel Hill, Pa., is no stranger to knowing when to not cross a picket line. When Philadelphia's lay Catholic school teachers went on strike for two weeks in early September 2011, he kept working - but from his home. "I wasn't here in the building because of the strike, but I was doing everything I could online with teams and coaches," he says. "You never want to not be around, especially for the kids if something is going wrong. But the administration understood and the teachers understood. I wasn't out on the picket line, because I had to work. The toughest part, for me, was just trying to be there for everybody. When you're on campus, people know where you are and they can find you. I would sit in front of the computer for hours and hours at a time, because that was the only way someone could get ahold of me."
The Philadelphia Catholic League allowed its 21 member schools to determine individually if they wanted to keep fall sports going. Twenty schools, including Bonner & Prendergast, decided to do so. "We wanted to continue playing. State tournaments were not going to stop just because we were on strike," Serfass says, recalling last year's two-week strike, which he admits impacted B&P less than other schools in the PCL, because none of its fall coaches were teachers. "It's tough to say whether you should have your student-athletes running practice, even if they are captains," Serfass continues, when asked what he thought about Geiger allowing his cross country runners to oversee practices. "There should always be supervision there, because you never know what can happen."
No more than a dozen states - including Illinois and Pennsylvania - legally permit teachers to strike, according to the nonprofit news organization Mother Jones. While neither the National Education Association nor the American Federation of Teachers responded to AB's requests about the number of teachers' strikes that occur annually in the United States, Mother Jones counts at least 827 since 1970. That's an average of almost 20 per year.
A decade ago, a teachers' strike in Billings, Mont., shut down high school sports for two weeks. David Williams, then the executive director of activities for the district, told AB that "it was the most difficult time of my professional life. We pride ourselves on creating a positive atmosphere for kids, and then we had this conflict between adults that ended up hurting kids and taking those positive activities away from them. As an athletic director, you don't have any control over it. It's really painful."
Blackburn feels that pain, and says some school districts have named teachers who are also head coaches as "administrators." Thus, those individuals negotiate their own salaries without union involvement, and their coaching duties are in no way affiliated with any collective bargaining agreement. "I don't know if that's been done for the sake of strikes, but it would obviously be a way to avoid that conflict," Blackburn says. "Maybe it's a loose interpretation of the term 'administer,' but they are administering their sports programs."
When Chicago teachers went back to work and classes resumed Sept. 19, so did sports. Football teams, which missed only one week of games, had to squeeze in three days of official practice before playing a game, in keeping with an IHSA rule. The association also determined that cancelled games that would have pit Chicago Public League teams against charter schools were forfeited to the charter schools, while scheduled contests between CPL teams were declared "no game," according to MaxPreps.
Blackburn says the Chicago strike - or any teachers' strike, for that matter - should not have even been allowed to happen. "The biggest thing for me in this whole process is the message we're sending to kids," he says. "We tout the benefits of participation in school-based athletics and that sports are an extension of the classroom. Kids should be put at the forefront of labor discussions. I'm more of the mindset of, 'Hey, think twice before you do this.' "