One of the hottest trade shows to attend this year if you were a leading fitness company isn't one typically associated with fitness: the International CES (Consumer Electronics Show), held this past January in Las Vegas. "I've been going to CES for many years, and this was the first year Precor had a booth," says David Flynt, director of Precor's Experience Development Center. "It was fascinating to see the growth of the digital health space, but more interesting was the way the concepts and issues around digital health were showing up in other booths. You couldn't go into a big booth — Intel, Sony, Samsung, any of these traditional CES companies — without finding some aspect of digital health."
What's driving this convergence of fitness and technology? A generation raised on Apples, smartphones and Google. "There's a lot of talk right now, especially in regard to technology, about the Millennial cohort," Flynt says. "The things they care about and the ideas they have about technology and fitness are very different from Generation X. They think very differently."
RELATED: Is 2014 The Year of Wearable Technology?
The fitness industry is responding to this generation's perceptions by thinking differently, as well. "We need to make group fitness interesting to the Millennial generation," says Barbara Ebersberger, vice president of studio business at Reebok, which recently partnered with group-fitness programming leader Les Mills on a new studio-programming concept. "They grew up with Wii and Xbox, and they are looking for a form of exercise that shares those experiences. They think about studio fitness as something that their moms were doing."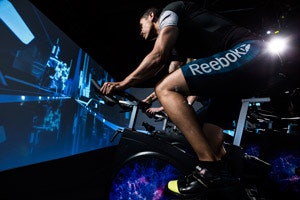 GENERATION EXERTAINMENT
To change the Millennial's perception of group fitness, Reebok and Les Mills pulled out all the stops to create Immersive Fitness, a line of studio programming that is anything but your mother's step class. Studio spaces are outfitted with screens spanning the length and height of three walls, creating a 3D experience of synchronized music and graphics. "It's the combination of the fitness experience with this fantastic visual and sensual experience you have in a surround cinema," Ebersberger says. "You don't feel the exercise because you're so into it. You're absorbed in the fact that you have to jump over things, duck down, move to the side."
The program began a European tour this summer, with commercial installations expected to roll out next year in Europe and the United States. And while the concept is built to appeal to the Millennial generation, there's something for everyone. "Every program has a different feel," says Ebersberger. "BodyJam is more of a rock concert — you're in the middle of a club. BodyBalance is among beautiful scenery of New Zealand."
Immersive Fitness might be the most stunning example of what technology can do in the fitness environment, but as with all new technology, it isn't a practical option for most clubs just yet. While programs utilize standard group exercise equipment, the AV costs can reach up to $450,000, and the program currently is designed to work only with a few specified studio sizes, requiring either a retrofit of an existing space or addition of a custom-built space.
Still, the idea of creating an engaging environment for users through sensory technology and virtual reality elements is infiltrating fitness programming at more practical levels. "We offer a variety of console selections," says Melissa DiLeonardo, a global trainer for Life Fitness Academy, noting the Lifescapes courses available on the Discover console, a standard feature on Life Fitness's premium equipment line. "You can pull up a graphic and route of a famous location. Maybe you decide you're going to run the Great Wall of China today."
Similar virtual-reality experiences are a common option on consoles from Technogym, Matrix, Precor and Cybex, to name a few, and standalone software platforms can be added to just about any line of existing equipment. "You don't have to buy a new piece of equipment in order to get virtual-reality integration," says Bill Sotis, CEO of WebRacing, a Madison, Wis.-based company that offers a line of virtual-reality programming for indoor cardio equipment. "You need a full monitor to view the virtual-reality setting. Certain types of equipment might have that, but if you don't, you could use a laptop or tablet. Wireless sensors on equipment then send wireless signals to a computer."
Users can see themselves running, biking, rowing, skating or skiing in a virtual-reality setting, their virtual avatar responding to their physical movements as tracked by the equipment's sensors. It makes the group exercise experience more exciting, too, Sotis adds. "We can connect up to 32 bikes, and everyone is up on a screen. They can see where they are in relation to everyone else," he says. "The courses that we're showing on the screen are courses with real topography that the instructor can say, 'Okay, we're going up to four percent grade, I want everyone to turn up their resistance two turns, get up off your saddle and here we go!' "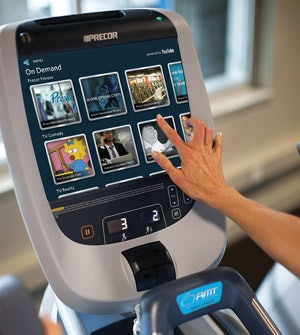 A NUMBERS GAME
Improvements in the ability to capture data in real time and feed it back to the exerciser are also contributing to a more engaged fitness experience. "Technology, tracking, the idea of quantified self — it all comes down to this idea of control," says Flynt. "People want a sense of control over what's happening to themselves."
Once a person understands the relationship between effort and outcome, the workouts become more meaningful. That knowledge can be used practically in the pursuit of fitness goals, or to create challenges and competitions. "The Pac-12 Challenge is an interuniversity competition to promote healthy activity among the student population," Flynt says. "In the past, they have been able to log how much activity they perform, and at the end of the challenge, one university wins. They asked us to help make the technology better serve the capture element. It was a simple thing to allow the data being collected on behalf of the members to upload to a website, and the website could keep track of who was participating and add all of the calories burned and populate a leader board."
When participants can see the direct impact of their contributions, it makes them feel more accountable and motivates them to work harder, adds Flynt. The same concept can be seen in group exercise classes in which a participant can see his or her performance relative to others, and even in an individual setting where the user can compete against his or her own personal bests or with friends in a virtual setting. One of the biggest areas of interest for WebRacing is in schools, according to Sotis. "We've done elementary, middle and high schools. It's great to see young kids getting engaged in exercise like this," he says.
For kids, the experience is driven by the element of competition, though the ability to monitor their performance over time and track improvement is a selling point for instructors, too, Sotis adds. "PEP grant programs need data to support what they're doing for the students," he says. "You can extract data from WebRacing, so it's an attractive purchase."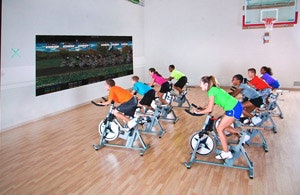 SOCIAL MEDIA
Though social media has come under fire lately for its contribution to creating an antisocial generation, that isn't entirely the case. Used correctly, technology can be an asset in fostering community among health club members — as well as retention. "You're seeing a lot of small studios or CrossFit-type facilities open up, and one of the things that drives people to those places is the sense of community," says DiLeonardo. "Studies show that when people work out with a partner or in group settings, they typically reach their goals more often or have a higher rate of retention or sustainability with that behavior change."
Social interaction occurs naturally to some degree within group exercise classes — a fact that club owners should recognize and capitalize on outside of class through the use of social media. "The community is already there and needs some element to blossom," says Flynt. "The biggest danger to an operator is to think of a program as only a group exercise class. People want to socialize as much as they want to work out. The group exercise class that has a relationship outside the club? If you're not taking advantage of the knowledge that your facility is a community, you're missing an opportunity."
Even for someone exercising alone on the cardio floor, the opportunity to socialize is there. "Maybe it's January and negative 20 degrees outside," suggests Sotis. "You can send a text or an email to several friends and suggest a 4 p.m. ride. Your friends would accept the ride invitation, plug in at 4 p.m., and over the Internet you would race or ride with each other. Now you have real social interaction."

SUCCESS BREEDS SUCCESS
The concept of exertainment has been around for years, evolving from wall-mounted to in-unit TV viewing and eventually expanding to interactive touchscreen consoles offering music, Internet and games. While such elements made 60 minutes on a treadmill more bearable, they didn't contribute to the success of a workout the way these new experiences can, says Sotis. "It's about creating engagement in the exercise process as opposed to distraction."
"Instead of getting on a treadmill begrudgingly and running and not necessarily knowing what you're doing, we're creating a more exciting experience," DiLeonardo adds. "Maybe you just choose to run one of those courses, or maybe you're competing with a friend or someone you don't even know in another part of the world. That engagement is even more important with helping individuals meet their goals and makes them more likely to stick with a program."
And that's where the real motive is for fitness companies. "At the end of the day, we sell fitness equipment," says Flynt. "Our goal is to make sure the operator is successful. The operator is in business to help exercisers. What can we bring to the table to help them provide more value to the exercisers?"
Creating a more fun and engaging experience is only one aspect of what today's technology has to offer for the fitness industry. "There are other opportunities for using sensors and other technology — accelerometers, gauges, measurement devices to help people see exactly what they're doing when they're working out," Sotis says. "Having that recorded helps them understand how they're improving, and not just in overall performance but critical things like form -— like simulating a golf swing."
"It's a fun time in technology growth," adds Flynt. "To see the Googles, Samsungs and Apples of the world start to pay attention — it's a little frightening, because they have much deeper pockets than we do — but it's also exciting to see people outside the industry begin to see value in serving this industry in a way that didn't exist four years ago."
RELATED: Examining 'Exertainment'
RELATED: Study: Exergaming Offers Extra Health Benefits for Seniors
RELATED: PEP Grants Help Hundreds of Schools Develop Programs and Facilities
---
This article originally appeared in the September 2014 issue of Athletic Business under the headline, "Lights, Camera, Exercise!"