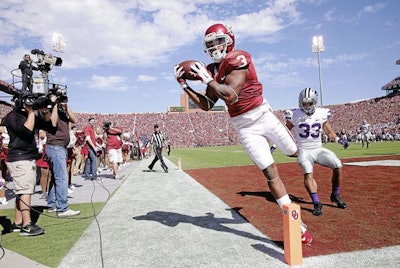 Photographers and videographers at Oklahoma Sooner football games will have to live without a few extra comforts after a sideline collision shook up one of Oklahoma's star players last week.
For OU's final three home games this season, photographers will be required to have all equipment attached to their person, not lying on the ground or in bags nearby. Also, no tripods or monopods will be allowed, including monopods or stools photographers typically bring to sit on. Additionally, photographers will no longer be allowed to work in the southwest corner of Gaylord Family - Oklahoma Memorial Stadium near the visitors locker room.

The policy changes come after Sooners' star wide receiver Sterling Shepard collided with Mike Simons, a photographer from the Tulsa World, in the Sooners' loss to Kansas State on Saturday.

"As we are all keenly aware, the sidelines at Owen Field are extremely tight," a University statement said. "In light of Sterling Shepard's injury last Saturday and feedback from working media on the field and our staff," OU has updated its stadium policies.

RELATED: Oklahoma Sooners Announce $370M Stadium Renovation

We've all seen the scenario play out countless times at sporting events: A player moving at full speed makes a play near the sidelines and then goes crashing into the photographers standing nearby.

Fortunately, both parties usually bounce right up and dust themselves off, but not always. When Shepard was shaken up after making an all-out effort to reel in a touchdown pass in the back of the end zone, many blamed the photographer for being too close to the action and having too much gear sprawled out on the ground.


Oklahoma head coach Bob Stoops — probably a little touchy after his team lost its second game of the year — was among Simons' loudest critics.
"Those people ought to be aware," Stoops said when asked about photographers and videographers standing on the sidelines. "They're not playing. Those people need to be gone or have one camera that you can leave with when you see something coming, not have three of them laying around and leave it on the ground and injure a player."
After the collision, Shepard laid on the ground for several moments before getting up. He says he's ok and has accepted Simons' apology which was published in the
Tulsa World.
"I know he apologized," Shepard said. "I'm a forgiving guy. I'm not going to hold a grudge or anything. It's just one of those deals where you've gotta kind of be careful and those types of things. It could have maybe ended up worse than it was. But I'm feeling all right. Just bruised up a little bit."
Shepard finished the game with 15 catches for 197 yards and a touchdown.
Simons wrote that he "felt horrible" that his gear caused Shepard pain. He also explained why he had so much gear with him:
"Some comments have been made about camera gear lying by my side. I have always felt that flat on the ground is the safest place for gear that isn't being used at that particular moment. It is where most photographers keep their gear. It allows me to move out of a player's way quickly. And there are no monopods (the metal poles on the bottom of our cameras) sticking up needlessly. It has worked perfectly for 26 years. On Saturday, while lined up with dozens of other photographers in the designated photo area, it didn't.
The carnage from my end of this incident was that a Canon 400mm F 2.8 lens was broken in half. The lens sells for $10,499. It's a lot of money, but nothing in comparison to a player's safety."
It's an unfortunate situation for everyone involved. Shepard was hurt on the play, Simons is out an expensive piece of equipment, and all videographers and photographers will have to adjust to the new policies. Hopefully this prevents additional incidents in the future.