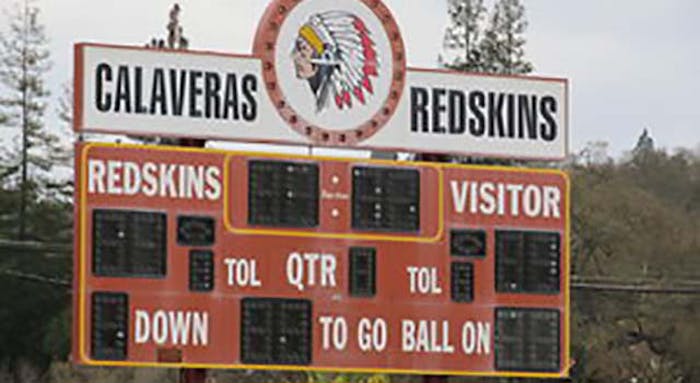 The state of California is poised to quell any further debate over whether "Redskins" is an inappropriate athletic team name once and for all. The California Racial Mascots Act, advanced to a state Assembly panel on Tuesday, would prohibit the use of the name by any public school beginning January 1, 2016. 
"There is obviously a lack of respect when we allow teams to brand themselves with racial slurs," said assemblyman Luis Alejo, the bill's author. "The R-word was once used to describe Native American scalps sold for bounty, and in today's society it has become widely recognized as a racial slur."
There are currently four public schools in the state that use the name Redskins for their athletic programs. The affected schools would not be required to cease all use of the name. Items such as yearbooks and newspapers would not longer be able to utilize the name, but to prevent financial hardship, schools would be allowed to keep uniforms and other materials bearing the name, provided they have selected a new name. Under the legislation, schools would be able to purchase up to 20 percent of uniforms with the old name until 2019.
RELATED: Washington Redskins Lose Federal Trademarks
"Tulare Union Redskins are part of a long and proud tradition dating back to 1890," Sarah Koligian, superintendent of Tulare Join Union High School District, one of the four holdout schools, told  SFGate. "Our school has worked closely with our local Indian tribes to include them in the discussion regarding how the Tulare Union Redskin depicts both pride and respect."
The bill, approved last month by the Assembly Education Committee, was approved by the Assembly Committee on Arts, Entertainment, Sports, Tourism and Internet Media but must go through another committee before advancing to the Assembly floor.
"It's a small thing we can do in California that is part of a national movement to phase out the use of racial slurs as mascots," Alejo said.