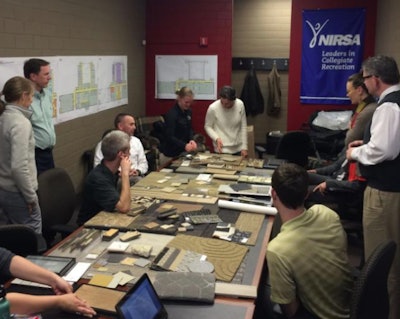 Eleanor Roosevelt once said: "The future belongs to those who believe in the beauty of their dreams."
For a few of us recreation professionals, there are times in our professional lives when we have an opportunity to cast a vision for a better tomorrow within our sphere of influence. Sometimes these ideas take the form of new programs, leagues or special events. For others, these big picture views see staff growth and increase attention to our customer base with needed individual oversight.
Some in sport administration have the opportunity to build a physical structure — a visible representation stating loud and clear what has priority in your community, on your military base or on your university campus. It is oftentimes a once in a lifetime opportunity to be there when from the first idea all the way to the doors being opened for all to enjoy.
For those who haven't been following this series, I have attempted to outline this facility construction journey for all to follow so that others can be prepared to tackle the process when the time comes. A project like a renovation offers a unique opportunity for professional growth, and I hope to help you glean every ounce of professional growth from the experience before you.
In earlier posts we have talked about the selection of an architect, discussed the importance of performing a needs assessment, outlined the energizing program phase and then most recently we laid out the idea of schematic design, selecting the best concept from a set of options.
More from this Blog: Master Plan, Schematic Design Key to Renovation
In this article we'll discuss what comes next. It is the step involving the most individuals, the most exhaustive, the most thorough, the most time consuming interaction between architect and client since day one: Design Development.
Design Development
Design development is the phase of the project when architects and the client come together to talk about realistic and tangible options. It is the time when decisions are made and concepts are solidified into actions. It is the time when big-picture goals move from the conceptual standard into tangible physical products and material choices.
Where schematic design is broad and wide, design development focuses more on the technical aspects of materials and building systems. Where schematic design looks at the whole building level, design development zooms in, examining the requirements of individual rooms, room layouts, locations of equipment, furnishings, electrical and telecommunications services, etc.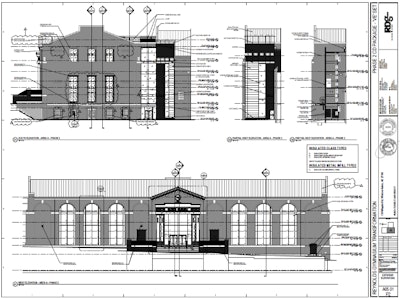 Within design development there are some key systems which must be laid out in detail before the managers can consider submitting for the creation of construction documents. As shown via a site plan, a floor plan, building elevations, wall sections and schedules, a detailed depiction of the following systems are essential to a thorough design development process:
Structural
Mechanical
Electrical
Plumbing
Civil & Landscaping
Lighting
Fire Protection
Security
Interior Design
Other design areas which need to be discussed during design development include: energy conscious design, sustainable design, acoustic design, envelope design, site design and life-safety design.
From AB: Acoustic Considerations When Designing Rec Centers
Once all of these systems are thoroughly researched and presented, a project estimate will be created.  The project estimate will involve availability of materials, construction sequencing any changes in scope or adjustments in quality standards.
During this phase it is critical that the architect identifies any conflicts between building systems and works to resolve them in a timely manner.
If estimated costs exceed the budgeted funds, the architect will need to make changes to reduce the cost.
Construction Documents — Remember the Map!
When planning for a once in a lifetime facility construction journey, it's important to refer to the map.
The map is not only a guide, but a reminder of what had previously been agreed upon during the conceptual phase. Surrounding this scene at the trailhead include the end-operator, the project manager and the numerous consultants who have poured countless hours into making this a meticulously detailed map packed with page after page of images and material specifications critical for a successful trip.
As you all look on, the person with the map is the architect. The architect then finds the actual trip leader/builder and carefully hands over the plans to this individual. This person is then given a charge to lead this trip and build it according to everything stated therein. The person leading the trip is the Construction Manager and the map that he or she carries are the Construction Documents.
A Guide
Construction documents are a set of drawings that provide the eventual contractor instructions for how to build the project.
Reflect Intent
Construction documents describe products, systems, quantities, configurations and performance specifications that deliver the overall design intent of the project.
Idea to Form
In a combination of written and graphic formats, construction documents translate the design of a project from the realm of ideas to physical form.
They are meticulously coordinated and clearly communicate the project design while enabling construction to proceed on budget and on schedule.
Two Components
Construction documents are traditionally made up of two components. The larger component is the set of drawings. These drawings address the architecture, interiors, plumbing, mechanical systems, structural, landscape and even fire protection. These drawings typically contain site and building plans, elevations, sections, ceiling plans, roof plans, details, diagrams and schedules.
The second component is the specifications manual or spec book. It is a written project manual that covers products, materials and methods to be used in constructing the project. There are usually 17 divisions ranging from general requirements to concrete to finishes to furnishings.
Legal Documents
Construction documents are legal documents that become a part of the contract between the owner and the contractor. Everyone is held accountable to what is in print on the construction documents. Though there will be frequent RFI's (requests for information) and ASI's (architects supplemental instructions), if ever there is a question as to what materials go where, the construction documents will be referenced.
Changes can occur after schematic design and design development but the process is much more involved — just a seemingly simple change can lead to a host of necessary alterations which will result in an updated set of construction documents. Change orders always have a cost; not only financial resources but in construction schedule.
Sets the Bidding Stage
Upon completion of the review and approval of the construction documents by the project manager, the construction documents can then be used to solicit bids. Accuracy in the creation of the construction documents allows contractors and quantity estimators to quote fair and accurate prices.
In the final article in this series we will discuss bidding and negotiation, actual construction and post-occupancy checklists.
Max Floyd is the Director of Campus Recreation at Wake Forest University. Read more of Max's blog here.