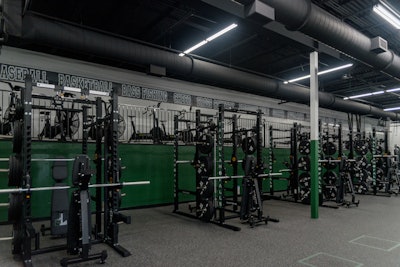 Having been involved in high school sports for 36 years, Scott Neal knows a thing or two about running a high school athletics program. Neal, now in his second decade at Tallulah Falls School in the mountains of northeast Georgia, has been the school's athletic director for the past 12 years, in addition to coaching track & field and cross country, and serving as an advisor to the school's strength and conditioning programs. Athletic Business spoke to Neal about Tallulah Falls' new Sports Fitness Center, and the impact it's making for students on campus — whether they're involved in athletics or not.
Can you tell us a little bit about Tallulah Falls School?
We were founded by the Georgia Federation of Women's Clubs in 1909. We're nestled in the mountains in the far northeast corner of Georgia. It's a private school, so we have a mixture of day- or commuter-students, as well as about 140 boarding students that come from various states and numerous countries across the world.
We're grades 5-12, so we have about 547 students overall. About 62 percent of the high school students are involved in athletics, and then middle school, it's about 72 percent.
What are some of your responsibilities at Tallulah Falls?
This is my 21st year here at Tallulah Falls School. If I remember right, it's my 12th year as an athletic director. I've coached track and field for 36 years overall, and here at Tallulah Falls School, we continue to have many opportunities for growth and positive change in our students and our community, so that's why I stick around.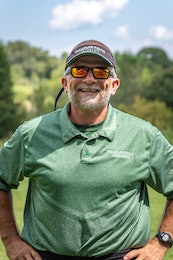 I used to teach strength and conditioning here, and then when I became the athletic director after a couple of years and we started growing, I got out of the teaching portion of it. Now I just kind of help and facilitate and be a resource for the strength and conditioning classes.
Tell us a little bit about the new facility.
We had the actual footprint, and we had the weight room in there, but we completely renovated everything. I mean we took every single item out. We added lights, we painted the ceiling, we painted the walls, I mean everything. We put mirrors in, we put new flooring in, and obviously new equipment.
We also have a little upstairs section that's about 75-feet long by about six-feet wide and we have all of our classified cardio equipment up there. The main level has basically four double-sided racks, so we've got a full rack on one side and a half rack on the other. And then we have a series of selectorized machines — those are all Matrix machines.
What played into your decision to choose Matrix for your equipment?
They provided the range of types of equipment and the quality of equipment that were going to meet our needs. I went to different places and saw their equipment, I saw how sharp it looked, how aesthetically pleasing it was — which is a strong motivating factor sometimes, subconsciously for people — but I also saw the functional ability of it. Take the Functional Trainers for example, they're just very well made. It's a good piece of equipment.
How did Matrix help you throughout the renovation process?
This was a big deal for us, but we just decided that in the early summer, everything about what we did needed to have a timeline. Everything, no matter what, had to be done before the first day of school, which was Aug. 12.
Matrix got the vast majority of all their work done the week before, and that allowed some of the other things to be done that are special in there. What we were asking for was not easy. And with Matrix, everything had a timeline. So, they really kind of designed the combo racks that we have because of the space, we didn't want metal going over into our activity space. And so, they designed it a little bit special for us, and I think they took pride in doing that, and it worked out perfect.
I think Matrix and [Matrix Fitness National Athletics Sales Specialist] Kelly Neuhauser really saw the need and saw it was a good challenge for them as well. Kelly was on his computer often trying to figure out where things might go. And when you have people that are used to doing that, they're really helpful in those areas.
How has the campus community responded to the new facility and new equipment?
Just anecdotally, kids coming in that saw the weight room, they came in and their mouths just dropped — they were in awe. So spectacular and special.
We wanted the equipment to be motivating and so far it has been. You can do your traditional maxes and all those other kinds of things, and you can also do selectorized kinds of things, whether it's rehab or somebody that's interested in the basics of simple toning or bodybuilding.
The idea is to provide as many pertinent opportunities as we can for everyone, whether they're athletes or they're just involved in fitness, or adults trying to get back in shape. We can kind of meet the needs of a wide range of groups.
How has all of this helped out your student body?
It's just an inviting place now. It's an attractive place that — again, I keep saying it — but it provides opportunities for people, for their lives to be enhanced. And that's the critical measurement.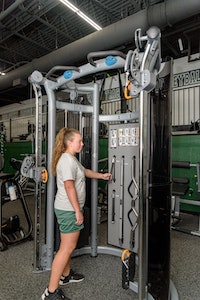 It really helps us on the sports teams as well, because we have a facility in there where I can take my cross country team for example, and we could be upstairs on the cardio equipment if we needed to, or we could do some kind of a fit core workout that utilizes equipment and cardio kinds of things. It's a huge benefit when there's inclement weather, whether it's in the heat of the late summer or early fall and it's better to stay in, or whether we just need a break from the pounding or something like that. That's where it provides a lot of different options for us to get better.
Any advice you'd give to other folks undergoing a renovation project?
I think when people look to renovate or build a weight room, I think they really need to think of looking backwards. I think the best questions you can ever ask anybody are, 'What mistakes did you make? How would you do it better next time? If there was one piece of equipment that you know now that you couldn't do without, what would it be?'
There are a lot of equipment manufacturers out there, and what I've found as an athletic director, whether it's in hiring coaches or in starting something new, or whether it's in redesigning a weight room — everything is about timing and fit. And Matrix did an exceptional job of being available at the right time and having the right fit for us. So when other people are looking, there's plenty of good companies out there, but sometimes it's those people who can service you best at the right time with the kind of thing that you're looking for.
---
For more information on Matrix Fitness' equipment solutions, visit matrixfitness.com.