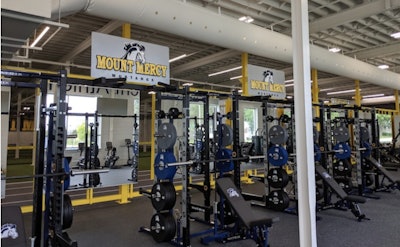 Mount Mercy University in Cedar Rapids, Iowa, needed more space for its growing athletic department. With the help of a generous donor and the acquisition of an abandoned industrial development, the university was able to create the modern Rinderknecht Athletic Center for both athletes and students. Athletic Business sat down with Mount Mercy athletic director Paul Gavin to talk about the process of creating a space that everyone on campus could take pride in.
What's your role at Mount Mercy and how long have you been involved?
I was an athlete here at Mount Mercy in the mid-80s, 1984-88. I played basketball and golf. After graduation, I spent a year coaching basketball at the high school level and then got an opportunity to come back to my alma mater in the fall of '89 as an assistant basketball coach. It progressed from there. I coached basketball and golf — basketball for 23 years and golf for 19. I became athletic director Nov. 1, 2015.
So you've pretty much seen everything?
I've seen it all. Our initial athletic building, the Hennessey Rec Center, which opened in the fall of '85, I played in the first game there. My freshman year we actually played at a high school, so I got to watch it get built and played the first game in there and then obviously coached a lot of basketball games there.
What led to the latest project, the Rinderknecht Athletic Center?
Just the growth, of not only the university but predominantly our athletic program. In a short amount of time. We went from 350 athletes to 535 a couple years ago at our peak. Not only have we added some sports, but we've added some JV programs. There was a lot more that was needed. Our weight room that was in the Hennessey Rec Center, it was basically a rectangular classroom space. To be honest, it was probably 1,200 to 1,300 square feet.
It had run its course. And there was an area south of campus about three or four blocks that was an old industrial site – huge business making heavy-duty machinery – it was just an area that was getting old and dilapidated. We had an opportunity to purchase that land and we built a beautiful outdoor complex there. The school spent somewhere between $16 and $20 million on a brand new baseball stadium, softball stadium and a multipurpose stadium that is available for football. We don't have football, but it's earmarked for football, soccer, track and field. It's a beautiful complex.
A board member, John Rinderknecht, purchased two buildings and donated them to the college. One was a warehouse; one was an old corporate office building. Our problem was that we needed more money to do anything with those. We went back to John, and John donated more funds for us to take the next step.
We converted that 30,000-square-foot warehouse facility into our new Rinderknecht Athletic Center. The new weight room is the centerpiece, but it also has a 60-meter, four-lane track; it's got three or four hitting and pitching cages. It's got a multipurpose area for cheer and dance; we've moved our athletic training hub down there. We have a nice indoor golf setup with a six-hole contoured putting green and chipping area, and it's got 3-4 golf bays. It's become a space that we never had here and it took care of a lot of our sports.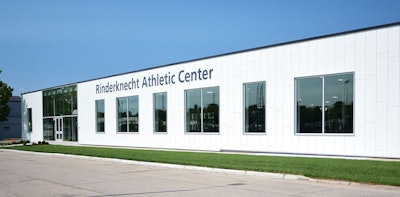 Once the decision was made, what went into filling the space and choosing Matrix to outfit the weight room?
Once we decided that's what we were going to do there, it was a matter of reaching out to various fitness companies to find out who we wanted to partner with. I just didn't want to say, 'Alright, everybody give me your best quote.' I wanted somebody who truly was a partner, because for the first time in our history, we were really dedicating a special place for our student-athletes and I wanted to make a great impression. I didn't want to just throw some stuff in there that never had any service or anybody to rely on.
That's where Kyle Mitchell from Johnson Commercial Fitness came in. We had no connections with him prior to it, but after a couple interviews and meetings with him and several others, we knew he was the right fit. His recommendations were great. From there, we put together a really nice area that's now four or five times bigger than what we had before with a lot of open space and some equipment we've never had. It's a really special place for our student-athletes.
We had talked about adding football. There's still always that possibility, so I wanted to make sure that if the school ever did jump into more of the power sports, we would have the capability of supporting those types of athletes.
What kind of support did Kyle, Johnson Commercial Fitness and Matrix provide during the facility planning?
Everything in that facility was basically paid for either by the university or with the donation that John Rinderknecht made, with the exception of the weight room area. Every piece in there was paid for by money that we raised. With that said, we weren't being told what we had to have in there. It was basically up to our discretion, and we were trusted to make good decisions and be fiscally responsible.
That was part of the deal with Kyle, he was really great to work with in that respect. He was a former athlete, so he had a good idea of what we were talking about and which Matrix pieces would fit our needs. We looked at touchscreen technology, but when we considered our audience of athletes coming in for both individualized training and team training, we decided that if they have access to plug in their iPods, iPads, that would be enough. After we told Kyle this, he agreed that we'd be best spending money elsewhere. It's not that the other people didn't know our needs — it was more about a relationship with someone we trusted as a partner. And we're well into year two and still happy with it.
Outside of Matrix and Johnson Fitness, who helped with the decision-making process?
I had great staff members. We had a graduate assistant in athletic administration that worked at gyms and was very much into fitness and weightlifting. He was part of our little committee. My assistant AD, Jason Pershing, was big into the fitness aspects. We also included our athletic training. The idea was that their hub would be down there so they could not only work on the preventative stuff, but they could also work on the rehab piece. Whether that be on a treadmill, bike, etc. they had everything at their disposal right outside their offices.
We brought some students into the decision-making process by asking their needs. For example, we have dumbbells from five pounds to 120 pounds. And you know …. I can't lift a 120-pound dumbbell … but what I learned from that process and talking to various athletes is there are some of our athletes that prefer to use some of those heavier weights for isolating chest muscles and things of that nature. So we went ahead and added all those. We wouldn't have done that if it hadn't been for the dialogue with our students.
We have five power racks, double-sided. … Smith machines. We have a weight room that looks capable of holding a football program, even if we don't have one yet. And still, we have 500-plus athletes that are benefitting.
What went into customizing the weight room?
I'm really big into branding and marketing. We're constantly trying to put our athletic logo and stamp out there. Working with Kyle Mitchell, I mentioned to him, 'How can we spice this up even more?' He showed us all kinds of branding options and we dedicated part of our investment into really making the Mount Mercy logo and theme stick out on the Matrix equipment.
From day one, we've kind of used the motto, "Respect the Mustang," with the concept being plates with the Mustang head should always be upright and proper, it shouldn't be upside down. And the same goes with the dumbbells. It's kind of passed along from teammate to teammate that when you're done using those weights, there's a proper way for them to go back.
And we've got work study and graduate assistants that work there and make rounds with COVID and all the cleaning and sanitizing we have to do. We even put branding on our treadmills and ellipticals. I wanted whoever was using them at the time to feel like it was part of their team and just a special place. I wanted people to know they were in the Mount Mercy gym, and we hadn't had a great space for the first 35 years of existence of our athletic programs. We finally got something that's proper.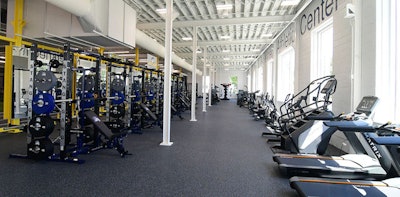 What kind of feedback have students provided?
I've never heard anything negative outside of small things here and there. It's been great. It's got some incredible spacing in it. You can imagine what we tried to cram in 1,300 square feet before. Now it's almost to the point where, 'Hey, we've got extra room, what new thing can we add?'
We've got enough room in that building that if we can continue to add more sports and grow more, we can turn the corner in there and there are some other spaces we could move some things around.
That area has really become more of the athletic hub and the place to be. It's a really cool space. They added some mirrors in there that create even more depth. It's really a spacious, open feel and we can get a lot of people in there. Obviously, we've limited the numbers because of COVID this year, but we haven't run into many issues.
How does the general student population fit in with the athletics?
It's open for all our students, faculty and staff. We don't have it open to the public or alumni at this point. Having only been open since June 2019 and having part of that being during COVID, we wanted to figure out if we could open it up beyond that. It's all accessed with key cards and secured to get in. We have data to show who's using it, what our peak times are. We're constantly looking at that data to try to make decisions about modifying hours of operation and that kind of thing. But it's open to all our faculty, staff and students as long as they have a key card to access.
We were shut down like everybody else last spring (due to COVID), but we opened it up at the start of the school year. Not as many hours as we would in a normal year — we close an hour earlier, we open up a couple hours later. And we actually closed it down for certain sporting teams here at the end of February. When you've got a few teams working out in here, we get close to our self-imposed number of folks and we want to limit it.
But we're ready to get back to normal.