Recent Events Make Surveillance Efforts Even More Likely to Pass Judicial Muster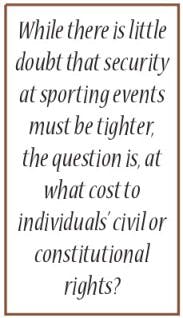 As the world mourned the deaths resulting from the Sept. 11 terrorist attacks, prudent stadium and arena operators were fast at work reevaluating their safety procedures and searching for new ways to make life safer for competitors and fans. Among the new security measures put in place in the immediate aftermath were a ban on coolers, backpacks and large bags, searches of all other bags, increased presence of uniformed police and stadium security personnel, comprehensive pregame facility inspections and the use of portable metal detectors on a limited basis. In addition, restrictions were placed on parking vehicles near stadiums (Major League Baseball prohibited all vehicles from being parked within 100 feet of any stadium) and flying airplanes over them (professional leagues and major colleges got the Federal Aviation Administration to declare airspace above major events as "no-fly zones").
While there is little doubt that security at sporting events must be tighter, the question is, at what cost to individuals' civil or constitutional rights. Has the threat of terrorism enhanced the standard of care due to the fans, players and vendors in such a way that athletic administrators have a legal responsibility to incorporate the use of metal detectors, comprehensive screening technology and security procedures that require elaborate body searches?
Super Bowl XXXV, played a year ago in Tampa, Fla., illustrates some of the conflicting interests involved when attempting to protect individuals from harm while also preserving guaranteed constitutional liberties. In an effort to identify criminals or terrorists, the Tampa police installed sophisticated surveillance equipment both inside and outside Raymond James Stadium. With more than 100,000 people in attendance, the surveillance equipment scanned the face of every person entering the stadium. The pictures were then converted into digital images and entered into a database maintained by the Tampa Police Department, the FBI and other state and local law enforcement agencies. The database sought to match the person's picture against known criminals and suspected terrorists.
Although the equipment provided marginal results (only one known ticket scalper was identified and no arrests were made), its use was praised by state and federal law enforcement officials and denounced by organizations such as the American Civil Liberties Union (ACLU), which called it a "computerized police lineup." Public reaction to the equipment was so negative that officials of the 2002 Winter Olympics last May announced they would not use it. A few weeks after the attacks on Washington and New York, however, Salt Lake City Olympics chief Mitt Romney stated that the U.S. government will do "everything it takes" to make sure the Winter Olympics are secure and the athletes and spectators kept safe.
The thorny legal issue confronting sports facility operators who consider implementing any new security measure involves the Fourth Amendment right of individuals to be free from unreasonable searches.
In determining whether a particular conduct (a search) violates an individual's Fourth Amendment rights, the first question a court will ask is whether the conduct represents state action. Since most sporting events at the high school and college level are played at city or state facilities that are funded and built by taxpayer money, searches conducted at these facilities will generally be considered state action for the purpose of the Fourth Amendment. (For a discussion of high school athletic associations and state action, see "Up the Academy," July 2001, p. 20.)
The second issue a court will address is whether the conduct can be considered a search. While physical searches and the inspection of bags are clearly searches under the Fourth Amendment, the question of whether taking someone's photo constitutes a search poses a more difficult question. The courts, in keeping with Katz v. United States [389 U.S. 347; 88 S. Ct. 507; 19 L. Ed. 2d 576 (1967)] will consider conduct a search under the Fourth Amendment only when there is a question as to whether a justifiable expectation of privacy has been violated because of state action.
Since only unreasonable searches violate the constitutional protections of the Fourth Amendment, the final issue a court will address - whether a search is reasonable - is essential to any Fourth Amendment analysis. In determining "reasonableness," the Supreme Court has consistently held that it depends on the context within which a search takes place. For example, was there a reasonable suspicion for the search? If so, was the search reasonable in its scope? In other words, was the search excessively intrusive when balanced against the government's interests in conducting the search?
Using this test to analyze the surveillance equipment used during the Super Bowl, it was clear that the government had a strong governmental interest in preventing terrorism. Large sporting events like the Super Bowl, the World Series, the Olympics and college football games could be attractive terrorist targets. In fact, prior to Sept. 11, one of the most infamous terrorist attacks in history (the murder of 11 Israeli athletes and coaches by a group of Palestinian terrorists) had been launched during a sporting event, the 1972 Olympics in Munich. It was only reasonable, therefore, that sports facility operators in conjunction with law enforcement officers would be on heightened alert for potential terrorist activities. Today, those justifications are even more pronounced.
Since it is clear that the government has a valid interest in protecting its citizens, the court must balance that interest against the intrusive nature of photographic surveillance. In American society, our images are captured on film every time we enter a bank, a gas station, a convenience store and myriad other places. While it is true that these images are not fed into a database of criminal suspects, Americans have come to expect to be photographed in many public places. A court, therefore, using a Fourth Amendment analysis, is likely to find such a "search" reasonable, since the intrusion is small and the government's interest is great.
In addition to the constitutional issues, these types of searches also raise concerns related to privacy guaranteed through either state statute or common law. The American Law Institute's Restatement of Torts, 2nd edition, provides a two-pronged analysis for an invasion-of-privacy claim. One, the intrusion must be into a private sphere (for example, relationships or personal tragedy) where an individual expectation of privacy exists. Second, the intrusion must also be something other reasonable members of society would find offensive.
Seen in this light, it is clear that the surveillance practices implemented at Super Bowl XXXV would easily pass muster with most courts. In support of heightened surveillance, one could argue that individuals in public spheres have no legitimate expectation of "seclusion." Unlike activities behind a closed door, attending an outdoor event where the public is invited generates few individual privacy expectations. Further, although the adequacy and visibility of the signage was questioned by critics of the Tampa surveillance efforts, there was signage posted on the outside of Raymond James Stadium regarding the use of the technology. The consent of the fans can be inferred by their willingness to enter the stadium regardless.
The second element, whether others in society would have also found the intrusion offensive, is again simply resolved. As explained by the Seventh Circuit of the U.S. Court of Appeals in Haynes v. Alfred A. Knopf, Inc. [8 F.3d 1222; (1993)], "The core of the branch of privacy law with which we deal … is the protection of those intimate physical details the publicizing of which would be not merely embarrassing and painful but deeply shocking to the average person subjected to such exposure."
Members of society are increasingly comfortable with sacrificing "absolute" civil liberties in exchange for safety and security. And make no mistake, national or international events are not the only ones that give rise to security concerns. High school athletic events, for example, are also steeped in tradition and emotional significance. Any sporting event with a gathering of people can serve as a catalyst for disruptive behavior when an individual or group sees it as an opportunity to make some political, philosophical, personal or religious statement.
For those who plan and host athletic activities, today's society mandates that security become a top priority. In doing so, cost, public relations and the legality of the methods chosen are at least three factors that should be given strong consideration.