A Relatively Small Investment Can Help Keep Robbers At Bay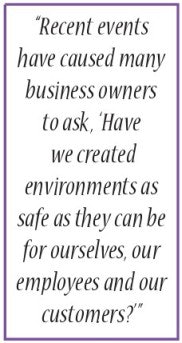 The focus on national security since the events of last fall - plus an economic downturn that is often associated with an increase in robberies - has a lot of small-business owners reconsidering their own security efforts.
"Since Sept. 11, we are all going through an assessment phase," says David Saddler, associate executive director of the Security Industry Association in Alexandria, Va. "While we are all pretty confident that most of us are not targets of terrorism, the events have caused many business owners to ask, 'Have we created environments as safe as they can be for ourselves, our employees and our customers?' People want to feel as if they are coming to a secure environment."
To temper the expense required to install a state-of-the-art system, business owners are beginning to strategize their security investments - for example, checking with their insurance companies to see how better equipment may help reduce premiums. While the costs are relatively low for a basic system, there are more-elaborate systems available that can add significantly to the cost.
One thing is certain: A security system that's right for one business may be wrong for another. "Everyone has different security needs," says Robert A. Gardner, a Ventura, Calif.-based security consultant. "When you buy a system, you have to consider a number of environmental factors." These include the configuration of doors and windows, the positioning of ventilation ducts and neighborhood crime statistics and patterns.
Security systems are designed to provide three levels of protection - perimeter, interior and dedicated. Perimeter security utilizes technology that has been around for decades: An electrical wire is linked to magnetic contacts mounted on points of entry such as exterior doors, windows and skylights. When a burglar breaks the circuit by entering through a protected door or window, an alarm sounds.
The second line of defense consists of a system of interior traps that detect motions made by burglars who move around after business hours. This system not only backs up the perimeter defense but also helps catch burglars who manage to hide themselves in locker rooms or storage areas prior to closing time.
Of the available technologies that trap interior motion, the most popular are passive infrared and microwave. The former detects body heat from a person moving amid cooler room temperatures, triggering an alarm. Microwave, by contrast, detects the motion of the burglar. Used separately, both technologies can sometimes trigger costly false alarms. For example, passive infrared can be triggered by a building's heater coming on at night, or by the front window heating up when struck by rays from the morning sun. Microwave can be triggered by ceiling-hung decorations located too close to air vents, or by a passing rodent. Most false alarms can be avoided, however, by combining infrared and microwave elements and carefully positioning detectors to maximize the chances of detecting a burglar.
A third level of security is provided by dedicated devices. Here are some examples:
• Glass-break sensors come in the form of audio sensors that are usually installed in the ceiling and activate only at the sound frequency of glass breaking. "It's nice to have an alarm go off before the burglar actually enters the premises and activates the interior sensors, as it gives the police more time to respond," notes Merlin Guilbeau, vice president of the National Burglar and Fire Alarm Association (www.alarm.org) and president of his own security firm, Browns Security Systems, in Natchitoches, La.
• Photoelectric beam devices can protect areas where microwave and passive infrared are not practical, but can also be installed to broadcast beams along the inside of walls that are thin and could be easily breached by a burglar with the right tools.
• Panic buttons, which when pressed send a signal to the police station or a private reporting service, come in many forms. Some are mounted just under the front-desk counter. "Dollar bill traps" activate a signal when the last bill is pulled out of the cash drawer. "Wireless pendants" that send electronic signals to a central station can be worn anywhere.
Because of the possibility of false alarms, it is important to confer with your local police before installing panic buttons. "Police don't like sending in crews with guns drawn because someone made a mistake," says Howard Levinson, president of Howard Services in Franklin, Mass. "One solution is to install only devices that have protected triggers: for example, the person must press buttons on two sides of a box, or reach down inside a box to reach a panic button."
• Access control systems restrict certain areas of your premises to designated individuals. To gain entrance through protected doors, the individual must use a device such as a proximity card, which is keyed with a code on a magnetic strip, or keypads that are only activated with the entry of a string of numbers. "These systems are very flexible," says Guilbeau. "They can allow access to certain areas only during designated hours, for example. And different employees can have access to different areas. Finally, the systems also serve to keep patrons from wandering into sensitive areas."
The past two years have seen a drive to integrate all of these devices into a single functioning network with the aid of closed-circuit television cameras. With integrated systems, cameras are activated only when a sensor or panic button indicates that a break-in or other problem is occurring. "These cameras work well with access control systems," says Saddler. "The camera can be programmed to come on when someone attempts to gain access to a restricted area. If it's an outsider, you can call the police." The cameras can also be programmed at the front desk, to activate when a staff member turns a special key.
"Today you can also view what your cameras see remotely," adds Saddler. "You give each camera an Internet protocol address, then call up that address on your web browser from home or a laptop computer when you are traveling."
It is vital when dealing with security issues that you find a security company that is both reputable and knowledgeable - and not just about the various technologies available. Some communities now require permits to install an alarm system, and many have instituted fines for false alarms. "Alarms in general are a wonderful thing, but they're a major headache for law enforcement," says Gardner. "More than 90 percent of alarms are false. It will cost you a lot of money if you screw up."
Above all, remember that a successful security system needs to be tailored to the needs of your facility. "There is no cookie-cutter solution for everyone," says Saddler. "Security is a process. Work with a professional who will talk about every aspect of your business and determine what technologies will secure your points of vulnerability."