New research suggests stadium hawkers are more likely than concessions workers to sell alcohol to minors and impaired individuals.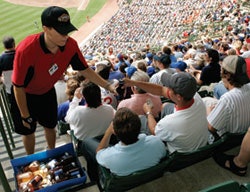 Hawkers who hustle beer up and down the aisles of stadiums and arenas are more likely to sell to individuals who appear to be underage or impaired than are concessions workers stationed behind concourse countertops.
According to a University of Minnesota study appearing in the September issue of the journal Alcoholism: Clinical and Experimental Research, actors selected for their underage appearance were served 30 percent of the time when attempting alcohol purchases at their seats in venues serving the four major professional sports leagues, but only 13 percent of the time at concessions stands. (Service to the pseudo-underage patrons came after they either were unable to produce an ID upon request or were not asked for ID at all.) Actors pretending to be impaired successfully purchased alcohol 89 percent of the time at their seats and 73 percent of the time at concessions stands.
One leading factor in these disparities is distance, says Traci Toomey, the associate professor of epidemiology and community health who authored the study. "The people you're trying to make the sale to might be 10 seats away from you," Toomey says. "Do they look like they're 30, or under 40, or whatever the cutoff is? It might be hard to make that judgment call. The same types of issues arise when determining whether someone is intoxicated or not." Hawkers also face greater challenges than typical concessions workers considering the speed at which they're expected to work given the potentially disruptive nature of their transactions, according to Toomey. "I think they really have a hard job," she says.
They won't have that job for long, if they aren't careful, says Jill Pepper, executive director of TEAM Coalition, which partners with MLB, NFL, NBA and NHL teams to provide vendors with alcohol-management training. "The incentive that hawkers have to do a good job is based on commissions, but if they lose that job because they violate policies, they lose the commissions," Pepper says. "So they have every incentive, just as much as the individuals working the concessions stands, to do the right thing."
It can be challenging to determine the intoxication level of someone sitting 10 or more seats down the row, Pepper admits, but by no means should hawkers cut corners when it comes to checking IDs. "It is absolutely our policy that the ID gets passed down the row along with the cash for the transaction," she says. "Once the ID is looked at and approved, the beer gets passed down, as well. Checking an ID from the aisle is no more difficult than making change. It's part of the training process and part of the procedure."
Toomey, who has conducted similar studies of and training for owners and managers of bars, restaurants, community festivals, and liquor and convenience stores, calls her stadium and arena research the first of its kind. She dispatched groups of four actors to various sports venues (but won't disclose which ones) and took into account such factors as crowd size, the visible intoxication level of neighboring fans and the gender and perceived age of the vendors themselves. "Ultimately, you want to try to weed that list of variables to find the ones that are most important," she says. "Basically, the location of the purchase attempt wiped out everything else."
Some professional venues, including Fenway Park and Giants Stadium, opt against direct vending to the seats. California law prohibits it. That may be the only guarantee - in the seating bowl, at least - of reaching the magic number of zero illegal alcohol sales.
While the study left Pepper with some concerns, including its methodology (using actors "to pretend to be something they're not") and certain results ("When I saw that 73 percent, it didn't make me happy at all"), she welcomes the talking points it provides to her organization's ongoing mission. "From TEAM's perspective, the fact that this issue is being addressed helps us do our job," she says. "It helps us to continue to emphasize the fact that it's every event, it's every transaction, it's every guest that needs to be evaluated. You can't check off a box on a list and say you've accomplished your alcohol-management goals. It's a constant challenge."