July 26 marks the one-year anniversary of what Douglas Casa, a leading expert on exertional heat illness, called "the worst week in the last 35 years in terms of athlete deaths."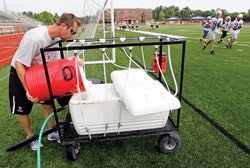 July 26 marks the one-year anniversary of what Douglas Casa, a leading expert on exertional heat illness, called "the worst week in the last 35 years in terms of athlete deaths." Temperatures approaching or surpassing triple digits were blamed for five heat-related high school football deaths in an eight-day span from July 26 to Aug. 2, 2011: A 16-year-old senior in Florida collapsed during a workout and died on July 26; the same thing happened to a 14-year-old freshman in South Carolina four days later. A 55-year-old assistant coach in Texas died on Aug. 1, and two players from Georgia succumbed to the heat on Aug. 2. (Additionally, four Arkansas players were hospitalized on Aug. 3 as the thermometer peaked at 114 degrees.)
Today, almost 12 months later, Casa - a physician and chief operating officer of the University of Connecticut's Korey Stringer Institute, as well as author of the book Preventing Sudden Death in Sports and Physical Activity - is much more upbeat. "These past 11 months have probably been the most important 11 months we have ever had in terms of changing policy in our country," he says.
A major victory in the high school athlete's battle against heat actually came more than a year ago, in May 2011. That's when the New Jersey State Interscholastic Athletic Association became the first state organization to adopt heat-acclimatization guidelines established (in 2009) by the National Athletic Trainers' Association. Those guidelines include seven recommendations for a 14-day acclimatization period that places limits on practice times and use of heavy protective equipment, while stressing the importance of having certified athletic trainers on site during practices.
The University Interscholastic League in Texas followed suit in October, banning two-a-days - a tradition as ingrained in that state's high school football culture as Friday night lights themselves - for the first four days of training camp and on consecutive days thereafter.
State high school activity associations in Connecticut, North Carolina and Georgia took action next, and KSI is working with several other states to develop or improve their own heat-acclimatization polices. It's a trend Casa doesn't expect to cool down anytime soon - especially considering that the National Federation of State High School Associations in April released a position statement encouraging all state associations and member schools to adhere to detailed guidelines and take a new online course, "A Guide to Heat Acclimatization and Heat Illness Prevention," available at www.nfhslearn.org. (The NFHS document is based in part on previous research and recommendations by NATA and the American Academy of Pediatrics.)
"In every state, climate and resources are different," says Bob Colgate, an assistant NFHS director. "But we know that heat illness is one of the next big issues, and - given the experience we've had with concussion guidelines - education is going to be a key element."
"That National Federation document changes things," Casa says. "Now, if a high school is doing nothing about exertional heat illness, it's going to have a problem explaining why it wasn't addressing any of the things the federation recommends. A year from now, we could be up to 15 or 20 states that will have adopted guidelines for heat acclimatization. Those are big changes."
Georgia - a state that suffered more heat-related deaths among high school and college football players between 1994 and 2009 than any other, according to a recent University of Georgia study - has emerged as ground zero for those changes. The Georgia High School Association's new heat-acclimatization policy, adopted in March, requires all football players to build up tolerance to high temperatures by working out in shorts and helmets for five days before donning full pads. Three-a-day practices are banned, and two-a-day practices cannot take place on consecutive days or exceed five hours in a single day; a three-hour rest period is mandatory between the two sessions, and single practice sessions may last no longer than three hours. To demonstrate how serious the organization is about this issue, schools found in violation of the new mandates face fines of up to $1,000.
"We want to make sure that all the kids are out in the sun with moderate levels of practices without the heavy equipment, so they get used to [the] outdoors," GHSA executive director Ralph Swearngin told The Atlanta Journal-Constitution. "Research has shown there are times when players are most vulnerable." Those times are usually during morning practices in August, especially in the eastern half of the United States, according to Andrew Grundstein, the climatologist who oversaw the retrospective UGA study. Despite cooler temperatures prevailing during morning hours, high humidity during that time can increase heat stress on players.
The GHSA's previous policy, like those currently employed in several other states, allowed schools to monitor their own environments, but there were no guidelines regarding practice duration, the number of practice sessions, the amount or type of equipment worn or the type of device used to measure weather conditions. Coaches and athletic directors in Georgia are now expected to utilize the Wet Bulb Globe Temperature (WBGT) index - not the heat index - when assessing whether practice conditions are safe. The WBGT index, the most widely used and accepted way to assess heat stress in the United States, is a composite temperature used to estimate the effect of actual temperature, humidity, wind speed and radiant heat on players. It is measured using a mathematical formula involving three different types of commercially available thermometers or, more easily, with a single instrument that sells for as little as $50 on Amazon.com.
There is an increase in the number of exertional heat injuries when the WBGT index reaches 82 degrees, according to Bud Cooper, associate head of the University of Georgia's Department of Kinesiology, who is co-directing a separate UGA study tracking the rate of exertional heat illness in football players at 25 Georgia high schools. "The WBGT number is a much lower number than the heat index number, but it's a more comprehensive number," says Cooper, also a certified athletic trainer who acknowledges that getting coaches to move away from their reliance on the heat index is a challenge. "It's making a shift into a direction that people are not used to, but I would be shocked if we see the level of football go down as a result of putting some of these policies and procedures in place to protect athletes. You're still going to have good football out there."
Quincy (Ill.) Public School District 172 officials have decided they won't wait until the Illinois High School Association takes a statewide stance on this issue. By month's end, the school board hopes to have a policy in place that would not only provide solid guidelines for detecting and preventing heat stroke in student-athletes, but also give coaches the authority to delay or cancel practices (and even games) in high-temperature circumstances.
"Our coaches have a pretty good understanding of what's safe and what's not," superintendent Lonny Lemon says. "The board just felt coaches would be more comfortable if we could give them more guidance. There's a lot of pressure on coaches - and band directors, too - and we want to have something in place that will take the burden off them when making the call to cancel."
The policy, based on those in other states, has gone through several drafts since a local cardiologist who is also a school board member suggested the district take action last fall. Lemon says nailing down logistics has been tough - especially because Quincy officials are unaware of other schools in their conference with official heat-acclimatization policies. "What if we go on the road and think it's too hot at game time? Will we let our kids play if the home team doesn't have a policy?" he asks.
Casa applauds Quincy's efforts. "That's proactive, that's good to see," he says. "Any individual high school could always be more aggressive than any of the state policies, because it wants to further protect student-athletes."
"Our goal is to take care of our kids," says Lemon, who refers to Quincy's efforts in Illinois as "pioneering." "It's the right thing to do."