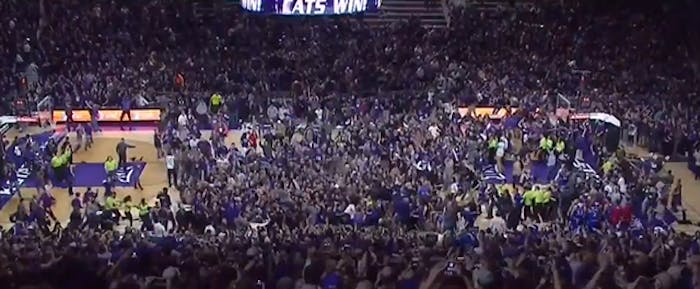 Kansas State's Bramlage Coliseum is nicknamed the "Octagon of Doom" and claims to have the largest student section in the Big 12. Monday night, that section spilled onto the court in a doomsday scene for players, coaches and fans.
K-State defeated the no. 8 Kansas Jayhawks 70-63 in one of the nation's most heated rivalries. Before the coaches could shake hands, fans spilled onto the court to celebrate the win, and in some cases, take things a little further.

Kansas coach Bill Self was smashed against the scorer's table. Kansas forward Jamari Traylor was hip checked by a fan who ran at him from across the court. A Kansas assistant briefly held a Kansas State fan in a headlock.

It was an athletic administrator's worst nightmare: a court-storming gone wrong.


"It's a ballgame," Self said afterward. "It's not about chicken-winging somebody when the game's over. Hopefully, they can get that corrected. It's fine if you want to celebrate when you beat us, that's your business. That's fine. But at least it shouldn't put anybody at risk from a safety standpoint."
Kansas State fans rushed onto the court following their team's victory over the Jayhawks in 2014 as well.
As
Athletic Business has written before
, the number-one objective during a court-storming is to get the opposing players off the court safely.
"Trying to prevent someone [from storming the court] could cause more bodily injury than it would be to allow them," Mike Caruso, associate athletic director for events and game operations at Texas A&M told AB in 2014. "If we can prevent it, that's number one. If it's not preventable, let's make sure we get the visiting team and officials off the court safely."
That did not happen Monday night.
"You're asking for big problems," Self added in his postgame news conference, according to
The Kansas City Star
. "Because somebody's going to hit a player, and the player's going to retaliate, and you're going to have lawsuits and cases, and it's just not right. There's just no place to be unsafe. If you do it, at least do it around center court. Don't do it at the other bench."
Kansas State coach Bruce Weber agreed.
"I love the students, and it's a cool thing to be part of that," he said, "but you also have to be careful of making sure no one gets hurt."
The scene was so chaotic, it prompted the
USA Today
's Nicole Auerbach to wonder if this was the court-storming that will end the practice for good.
From her column
:
"Is this the tipping point?  Is this the end of college basketball court-storming as we know it?If so, we shouldn't be surprised.
Other national media members voiced their opinions on social media, and images and videos of the event went viral.
Scary to see @KUHoops Bill Self getting sandwiched along the table after shaking Bruce Weber's hand.

— Sean Farnham (@SeanFarnham) February 24, 2015
Big 12 should fine Kansas State for its lack of security during the court storming. The No. 1 objective is get opposing team off safely.

— Andy Katz (@ESPNAndyKatz) February 24, 2015
Big 12 commish Bob Bowlsby needs to act Tue. This isn't about being the No Fun Police. This has been and always will be about safety first.

— Andy Katz (@ESPNAndyKatz) February 24, 2015

When court storming gets unsafe #Weber #Self #ouch @SethDavisHoops @RobDauster @GottliebShow pic.twitter.com/I6e2p4AAkV

— Connor Maytnier (@CMaytnier) February 24, 2015

Meanwhile, Kansas State director of athletics John Currie tweeted this following the game:
Thanks to #KState #Family for loud atmosphere tonight in #Doom. Proud of our players and coaches! #KStateMBB

— John Currie (@John_Currie) February 24, 2015

On Tuesday he released a lengthy statement saying in part, "Our security staff, which in similar past postgame celebrations has, according to our procedures and rehearsals, provided a solid human barrier to allow the teams to conduct a postgame handshake and safely leave the court, was unable to get into the proper position quickly enough last night and was overwhelmed by the fans rushing the floor.
"Although no one was hurt last night, we fell short of our expectations for securing the court and escorting KU to its locker room without incident. We are disappointed we did not do better for the KU team."
So what can be done to prevent what we saw at K-State Monday? Caruso offers up this advice:

"We had a person assigned to every official, and then had our staff form a human barricade in front of the visiting team bench so they had a clear exit path to get from their bench area to the locker room," he told AB.
The Southeastern Conference bans court-storming, with escalating fines for each offense. But even that doesn't stop fans from spilling onto the court after big wins. According to USA Today, Big 12 commissioner Bob Bowlsby could not be reached for comment.

"You have to be proactive," Caruso said. "You can't be reactive."

Otherwise, as Self suggested, "This has got to stop."

RELATED: Fighting Among Fans, Players Breaks Out During Utah Valley Court-Storming