A 9-year-old batboy has died after being struck in the head with a bat during a game of the National Baseball Congress World Series in Wichita, Kan., on Saturday.
Kaiser Carlile was retrieving a bat after an out during a game between the Liberal Bee Jays and San Diego Waves when he crossed into the path of a batter taking practice swings. Carlile had been wearing a helmet at the time, as required by the NBC.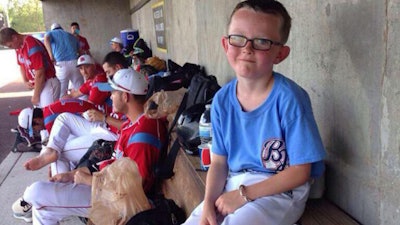 An umpire who is also a trained paramedic gave first aid until emergency responders arrived and transported Carlile to a local hospital where he died Sunday evening.
"With the permission of the family, and with much sorrow and a very broken heart, I regretfully inform everyone that Kaiser Carlile passed away earlier this evening," the team said in a statement.
The game between the Bee Jays and Waves continued after the incident, and played again on Sunday despite news of Carlile's passing.
"No one wrote us a book to tell us how to do this," said general manager Mike Carlile, a cousin of Kaiser's. "We're just dealing with it the best way we know how and that's to keep coming out and keep honoring Kaiser on the field."