This article appeared in the April issue of Athletic Business. Athletic Business is a free magazine for professionals in the athletic, fitness and recreation industry. Click here to subscribe.
When was the last time an evacuation took place at AT&T Stadium? This question is posed to new staff members during initial staff training at AT&T Stadium in Arlington, Texas. They look puzzled at first. After all, AT&T Stadium is the home of the NFL's Dallas Cowboys and has held numerous big-time events, such as the College Football Playoff national championship game and the NCAA Men's Final Four. Surely, they would have remembered hearing about some type of evacuation in the news.
The last evacuation at AT&T Stadium, the new staff members are told, was at the last event at AT&T Stadium. It might have occurred when 90,000 fans left the stadium without incident after a Cowboys game or when concert goers left after the last encore. The point is: An evacuation takes place after every event.
That attention to detail is part of what Paul Turner, senior director of event operations at AT&T Stadium, wants his 120 supervisors to impress upon the facility's 900 to 1,000 crowd management staff, including everyone from security personnel to ushers to ticket takers. For every sporting event large or small — and at every venue large and small — preparation and communication are key to ensuring the safety of fans in attendance.
"Putting on any sporting event now is a much larger endeavor than it has ever been in the past," Turner says. "In the old days, it was pretty much open the stadium, let the people in and everybody had a good time, and then they went away. It didn't have the layers of complexity that we have nowadays. Now we live in a very different world as far as safety and security goes."
 
PREPARE, PRACTICE AND COMMUNICATE
As Turner illustrates, well-trained personnel are vital to a smooth gameday experience, but event staff members also are critical in an emergency situation. While one could say event workers get to practice the former scenario each gameday, preparing for the latter is more difficult, relying on thorough training and practice before an event.
---
At the University of Michigan in Ann Arbor, Paul Neidermire coordinates gameday management for the athletic department, which works closely with Sgt. Akin Bryant and the University of Michigan Division of Public Safety and Security. In preparation for Michigan football games in 107,000-seat Michigan Stadium, staff meetings are held regularly, with more intensive training occurring during the summer. There is one five-hour training day before the start of the season that includes an evacuation drill, Neidermire says. "We run through everything from what they'll hear on the radio, what announcements they'll hear on the P.A., what they'll see on the video boards and where they should be directing the guests in their areas," Neidermire says.
---
On Michigan gamedays, there is a full contingent of police and security personnel, as well as local, state and federal law enforcement, and personnel from the city fire department and the local ambulance and hospital emergency departments, says Diane Brown, public information officer for the Division of Public Safety and Security.
"It really is all about partnerships and communication," Bryant says. "We keep our lines of communication open. There really aren't very many issues with getting the messages passed down to the volunteers and staff because we do keep those lines open on a daily basis."
At the University of Louisiana at Lafayette, home to a stadium one-third the size of Michigan's, an all-hazards emergency management plan is in place for the entire university that can be used for game management on football gamedays, says Joey Sturm, the university's chief of police and director of public safety. The day before a Rajin' Cajuns home game, law enforcement will do lockdowns of the stadium, as well as numerous sweeps with bomb-sniffing dogs. "We have an administration that understands the importance of being prepared related to training," Sturm says. "Just reviewing something repeatedly with staff game after game is training. It wires them so that in the event of an emergency, they do something. They don't freeze. And they're doing something that helps, not hurts, the situation."
 
GAMEDAY INFORMATION SHEETS
For any given sports venue, the environment changes from one event to the next — different crowd dynamics, weather, staffing and more. In preparation for the changing conditions, most venues supplement their standard policies and procedures for each specific event. At Louisiana Lafayette, that includes personnel from law enforcement agencies, EMS, the university's third-party contracting company and the athletic department all convening in an emergency operations center about a half-mile from Cajun Field. "Each game we have an operations plan that we put in place, and we use a risk-assessment tool to determine staffing assignments and what risks we need to mitigate," Sturm says.
---
Cajun Field evacuation instructional video
---
Upon checking in for an event at AT&T Stadium, all staff members receive an event brief sheet from their respective departments, whether that department is event operations, security, parking, concessions or one of a number of other areas. As part of his or her deployment, each staff member is expected to get an event safety briefing from his or her supervisor, Turner says. All staff members also receive a gameday staff handbook, which they keep and bring for each event. 
The detailed event brief sheet includes updates and reminders for event staff, concierge staff and access management personnel. There also are decals on the sheet of special passes and wristbands some fans will wear for specific event activities and hospitality events that day. Under the safety procedures category, the phrase "remain calm" is repeated, and at the bottom of the two-page brief sheet is the Homeland Security mantra, "If you see something, say something." The event safety briefing sheet highlights general safety information for a particular area, such as for ushers in the upper concourse of the stadium.
The average event staff member in Turner's department works about 17 events a year, and they usually work in different areas of the stadium from event to event, making communication paramount for each event.
"A Cowboys event is very different from a concert event," Turner says. "People move around the building differently. It's just dynamically different, so our event safety briefings reflect that change as well. One game they may be an usher in the lower bowl. The next game they may be an usher on one of the upper levels. It's rare that people are consistently deployed in the same spot to really master that particular location. People don't do this every day or every week. They need to be given good information the day of the event. They need to be reminded what the procedures are, what the best practices are."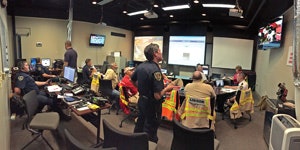 PUTTING TRAINING TO WORK
Thankfully, one of the most common gameday disruptions is one that venue operators can usually anticipate: weather. Turner and his staff have not experienced an event at AT&T Stadium that required an immediate evacuation, though between national semifinal games of the 2014 Final Four, a thunderstorm headed toward the area of AT&T Stadium. Fans were asked to not leave the stadium for about 10 to 15 minutes until they were given the "all clear" to go outside if they wished.
In the event of a major incident that creates the need for evacuation, Turner says, security staff can take over the integrated television system and display specific messages on the 3,500 TVs and vertical displays throughout the stadium. This is also when staff training becomes integral to keeping order.
"What we would simply do in an evacuation is help facilitate that movement, because sometimes you want people to leave the building in a different route than the way that they came in," Turner says. "On our upper concourse, for example, there are people who may have come up through the escalators, and while that was very convenient for them to come up, it's not going to be convenient for them to leave if we have to leave. But there are stairwells and there are ramps, and all our staff would have to do is direct them toward those points of egress, and they would be able to leave quite easily."
At Michigan, weather evacuations in both 2011 and 2014 provided useful lessons for event staff training, Neidermire says. "Some of the lessons that we've learned we've put into our training during our summer training sessions with event staff, which mostly focuses on where they should go when they're preparing for the evacuation, when there's inclement weather coming, and then what to do when we actually have to evacuate the stadium."
Sometimes an evacuation of a stadium is not in the best interest of fans. During the terrorist attacks in Paris last November, fans at a soccer match at Stade de France were initially directed to two exits from the stadium, but shortly thereafter, hundreds of fans ran back through the gates toward the field, The New York Times reported. Unpredictable as this specific attack was, it was the security procedures in place and staff training that allowed venue operators to plan and execute the safest course of action.
"People think when bad things happen, the best thing to do is run away," Turner says. "In some cases, you have to stay put because you don't know if you're running into a place that's more dangerous than where you are. We work hand in hand on event day with our public safety personnel that if we were to have something like that happen here, we would basically have to lock down the facility, make sure that whatever posed a threat or concern has been evaluated, and we can then safely move people."
---
This article originally appeared in the April 2016 issue of Athletic Business with the title "How to prepare stadium staff for an emergency"