Major sports venue operators have taken major strides in recent years to bolster their venues' defenses and have employed best practices to the point where few would consider them a soft target for terrorist threats. Implementing new security technologies and procedures takes time to get right to protect the fan experience.
For instance, MLB led the charge among professional leagues to mandate walk-through metal detectors for its venues by 2015, and the NFL followed suit this summer, calling for the technology at every stadium by 2017. Some venues, including MetLife Stadium in East Rutherford, N.J., saw the writing on the wall and got a head start. "We had experimented for about two years," says director of security and safety services Daniel DeLorenzi of the metal detectors at MetLife, implemented during the 2015 season. "It's a huge undertaking — the number and placement, training for staff and the public."
Metal detectors are just one tool changing the way sports venues safeguard against terrorist threats. There are a number of other developing technologies poised to revolutionize the way venues guard against explosive threats.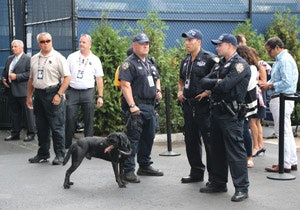 ANIMALS AND AUTOMATION
There are three forms of improvised explosive device (IED): vehicle-borne, package-borne and person-borne. The biggest threat to sports venues comes in the form of a vehicle-borne device, says DeLorenzi. As such, MetLife has some very strict policies for vehicles passing through its K12-impact-resistant walls. "Any vehicle that does come past the outer perimeter is completely swept by canines," he says. "Canine is, at the end of the day, probably the best technology that exists for explosives."
MetLife Stadium is one of the few stadiums that has its own set of trained canines in residence. Canine detection technologies fall into two types; most common are those trained to react to a scent on a person or package. "Our dogs are conventional bomb dogs," DeLorenzi says, "Every delivery, every package is checked by canine. Every vehicle is inspected by canines — even golf carts."
The newer, and thus less common, form of canine technology is trained to hit upon the scent in the air left by a moving target. "We're calling them person-borne IED canines," DeLorenzi says, though they're more readily recognized as Vapor Wake® dogs, a trademark held by AMK9. Such dogs are becoming commonplace on event days.
"We have somewhere in the area of 20 canines here from the New Jersey State Police on gameday," DeLorenzi says, "We're moving in the direction of PBIED dogs."
Even as canine technology evolves, manmade technology is advancing to rival it.
In February, a professor at the University of Rhode Island debuted a new device to rival the detection capabilities of canines. The sensor, developed by chemical engineer Otto Gregory, detects nitrogen- and peroxide-based explosives, including the triacetone triperoxide, the material used in vests of attackers in the Paris bombings. The research was funded in part by the Department of Homeland Security as part of Awareness and Localization of Explosives-Related Threats (ALERT) Center, a multi-institutional partnership headed by Northwestern University, of which URI is a partner.
Additional testing to define the sensors' range limits and sensitivity, as well as government approval and investment by a commercial entity, mean it will be a while before Gregory's sensors see practical market deployment.

STRENGTHENING THE GATES
Security crews are on watch for vehicle-borne IEDS constantly, but on gameday, added security is needed to protect against the increased risk from all forms of IEDs. "The Boston bomber is the best example of a package-borne bomb," DeLorenzi says. "After that, we stopped allowing backpacks into the stadium. You've limited the capacity for someone to carry a package-borne bomb."
At MetLife, the restrictions on bags have been taken a step further, pushing the perimeter around entrance gates out 150 to 200 feet using orange-painted bike racks. Says DeLorenzi, "We commit resources to create a secondary security perimeter. The arc goes from one side of the gate to the other side. Anybody approaching the gate has to pass through this arc. You can't get through that perimeter if you have the wrong bag."
Once fans are at the gate, walk-through metal detectors are becoming commonplace to detect metal-containing items such as weapons. Technological refinement of metal detectors has resulted in myriad options for venues — if they know how to take advantage of them. Most can be calibrated to venue-set sensitivities, resulting in fewer false alarms and less imposition on fans, for example. "You learn a lot about these things," DeLorenzi says. "There's a specific way we use them — how we have people standing and where, what the secondary screening is, where the bag checkers stand."
DeLorenzi says they've seen a marked increase in the number of confiscated items since implementing the metal detectors, but he also appreciates the number of potential incidents avoided altogether as a result of the increased security. "If you know you have to get past the metal detector, the viability goes way down."
In that vein, more venues are adding more levels to their gate screening. Morpho Detection systems are an emerging technology being seen at the ticket gate, though they will be familiar to frequent flyers. The devices utilize hand swabs to detect trace amounts of explosives, an extra precaution to be added to metal detectors. "Because of recent events, security operators are looking at their plans, and they're looking to cover their gaps," says Morpho manager of strategic business development and operations Jeff Harper of the technology's transition into the athletic realm. "The application provides a non-invasive swab of skin or a bag and returns an extremely low false-alarm rate in approximately eight seconds. What that translates to is a quicker screening of people and property that's less intrusive than manual pat-downs."
Morpho Detection systems have served as an additional security step at the Olympic Games, World Cup and European football matches. "It's portable, battery-operated and handheld," Harper says, noting that fixed, desktop versions are also an option. "Where they're used within the venue will vary with the procedural requirements of the operator."
Much like their airport use, the detection systems can be utilized in conjunction with other screening measures, either for random searches or a more focused search. It's part of the multilayered approach to security and reducing the opportunity for a threat to sneak through. "It's also about the deterrent of seeing it," Harper adds. "People look and see the different types of security. You don't just see the metal detector, you see people getting a second or sometimes third level of screening."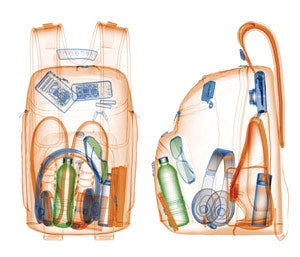 IMPROVING BAG SEARCHES
Another technology coming soon to the gates: the Qylatron, a futuristic-looking bag-screening device from Qylur that can reduce the need for manual bag checkers. "The ultimate goal is to be hospitable and not alienate people," says vice president of marketing and product development Yair Dolev of the unique design. The technology replaces manual bag screening at facility entrance points with multiple detection technologies, including multiple X-ray views. A person places his or her bag into one of the five pods and closes a door, walks through a metal detector, and reclaims their bag from a door on the other side.
"It only takes a few seconds and is much more effective than a manual search," says Dolev. "Then the image is uploaded to a human screener and also goes through software that runs an automated detection algorithm based on artificial intelligence technology. That means that we have taught the machine, and it keeps learning in an evolving matter, to understand the difference between clean bags and bags that include a threat."
The technology, which was introduced publicly in 2013, has been employed in a number of high-profile venues, including at the 2014 World Cup in Brazil. In November, the company partnered with Levi's Stadium and the 49ers to deploy its technology.
"The partnership with Levi's Stadium includes a study of best practices of operating this new solution and adjusting the concept of security around it to come up with an ideal method from the security side and experience side," Dolev says. The testing started with daily stadium tours and is progressing to larger events and larger crowds. "We're investigating the best possible options to optimize flow and the best use of staff members."
The X-ray imaging can be screened remotely from a command center or other central point, giving the security team a better picture of what's going on around the venue, as well as freeing up existing staff for other functions.
The machines are also connected to a main database maintained by Qylur, where the software program is continually being updated based on the collected data. "Qylur is collecting that information from multiple deployments with continuously learning software to get feedback," Dolev says. "All of those results — the misfires and catches — are all collected and turned over to result in updated detection models.
"It's part of the industrial Internet of Things," he continues. "The latest artificial technology is married with solutions on the ground. They get smarter and better over time."

THREATS ON THE HORIZON
New technologies are helping venue operators guard against threats, but they're also leading to the creation of new threats. In addition to the three forms of IED identified earlier, there's the potential to add a fourth: drone-based.
"There hasn't been anything, but there could be," DeLorenzi says. "It's an evolving technology, and we're evolving with it."
MetLife has a strict no-drone policy in place, which helps to deter any potential threats from the outset. "We've maybe had one or two drones that a hobbyist put up for a brief second," DeLorenzi says. "We have someone in an elevated position who can spot those right away. Not only can they spot them, they can spot where they came from. Then you've got state police and guards moving in and people think, 'I can't believe they got me that fast.' "
The security team is also looking into the various types of drone-deterrent technology available, which includes detection systems that use visual or audio cues to locate a drone, as well as evolving counter-drone technologies. "There are drones that will shoot a net onto another drone and take it away," DeLorenzi says. "We're talking to a couple of companies, and we'll have counter-drone technology in the near future."
---
This article originally appeared in the Spring 2016 issue of Gameday with the title "The technologies helping venues stay one step ahead of explosive threats"