This article appeared in the November | December issue of Athletic Business. Athletic Business is a free magazine for professionals in the athletic, fitness and recreation industry. Click here to subscribe.
For some collegiate athletics programs, last fall's terrorist attacks outside Stade de France hit a little too close to home, with schools such as Ohio State and the University of Minnesota tightening gameday security for the final games of the season. For others, it had been a topic of discussion predating the Paris bombings, as athletics programs looked to improve and align with industry-recognized best practices. Whatever the motivation, clear bags became the latest fashion and security trend at college football games across the country this fall.
Prior to the start of the 2016 athletics season, clear-bag policies had been enacted at 31 of 65 universities comprising the Power 5 conferences, with four universities in the Big Ten (Ohio State, Michigan, Michigan State and Penn State) taking an even stricter stance by prohibiting bags altogether.
Under the clear-bag policy, modeled after that used throughout the NFL, fans are allowed either a clear tote bag no larger than 12 by 6 by 12 inches or a one-gallon plastic freezer bag. "While collegiate groups try to stay at the forefront of new safety and security procedures, professional groups often have the funding and ability to implement these procedures more quickly," says Scott Ellis, emergency manager working with the University of South Carolina, "so we often draw from them for best practices."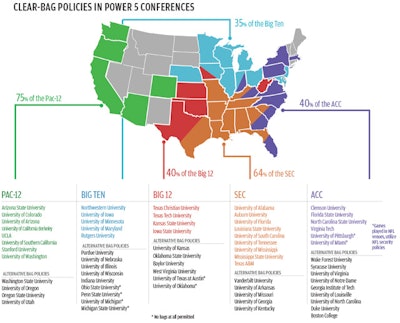 RECOGNIZING THE NEED
Any event management team's preference would be to see fans arrive with nothing in hand but a ticket and perhaps a jacket. Bags brought to athletics events present a list of safety and security concerns ranging from mere nuisance to terrorism — fans may sneak in food, alcohol, noisemakers, weapons or other prohibited items — and checking each individual bag represents a substantial commitment of manpower, time, access control technology, or perhaps all three.
"We determined at our annual safety and security review that we needed to adopt a clear-bag policy for events hosted at campus facilities," says Jeff Steele, associate AD for facilities and operations at Auburn University. "We believe this change will give us a safer and more secure facility for our guests to enjoy campus events."
Limiting fans to clear bags helps ease the burden and streamline the security process. "This policy provides our security team with greater visibility for items being brought into our venue — not only at the gates but at several different locations in our security perimeter, including the parking lots, roadways and the plaza around our venue," Ellis says. At each of these steps in the gameday process, security personnel are afforded an opportunity for a less formal, less intrusive visual inspection. "The average fan will pass multiple security personnel on his or her way to the gates, allowing our security to discretely scan bags as our patrons pass by."
---
More from AB: Stade de France
---
At Ohio State, prohibiting bags altogether allows security personnel to refocus their attention. "It allows our security staff at the gates to look at the people and not be distracted with searching a bag," says senior associate AD for internal operations Mike Penner, noting that the policy also reduces the need for metal detectors and similar security infrastructure at the gates.
The decision to go bag-free this season was made this summer after careful consideration and discussion among key members of the athletics staff. "We sat down and talked about making the change and got feedback from the whole group," Penner says. "We thought a no-bag policy could create a safer environment but also expedite the process of getting fans in the stadium and to their seats." There are a couple of exceptions to the new rule — fans with diaper bags or bags carried for medical needs are directed to use one of two special gates.
At USC, crafting and implementing a clear-bag policy was a two-year process, Ellis says. The team first gathered research and put together a policy — based off of the NFL's, but modified for Williams-Brice Stadium — to present to university stakeholders. Drafting the policy was only the first step, followed by developing detailed plans for communication and procedure. "Once approved, we began conducting meetings with our operations committee to troubleshoot and finalize our procedures," Ellis says.

PREPARING AND EDUCATING FANS
As clear-bag polices become the norm across college athletics, the transition should become smoother, but for the early-adopters, education and awareness campaigns have been paramount to successful implementation.
"We began involving our community in July using many different forms of communication, including our athletics websites, social media, season-ticket packets, mass email on campus, local news outlets, handouts from parking attendants, promotional clear bags, and volunteers around the venue on gameday," Ellis says. "We had cards printed and distributed in all of our university-controlled parking lots. We had a group of individuals who walked around the immediate area communicating the new policy to fans and providing promotional bags to those who needed them. We also had numerous sandwich-board signs created and placed around the plaza, and additional signs posted at our bag-check stations."
USC also enlisted other security stakeholders to help get the word out, Ellis adds. "We met with our local, state and federal participating law enforcement agencies. Several assisted us in communicating our policy through their public information outlets."
---
More from AB: metal detectors
---
Even after the changes have been engrained into season-ticket holders and regular attendees, the awareness efforts must be augmented to target visiting fans or infrequent attendees. "We work closely with the visiting ticket office and media to get the word out about our policy and services provided," Steele says.
As more schools adopt similar policies, such efforts can be downplayed, Ellis predicts. "Numerous NCAA schools adopted this policy for the 2016 season," he says. "I don't think we have caught many fans off-guard or hindered them in any way."
There will inevitably be a few fans who miss the message and arrive at the gate with a prohibited bag. "We developed check stations outside the facility for fans who bring prohibited bags," Steele says. "They can check their bag — inspected of course — and pick it up post game. We also provide gallon Ziploc bags in case they want to take a few items into the game."
The number of checked items decreases each week, Steele says, and fans overall have been receptive to the policy change. At OSU, which also offers a bag check, fans have been equally accepting of the new policy. "Every event has been better," Penner says. "There have been shorter lines, less crowding around the gates."

BEHIND-THE-SCENES TRANSITIONS
Fans aren't the only stakeholders who are affected by a change in policy. Security and gameday personnel need to be informed of any new procedures and trained to carry them out correctly. "We conducted multiple meetings during the preseason to educate and train our security personnel, event workers, ticket-takers, bag-check stations and others," Ellis says. "We also provide annual training to our non-law enforcement staff, which includes 'See Something, Say Something,' and this policy falls right in line with that training."
Steele recommends thinking well beyond the borders of the athletic venue when implementing a policy change. "We also worked with local vendors that sell items on gameday so that the bags they provide to customers are compliant should a fan buy an item downtown and come to the game with it," he says. "Also remember mass transit. We transport more than 17,000 fans on mass transit from off-site parking. It was essential that we have plans and programs to address any issues."
Though clear bags will hopefully ease the burden on gate security in the long run, Steele says Auburn's athletic department initially increased security staffing to help ensure a smooth transition. "We also made logistical decisions that required a commitment to a higher staff level due to the policy," he says. "We've since been able to reduce staffing in some areas due to the learning curve of our fans."
All of the planning and effort has paid off at USC, says Ellis. "We all understand the balance between maintaining security while still providing a great fan experience. This policy promotes a greater sense of safety and security among our fan base, and I believe our level of success with the new policy was a direct result of the all-encompassing communications plan that was utilized."
---
This article originally appeared in the November | December 2016 issue of Athletic Business with the title "Clear-bag policies take hold among college athletic venues"