"Fora Temer" signs popped up at various points inside Maracanã Stadium, site of men's and women's soccer and the opening and closing ceremonies at the recent Rio Summer Olympics. Fans holding signs with the slogan — which translates to "Temer Out" — wanted the removal of Michel Temer, Brazil's interim president.
Before news outlets reported these relatively minor protests, clients of location-based social intelligence platform company Geofeedia were alerted through social media posts. If an incident of violence or terror were to arise at the Rio Olympics — which generated more social media posts than any prior Games — these companies and organizations had the assurance that they would know about it immediately, helping VIPs and fans alike feel safe and secure.
According to Geofeedia, the Rio Olympics had 258 percent more in-venue social media posts than the 2012 London Summer Olympics. Geofeedia says it aggregated 608,000 public, geotagged posts in 33 Olympic venues in Rio (compared to 169,000 posts in 34 venues at the London Olympics).
Like Geofeedia, social media monitoring company Snaptrends reported a growth in social media activity at the Rio Olympics compared to the London Olympics. According to Snaptrends, official Olympic accounts gained almost 4 percent more followers on Twitter, people on Instagram used the #Rio2016 hashtag 737 percent more than #London2012, and the official Olympics Facebook page gained 105 percent more likes since 2012. Both Geofeedia and Snaptrends say that this growth is a reflection of the growing importance of social media in society as people use new methods to gather information and communicate with each other and the world.
Of the venues that Geofeedia monitored, 26 were arenas and athletic events; the rest included airports, the athletes' village, Copacabana Beach and low-income communities. Phil Harris, co-founder and CEO of Geofeedia, says that by using location as the primary filter as opposed to a set of keywords, its clients were able to isolate in-venue experiences by fans and athletes to better understand what was happening at those venues.
"We were supporting a number of organizations on the corporate side as well as security organizations responsible for keeping the Olympics safe and secure for all the participants," Harris says. "We were deployed in a variety of command centers, social media command centers and general security operation centers with these organizations. Our customers wanted to understand what was happening in and around the venues and in and around the transportation hubs, including the airport. Some of the transportation routes went through some neighborhoods that were less accessible. At the end of the day, we help protect the brand and the venue."
So what else did the Rio Games' digital eyes and ears capture?


CHANGING SOCIAL MEDIA PREFERENCES
Compared to four years ago, the usage of Instagram and Periscope grew exponentially, Harris says, helping provide additional data sets for the company and its clients. "Periscope is great because in an event, we see people pull out their phones and begin live broadcasting video feeds on premises," Harris says. "The evolution of social media started with Twitter and people sharing tweets, then it went to pictures on Instagram. Now we see live video on Periscope and Vine."
Protests such as Fora Temer garner attention through three intelligence elements: keywords and imagery, sentiment (what is being said at an event) and the amount of activity levels from a specific location. When a spike in activity grew well above the norm, "We knew that something was going on," says Jordan Liss, a member of Geofeedia's corporate security team. "Regardless of whether it was a peaceful protest or a non-peaceful protest, it was important for our customers to know that there is a protest going on," Liss says. "If a major situation were to arise, it's important to understand the social landscape, as well as the physical landscape, of a situation."


BUZZING ABOUT ZIKA
The threat of the Zika virus in Brazil kept some athletes and fans from traveling there, but according to Snaptrends, Zika had little to no negative impact on the Rio Olympics. Snaptrends says the most social media activity generated by Zika occurred on two specific dates, Aug. 12 and Aug. 15. The U.S. women's soccer team, led by goalkeeper Hope Solo, who expressed concerns about the Zika virus in the months leading up to the Rio Games, played Sweden in a quarterfinal match on Aug. 12. Opposing fans had chanted "Oh, Zika!" during U.S. games whenever Solo took goal kicks, and that chant intensified during the quarterfinal match, which the United States lost. Three days later, the Zika chant carried over to the men's beach volleyball quarterfinal match between the United States and Brazil.
---
RELATED: Social Media Analysis Shows That Zika Concerns Were Overemphasized Leading Up to Games
Using a word bubble tool built around "Zika" references, Snaptrends determined that one of the three largest bubbles was the "crying laughing" emoji, "indicating that the majority of social media users were not discussing Zika in a serious tone throughout the Olympics," according to the company. "We have used the Snaptrends application to determine that Zika was not actually a major talking point amongst the general public at the Olympics and that when people did talk about it, it was mostly due to external factors rather than about the virus itself," the company reported on its website.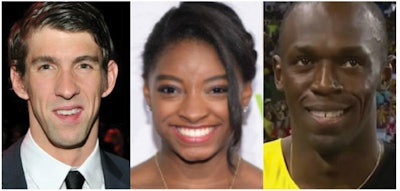 CELEBRITIES IN THE LIMELIGHT
The most popular athletes on social media during the Rio Olympics, according to Snaptrends, were swimmer Michael Phelps (999,525 posts), gymnast Simone Biles (628,015 posts) and sprinter Usain Bolt (573,524 posts).
Swimmer Ryan Lochte may not have been among the top three athletes, but he became part of an international story due to the instantly infamous incident of vandalism and alleged robbery at a local gas station. Harris says social media posts from the location of that gas station could have served as the starting point for an investigation.
"Where Ryan Lochte was and what he was doing, these public venues are very popular places to post social media," Harris says. "And certainly, he has celebrity status. I can only imagine that there were social media posts emanating from his movement over time and space that evening. If you're in a public place and something happens, people who are 35 years old and younger pull out their phones, pick their network of choice and begin sharing. If things did happen (involving Lochte) that couldn't be presented to social media, there usually are digital breadcrumbs that give you insight as to who was there."
That power of social media, Harris adds, is an example of how everyone is now capable of serving as a citizen journalist. Social media's greatest asset, Liss adds, is its usage in locations mainstream media either are not present or cannot get to. "The power of citizen journalists has uncovered incredible potential," Liss says. "Citizen journalists provide the additional layer of real-time intelligence that can be instrumental in front-running news and gaining situational awareness."
---
This article originally appeared in the Fall 2016 issue of Gameday Security with the title "Hot topics of the Rio Olympics, as captured by social media"