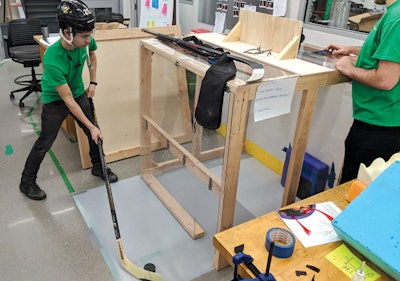 While most students take advantage of spring break to escape the rigors of the classroom, students at Carnegie Mellon University were working hard to make hockey a safer sport. The challenge? Despite hockey players donning protective garb like helmets, mouth guards and pads, they can still experience injuries — particularly the littlest players — when they hit the dasher boards.
In a bold initiative to make hockey safer at all levels, the Pittsburgh Penguins teamed up with two international giants of science and technology — Carnegie Mellon University's College of Engineering and Covestro — in a first-of-its-kind project called "Rethink the Rink."
Rethink the Rink challenged students to develop material solutions that enhance the safety of the sport without compromising game performance. The first initiative focused on redesigning the rink dasher boards and glass. As students applied their creativity to the challenge, they had access to experts and materials technologies from Covestro, a high-tech polymers producer and "Official Innovation Partner of the Pittsburgh Penguins."
"Players are bigger, faster and stronger than ever before, and so our challenge is to find new ways to keep them safer and reduce injuries," says David Morehouse, president and CEO of the Penguins. "This collaboration with Covestro and Carnegie Mellon is a specific attempt to use recent advances in material science to address the physical boundary that surrounds a hockey rink. Can we come up with a material solution that reduces the impact of players hitting the boards and makes the game safer for players of all ages?"

Scope of the problem
The first major step in the process was a "make-a-thon" that took place March 12-16 at the College of Engineering on Carnegie Mellon's campus in Pittsburgh. The interactive event brought together five teams of CMU students to design and develop prototypes for testing. Before the 25 students could begin brainstorming concepts, they needed to understand the scope of the problem.
On the first day, they received briefings from experts on such topics as the history of hockey rinks, the technology and materials used in rink dasher boards today, and the kinds of injuries — particularly joint injuries — that are most common in the sport. They also learned about the properties of many different types of Covestro materials available to them for the project.
Several of the student participants had played hockey in their youth, and a couple of them had been forced to stop playing because of injuries. Although some had firsthand experience with the kinds of physical injuries that could occur, all were intrigued to learn the range of other issues they would have to take into consideration when developing prototypes. For example, an arena might host a hockey game in the afternoon and a music concert that night, requiring structures that can be taken down and put back together with relative ease. Another surprising fact for the students was that rinks where young players skate are often recipients of "hand-me-down" boards. These seasoned boards were originally designed for full-grown athletes and not pint-sized players whose heads can be at the height of an adult's hip.
While working to decrease injuries among hockey players of varying ages and sizes, the teams faced an additional challenge: their new designs for rink dasher boards could not alter how the hockey puck bounces off them. Because the puck's "play" off the boards is a critical aspect of the game, players and spectators alike do not want to see it change. Engineering students are primed to solve this type of problem.
"Our students are uniquely driven to overcome obstacles," says Diana Haidar, an assistant professor of mechanical engineering and makerspace director who led the make-a-thon. "Rethink the Rink was an opportunity for students to tackle a real-world challenge. In multidisciplinary groups of engineers and scientists, ranging from first-year students to Ph.D. candidates, students collaborated to generate ideas, develop designs, and fabricate prototypes of new solutions to the issue of ice hockey player safety."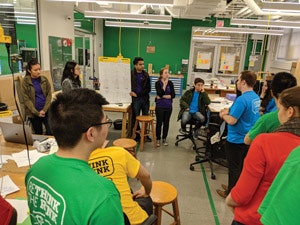 Getting down to work
After the initial brainstorming, the teams started to develop prototypes in the College of Engineering's new suite of maker facilities — the Tech Spark — which includes tools like computational design software, laser cutters, 3-D printers and an entire machine shop. Experts from Covestro provided coaching to each team throughout the process. The teams incorporated the ongoing feedback into their final prototypes. On the last day of the make-a-thon, the teams pitched their designs on the ice at UPMC Lemieux Sports Complex, the Penguins' practice rink.
Both the Penguins and Covestro were pleased with the students' work and are already taking steps to further develop the ideas.
"These students had four days to come up with a solution, create a working prototype and package their presentation," says Jerry MacCleary, chairman and CEO of Covestro LLC. "Impressive doesn't even begin to describe the results of their efforts — it was inspiring. All of the ideas had merit, and we're looking forward to building on what they started. This is only the beginning."
The goal is to produce a professional prototype, which could then be tested by amateur players at the FedEx Rink at the UPMC Lemieux Sports Complex. A future Rethink the Rink make-a-thon is in discussion stages, perhaps to explore the role of materials in other areas of hockey, including player equipment and rink construction.
"I cannot imagine better partners than Covestro and Carnegie Mellon Engineering, acknowledged global engines of innovation in materials and engineering," Morehouse says. "Combined with insight from the Penguins and the NHL on the hockey and rink management side, we think it is an exceptional team to explore ways to make an inherently physical sport safer for all players. This can be a meaningful research project that, if we achieve our goal, could help make a long-term impact on the game."
"At Carnegie Mellon we challenge our students to take on unusual problems, to be innovative, to be inquisitive and to take full advantage of hands-on learning projects like the Rethink the Rink challenge," says James H. Garrett Jr., dean of the College of Engineering. "This initiative by three world-class organizations is emblematic of the advanced level of collaboration we practice to drive breakthrough results."
Hockey is a thrilling, high-energy sport for both players and fans. Making it safer can only bring more enthusiasm and enjoyment to this favorite pastime.
---
This article originally appeared in the June 2018 issue of Athletic Business with the title "Rethinking a safer rink." Athletic Business is a free magazine for professionals in the athletic, fitness and recreation industry. Click here to subscribe.