"This isn't the first time we've made significant adjustments in how we operate," says Larry Naifeh, executive associate athletics director at the University of Oklahoma, of his department's response to the COVID-19 pandemic. While adjustments need to be made from top to bottom throughout the athletic department, Naifeh has seen throughout his career similar changes in how people, including fans, can adapt to a new normal.
"People are now accustomed to no bags or clear bags," he says. "Everybody knows now that you walk through a metal detector to get into a facility. That wasn't something that was going on a decade ago."
In collegiate athletics, maintaining some semblance of normalcy during the pandemic requires such a shift in thinking. From athletic department staff to student-athletes and spectators, everyone must change their thinking in order to protect themselves and one another, as well as the sports they love. New policies and personal protective equipment (PPE) are helping departments accomplish those goals.

Game-day adjustments
To a certain extent, an Oklahoma football game day amid the pandemic looked similar to before, with one notable exception. "The parking is a lot easier when 25,000 people are coming to the stadium instead of 80,000," says Naifeh.
Other than the number of fans in the stands, Naifeh says that the pandemic has renewed focus and energy around some elements of game-day operations that were always points of consideration. "We're always thinking about the fan experience, customer service, delivery of product, and we're constantly thinking about cleaning and sanitizing our facilities," he says. "This has just created both a more significant focus, and with regard to some of the cleaning and PPE products, the introduction of some new things in our existing routines."
Naifeh says that OU has gone "as touchless as you possibly can" for game day — and everything from parking to concessions involves as little direct contact as possible. "Even our premium areas have gone to a different sort of food service model, away from the buffets to more personal service."
"A good portion of our operational pieces are now done through an app," Naifeh adds, speaking of the SoonerSports2Go mobile application, which helps fans navigate game day more seamlessly and safely amid the pandemic. "Every piece of your experience — from leaving your house to finding your parking spot to knowing which gate to enter to directions to your seat to acquisition and even transfer of your tickets — are all done through the app. You can order your concessions through the app. You can go to pick up your concessions without standing in line."
OU contracts with third parties for food service and security, who Naifeh says have their own high standards with regard to COVID safety. "That's helpful when you have that level of professionalism across the various service providers."
Meanwhile, everyone who enters the stadium during the pandemic is required to adhere to well-known best practices — wearing a mask and social distancing. "For everybody that is part of the entire endeavor — our staff, our fans — masks are a requirement," Naifeh says. "Social distancing is also a requirement, from the design of our present seats and occupancy in the seating bowl, to entry procedures and the workings that occur on the concourse."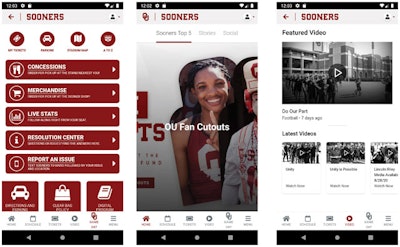 Athletic trainers rise to the occasion
The role of athletic trainers is difficult to understate even during normal operations, but add in the complications of a global pandemic and their value to an athletic department only increases.
"If you want to use the analogy of wearing a number of hats, I'm not sure they can make enough hats," says Tory Lindley, president of the National Athletic Trainers' Association. "Athletic trainers are doing so many things at this point that of course none of us ever expected."
During the pandemic, athletic trainers are called on to serve as frontline healthcare providers for everyone under their watch, including athletes, coaches, staff and administrators. Lindley likens the pandemic to a more familiar situation for athletic trainers: dealing with musculoskeletal injuries. "Say every single person within an athletic department has the potential to have a musculoskeletal time-loss injury at any point, 24 hours a day, for the next year and a half," he says. "That's the situation that we're dealing with."
Depending on the situation within a particular state or locality, things can vary greatly, necessitating the need for a different response, which in turn creates challenges for policymakers.
"It's challenging for even a conference, but certainly for the NCAA, to make a blanket policy when state by state and region by region things can be so different," Lindley says, adding that while specifics may differ, "the basic pillars exist and are similar for everyone.
"That's establishing your chosen testing protocol, working under the guidelines of what's been created as the minimum expectation by the NCAA, and then crafting what you think works best for you as a conference, and then additionally there are choices that can be made by an institution."
Given the circumstances, athletic trainers use best practices, both for policy and PPE, to keep themselves and their athletes safe.
"There's a difference in the management of PPE and patient care when you're in-clinic or in the athletic training room indoors, in a confined space versus outdoors and on the field or on the court or in the pool," Lindley says. In general, indoor environments that require closer contact will require more intense adherence to mask policy, whereas outdoors, face covering policies can take a somewhat more relaxed approach.
"There are really good guidelines out there relative to the differences between an N95 mask on one end of the spectrum and maybe a gaiter face covering at the far other end of the spectrum," Lindley says. "The gaiter might be okay for someone in an outdoor situation that expects to remain distanced. The gaiter is not okay for someone indoors, in the clinic."
Lindley considers PPE — and the commitment to using it properly — to be everyone's responsibility, but it's particularly important for members of any healthcare team, including athletic trainers. "In the absence of the appropriate PPE, there shouldn't be any level of return to sport, or return to play. And people are doing a really good job of that."

Moving indoors
As the calendar flips into the winter months, so too does the sports schedule — bringing the challenges of returning to sports into the even more challenging indoor environment (see "Airborne disease brings urgency to air quality control,").
As we've heard for months, indoor environments can bring people in closer contact, and into drier environments at the mercy of existing HVAC systems — both of which can be risky when dealing with an airborne virus.
Despite these challenges, Naifeh finds a silver lining. "Those indoor arenas have a better opportunity at assuring compliance, as you're looking at 3,000 to 4,000 people in a space versus 25,000 spread all over the place."
Lindley points out that the winter months will require increased vigilance among individuals.
"A lot of challenges lie in front of us," Lindley says. "As we move through winter and we're all cooped up indoors, there must be a renewed emphasis on personal responsibility, professional responsibility, responsible behavior and self-discipline. This really isn't about tools or technology, success is going to be dictated a lot more based on refreshing education and re-emphasizing individual responsibility."
Professionals in the industry have been doing their part to curb the spread of COVID-19, relying on their shared passion for sport to shepherd them through this difficult time. Naifeh credits his peers for putting aside their competitive natures in favor of adopting a cooperative attitude.
"All of us have shared protocols, all of us have shared information that we're learning from our medical folks," he says. "That level of professionalism in our industry, it is something to be very, very proud of."

Innovative PPE
Face coverings of all kinds have become standard, and are often the minimum requirement when visiting places of public accommodation. Choosing the right mask, however, can represent a dizzying decision process.
One factor worth considering is the ongoing efficacy of reusable masks versus the waste generated by disposable masks. A recent article published in Environmental Science & Technology estimated that monthly use of disposable masks reached as high as 129 billion per month so far during the pandemic.
According to Markus Hutnak, U.S. country manager for Livinguard, which manufactures a line of reusable masks embedded with technology that actively and continually inactivates viruses, many textile mask users don't follow guidance when it comes to appropriate mask cleanliness — which calls for regular washing.
"We did a study of the general population and asked the question, 'How often do you wash your mask if you're using a reusable mask?' " Hutnak says. "Eighty percent of respondents said they don't wash their mask regularly."
That factor matters. A recent study published in The Lancet found that detectable levels of SARS-CoV-2 — the virus that causes COVID-19 — could be found on the outer layer of a surgical mask seven days after it was first exposed, meaning that the virus may be lying in wait on an unwashed mask.
Livinguard's line of personal protective equipment seeks to mitigate this by creating textiles with a slight positive charge. The positively charged textile interacts with negatively charged pathogens, including viruses and bacteria, pulling ribonucleic acid out of those organisms in what Hutnak calls a "mechanical" inactivation action that works around the clock.
Face coverings can fall within a spectrum as far as effectiveness — with products such as neck gaiters being viewed on the lower end, and the higher end being dominated by masks with additional layers of protection, such as a face shield.
Meanwhile, other companies are reimagining their products for the COVID era. Under The Weather Pods, which manufactures a line of transparent plastic pods primarily for use by spectator sports parents braving the elements as they sit on the sidelines, made a quick pivot in the spring to aim its products at a different market.
"We were talking to a lot of doctors about the need for them to have some protection when they're inside," says UTW Pods president Kelly Mahan of the company's ShieldPod product. "We learned in the development process, when we started sharing it with customers, that they were very interested in the whole concept, as well, so in lieu of just rolling it out to the medical field, we made a decision to roll it out to the consumer audience also."
While the company makes no claims regarding the pods' ability to prevent COVID-19 infection, the additional barrier can help provide peace of mind.
Says UTW Pods CEO Rick Pescovitz, "It'll keep them warm, but it'll also keep people from coughing on them."
---
This article originally appeared in the January|February 2021 issue of Athletic Business with the title "Policy, PPE mitigate virus spread in sports." Athletic Business is a free magazine for professionals in the athletic, fitness and recreation industry. Click here to subscribe.