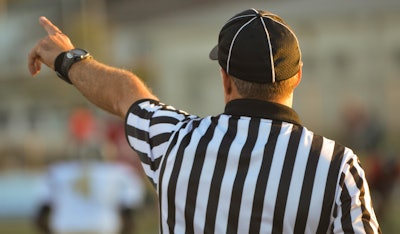 A crew of Ohio football referees who were intimidated and later trapped in a locker room following a rivalry game are asking for more protections to ensure such situations never happen again.
"Not only was our experience that night unlike anything we have ever experienced as officials, but it has prompted us to tell our story so that no other officials ever have to experience anything like that night again," officials James Kakos, Christopher McCaleb, Ronald Wilson, Keith Dalton, Nathaniel O'Neal, and Gregory Moore and D'Juan Hammonds wrote in the letter, which appeared in The Columbus Dispatch.
In the letter, the officials, which have a combined 107 years of experience between them, described an extensive pre-game preparation, as well as meeting with an Ohio Capital Conference representative who was present to observe the officials' performance that night.
Problem started late in the fourth quarter after a pass interference call was made against Grove City.
"The coaches were upset with the call and a few of them angrily ran on the field ranting and raving," the letter reads. "The defensive coordinator of Grove City's response forced us to call an unsportsmanlike penalty. Central Crossing, Grove City's opponent, closed the game with a victory."
After the game, the officiating crew was charged by Grove City assistant coach in a threatening manner, leaving them to fear for their safety.
Later, in the locker room, the officiating crew reviewed the game with the OCC observer. When they were through, they discovered that someone had barricaded them in the locker room by blocking the door with a vending machine.
"It took a great amount of force by violently banging the locker room door against the vending machine to create a wedge to escape, and we were unable to do so for an amount of time that placed in an urgent fear that should an emergency such as a fire occur, we may be trapped and face certain death," the officials wrote.
The crew ended the letter by making a plea for new laws to protect sports officials:
Most youth and high school sports around the nation share a common issue of officials' shortages. There are vastly more games and more kids looking to participate in sporting programs than men and women are willing to learn the craft and serve their communities while putting up with coaches, fans and sometimes kids who believe they have the right to disrespect those serving them.
No man or woman wants to voluntarily put themselves in harm's way, let alone be disrespected and not protected before, during and after the athletic contest.
More must be done to protect the officials who sacrifice their time and efforts to protect our youth. We are asking for changes in the laws that protect sports officials, we are asking for accountability when the safety of officials is placed in danger, and we are asking that we be allowed to do what it is we love without fear of unjust repercussions. We love the work we do, helping to mold the youth of central Ohio.
If this type of behavior doesn't change, there will be many more forfeits, cancellations and disappointments. Let us provide the youth with the examples that they deserve, and also show the youth that when you commit wrongful acts, you will be held accountable no matter who you are.