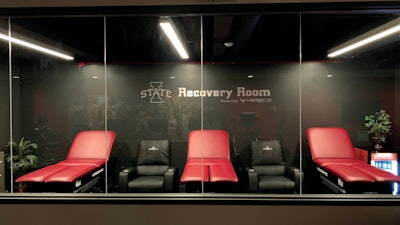 Photo courtesy of Iowa State Sports Medicine
Linden Perry's split-second attempt at self-protection instead sent her down a long and cautious road of recovery.
"I was in a preseason basketball practice and we were scrimmaging, and I got tangled up with one of my teammates," says Perry, a high school student-athlete in Gallatin, Tenn., who — worried about breaking her wrist with a national soccer tryout just days away — tried to control her fall by landing on her shoulder. "The shoulder hit first, but then sort of in a domino effect, I hit my head."
Perry, a freshman at the time, had received concussions playing sports before. She was a talented and determined young athlete, says her mother Carissa, playing basketball and club and school soccer. When she fell Nov. 8, Linden and her mother both approached the incident like previous sports spills. But in the next day's baseline concussion-screening test, she didn't pass — and it wasn't close. "She bombed it," Carissa Perry says — and then other debilitating symptoms were creeping in, changing her vision, balance and more.
Log in to view the full article