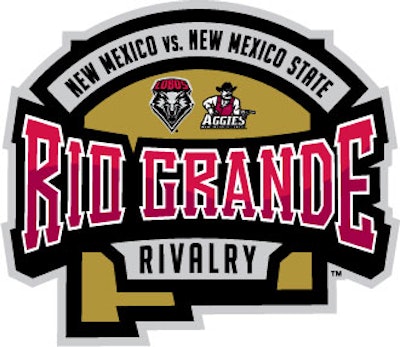 New Mexico State University police chief Andy Bowen spoke with University of New Mexico athletic director Eddie Nuñez by telephone Wednesday about concerns Nuñez has voiced to NMSU over the past several months about security in the Pan American Center.
The two schools have been at an impasse over annual home-and-home basketball scheduling, according to online and print reports this week by the Albuquerque Journal.
If the Lobos are to play the Aggies in Las Cruces this season, Nuñez's has requested that NMSU give written assurances there would be an increased police presence at the game, as the in-state rivalry's tensions have escalated in recent years.
NMSU issued the following statement:
"We know these games mean a lot to the people of New Mexico. Unfortunately, we're not sure what the holdup has been on getting these matchups scheduled. The NMSU Police Department has had numerous conversations with the UNM Police Department over the past few months to share our safety and security plans. Additionally, our NMSU Police Chief planned on reaching out directly to the UNM Athletic Director later (Wednesday). Our personnel have national-level training, and our game management processes meet industry standards for events of this magnitude. We're hopeful we'll be able to see our friends from Albuquerque in Las Cruces later this year."
Journal staff writer Geoff Grammer wrote, "While NMSU noted it is not common practice, especially not in this century-old series, to share in-depth security plans with others, UNM maintains it has not requested such high-level details. Instead, UNM would like, at a minimum, assurances — in writing — that there will be more police presence than in years past when student workers were often the only buffer between the Lobos team bench and the NMSU student section. UNM also wants assurances that the numerous violent incidents that occurred between both fan bases at the October football game at NMSU won't be repeated without more police intervention."
A brawl between Aggie basketball players and UNM students at the Lobos-Aggies football game at New Mexico State last October served as a precursor to a revenge plot a month later on the morning of what was supposed to be the first of two men's basketball games between the two schools, investigators said, as reported by Grammer.
Around 3 a.m. on Nov. 19, police said NMSU player Mike Peake snuck out of his team hotel to meet up with a 17-year-old UNM female student on campus and brought with him a gun he legally owned — though by taking it on a school trip, he violated school policy. There, three UNM students, one of whom Peake beat up at the football game, attacked Peake. That student, Brandon Travis, was shot and killed by Peake in self defense, Grammer reported.
Related: NMSU Suspends Basketball Player Involved in Fatal Shooting
Both men's basketball games between the two schools scheduled for last season were canceled, and this coming season's customary games have not yet being scheduled. The Aggies-Lobos football game will be played as scheduled Sept. 16 in Albuquerque.