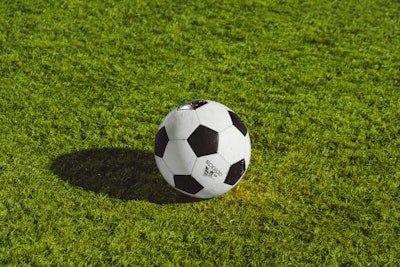 A 15-year-old German soccer player died after a post-match brawl at an international youth tournament last weekend, and now the German soccer federation is planning a weekend of mourning to honor the teen and denounce violence.
"This incredibly sad and shocking act at a soccer tournament for juniors leaves us speechless," federation president Bernd Neuendorf said Thursday, according to the Associated Press. "It is the ultimate challenge to all of us to take a firm stand against violence — in soccer and in society as a whole."
The player from JFC Berlin died Wednesday from severe brain injuries sustained during a post-match brawl on Sunday. A 16-year-old player has been detained in the incident pending further investigation.
According to the AP, the victim was struck in the head or neck area and collapsed. Police asked for witnesses who may have video of the brawl.
The federation said the German and French teams contesting the Under-17 European Championship final in Budapest, Hungary, on Friday will line up together behind a banner condemning violence, and there will be a minute of silence for the victim. Both teams will wear black arm bands.
Similar tributes will be made at the German Cup final between Eintracht Frankfurt and Leipzig on Saturday, and at all 21 local cup finals that day. This will continue for relegation/promotion playoffs taking place next week, the federation said.
"We're sending a signal together, from the bottom to top, in these sad days," Neuendorf said. "Together with his teammates and friends, we mourn the loss of a boy whose great passion was soccer."