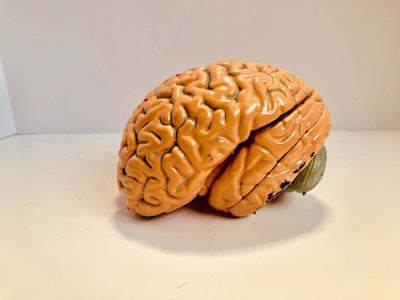 New research suggest that functional MRIs (fMRI), which measure the variability of oxygen in the brain, outperform a common neurocognitive test when it comes to idenitifying athletes who recently, or repeatedly, experienced a concussion.
"Biomarkers derived from brain imaging may provide a more objective way to diagnose concussions, which would help to ensure that athletes and other individuals who have sustained a concussion receive the appropriate medical care," said Barbey, the Mildred Francis Thompson Professor of psychology at Nebraska, according to Nebraska Today. "Many concussion symptoms are subjective, including difficulty concentrating, irritability and mood changes. These symptoms can only be reported by the person who is experiencing them, which can make it difficult for clinicians to assess the severity of the injury and track the progress of recovery."
Barbey, who directs the Center for Brain, Biology and Behavior at the University of Nebraska–Lincoln, was the author of a new study, which took 50 athletes from English and Welsh rugby leagues — 29 recently diagnosed with a concussion, six diagnosed with multiple, and 15 who had not recently experienced one — and had them complete an assessment that has emerged as a go-to for detecting mild traumatic brain injury. Known as Immediate Post-concussion Assessment and Cognitive Testing, or ImPACT, the assessment asks about potential concussion symptoms before tasking its takers with recalling or matching words, symbols, colors, letters and the like.
The athletes also underwent an fMRI, and Barbey's team was able to derive a novel measure of signal variability to assess how concussion affects communication and connectivity among the brain's networks.
Barbey and colleagues then used their ImPACT and fMRI data to train a machine-learning model aimed at correctly slotting each of the 50 participants into one of three categories: no concussion, concussion or repeat concussion. A model that was trained on variations in blood oxygen levels identified the concussed and repetitively concussed athletes substantially more often than did one trained on ImPACT data, which struggled to differentiate among the three groups. But a model trained on both blood oxygen variability and ImPACT data outperformed models relying on either source alone, correctly pegging 31 of the 50 participants.
"Based on our findings and emerging evidence in the field, it's clear that supplementing standard clinical tools with brain-imaging data adds value by improving the efficacy of concussion diagnosis," Barbey said. "This suggests that we are indeed moving in the right direction to better understand and diagnose this complex injury."