Planning for Safety at the Sydney Olympic Games.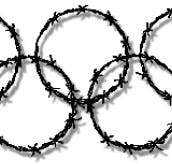 Next month's Olympic Games in Sydney will test the truth of the phrase "practice makes perfect." In the last several months, army Blackhawk helicopters have become a familiar sight around the city, as have phalanxes of high-risk engineers wearing fatigues and being led by bomb-sniffing canines.
A high-profile "lockdown" bomb search was just part of a monthlong Olympic security dress rehearsal in May dubbed "Exercise Golden Flame," which also saw Australian Prime Minister John Howard playing along by holding mock emergency cabinet meetings in response to a siege in Canberra and biological warfare in New South Wales.
It was the third practice session to come off without a hitch in the past year. "We're a lucky country," gushed a spokesperson for the Australian attorney general. "There are no specific threats against the Olympics."
There never are, a cynic might note. The Sydney Games organizers, who are planning a minute of silence during the opening ceremonies to honor the memory of 11 Israeli athletes and coaches murdered at the Munich Games in 1972, presumably have made the connection between that ceremony and the task ahead: avoiding a repeat of the Centennial Park bombing that cast a pall over the '96 Olympics in Atlanta.
While it's true that Australia isn't the political powderkeg that Korea (the '88 host) is, or the world's favorite terrorist target that the United States is, anything clearly can, and sometimes does, happen.
At least in terms of sheer numbers, the Sydney security contingent doesn't stack up well against the 25,000 soldiers and police officers deployed in Seoul in 1988, or the 30,000 volunteer and professional personnel dispatched from 35 different agencies in Atlanta. The Australian force will consist primarily of 4,500 police officers from New South Wales, 4,000 military personnel and about 7,000 volunteers.
In all, $43 million will be spent on security for the Games. (Of course, that's before any potential trouble starts. As of early June, the FBI and various local law enforcement agencies in the U.S. had spent more than $13.4 million on the 26-month-and-counting search for suspected Centennial Park bomber Eric Robert Rudolph.
And that doesn't include the millions spent building the case, subsequently dropped, against the since-exonerated Olympic security guard Richard Jewell.)
By opting against a Centennial Park equivalent-a large, low-security area where huge numbers of fans congregate-in favor of smaller, more easily policed areas, Sydney Games organizers feel they've translated the lesson of the Atlanta bombing into a more controllable design. Yet, there is at least some evidence that changing how a space is configured won't necessarily make it more secure.
Recall, for example, seminal research conducted by James A. Wise and Barbara K. Wise for the Bank Administration Institute in the early 1980s (later published, in 1985, as Bank Interiors and Bank Robberies: A Design Approach to Environmental Security). Breaking down bank robbers into two distinct camps-the surreptitious note passer and the hostage taker-the study found that banks with wideopen spaces (where everything was in clear view) tended to be visited by gunwaving criminals, while columned or partitioned banks were the preferred target of note-passers. The authors were forced to concede that many design solutions were undertaken largely in vain-banks could not prevent robberies so much as choose what type of robber they would attract.
Time will tell, then, just how lucky a country Australia turns out to be.