Facility operators have a duty to keep playing surfaces reasonably maintained.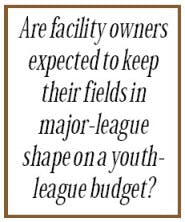 Not all facility managers operate under the same conditions as professional sports teams, with manicured fields, state-of-the-art lighting and clearly identified boundaries surrounding their activity areas. For most of the sporting world, fields and courts are unique and often offer atypical conditions that are not always ideal for playing.
For this reason, many questions arise. Does the facility operator have a duty to repair defects that may exist in the playing surface? To what degree is there a duty on the facility manager to maintain field conditions? Are facility owners expected to keep their fields in majorleague shape on a youth-league budget?
Before addressing any of these questions, it is important to distinguish the separate duties associated with repair and maintenance. Most dictionaries define repair roughly as follows: "To restore to sound condition after injury." Maintenance likewise is "the work of keeping something in proper condition." The distinction may be uninspiring, but the notion that a field might have a sound or proper condition is a nebulous concept and one that invites debate as to precisely what those conditions may be. Nevertheless, repairs are often thought of as one-time fixes, whereas maintenance is an ongoing process. The duty to repair, then, may be thought of as an isolated responsibility that arises when breakage occurs, while the duty to maintain is one that the facility manager never escapes.
In ordinary-negligence cases, a defendant owes a plaintiff a duty of care-to act reasonably under the circumstances. In many cases in sports, the question with respect to the duty owed is whether the circumstances gave rise to a duty to warn the plaintiff of a danger. An errant golf shot may have given rise to a duty to yell "fore." A football program has an inherent duty to warn participants before playing of the risk of injury. At track meets, officials have a duty to warn participants in one event of dangers created by other simultaneous events such as the javelin, shot put, discus or hammer throw. And the list goes on.
In cases against a facility owner, however, questions with respect to the precise duty owed may extend beyond the duty to merely warn. Facility owners can be found to have an affirmative duty to repair or maintain the playing surface in order to make the conditions reasonably safe for participants. In one case, Politz v. Recreation & Park Commission [(1993, La App 1st Cir) 619 So 2d 1089], the defendant facility operator was found to have failed to meet its duty to properly maintain a playing field when a softball player's foot slipped into a hole under a base, causing injury-even after the umpire warned players that "the base was loose." The plaintiff, a member of her employer-sponsored recreational softball team, tore the medial meniscus in her right knee when she attempted to make a play at second base and her foot slid into a hole about 6 to 9 inches wide and 6 inches deep under the loose base.
The defendant, a municipal corporation, argued that the plaintiff had been warned that the base was loose and therefore was apprised of the danger. The court in this case, however, found that the umpire's warning was inadequate because he failed to warn of the danger of stepping on the base. The court also found that the hole under the base had developed over time and presented an unreasonable risk of harm-and, thus, the defendant facility operator had not satisfied its duty to properly maintain the premises.
In another case, Carter v. New Trier East High School [650 N.E.2d 657 (1995)], the plaintiff, Earlest Carter, was playing tennis when he backed into a hole on the tennis court at New Trier East High School and injured his ankle. Carter argued that New Trier breached its duty to repair the tennis courts when it failed to make repairs after complaints of the potential dangers had been made known to the high school. Additionally, according to Carter, New Trier had failed to even inspect the courts after receiving the complaints and to warn users of the hazardous conditions.
New Trier contended that Carter's claim failed to establish that New Trier had breached the duty it owed to Carter. The court found the plaintiff's claim presented sufficient facts to establish a claim against the school, allowing the case to go before a jury to decide whether Carter's allegations were indeed accurate.
Several limitations on the liability of facility managers in this area are worth noting. First, a number of jurisdictions, including New York, Illinois and Florida, have adopted an "open and obvious" doctrine. Where the defect in the playing surface is open and obvious, notwithstanding the fact that it may be unreasonably dangerous, the injured party is deemed to have accepted the risks and bears responsibility for injuries caused by the defect.
In 1999, a number of New York cases involving defects in basketball courts applied the "open and obvious" doctrine-Sheridan v. City of New York [690 N.Y.S.2d 620 (1999)], Plotsker v. Whitey Ford's Grand Slam, Inc. [693 N.Y.S.2d 219 (1999)], Smith v. Village of Hempstead [693 N.Y.S.2d 240 (1999)]-each resulting in no liability upon the defendant because the hazards were known or apparent.
Second, certain jurisdictions have adopted recreational-use statutes that may insulate the defendant facility operator from liability. The purpose of these statutes is to encourage landowners to permit recreational use of their property in exchange for immunity from most negligence actions. For example, in Couture v. Leisring [(1993, Conn Super) 1993 WL 214590], the plaintiff, Edward Couture, was an adult softball player playing in a park operated by the defendant, Samuel Leisring. Couture was attempting to field a fly ball in right field when he struck a cement spillway and was injured. Under Connecticut's Recreational Use Statute, when a plaintiff steps on a field for recreational purposes and pays no fee for the use of the premises, the facility operator is immune from liability for acts or omissions regarding dangerous conditions on the playing surface.
Applying that statute, the court naturally found for the defendant in this case.
Third, the status of the injured party-an invitee, licensee or a trespasser-will also be important. Generally, owners or operators of a property have a duty to discover, correct and protect invitees and licensees from unreasonable risks of harm. In comparison, the owner or operator typically owes no duty to trespassers other than to refrain from acts that could be foreseen by the owner or operator to potentially cause injury.
As a practical matter, the facility manager's liability with respect to repair and maintenance of playing fields will depend largely on the state law that is applied. Limitations on the duty owed for discoverable defects, as well as statutorily imposed limitations, will differ from state to state. Considerations that will not differ, however, are the gravity of potential injuries and the likelihood of an injury. The facility manager should therefore regularly consider who its participants are or will be (children, adults, seniors and so on) and whether they are likely to be injured under the existing conditions.
Additionally, the facility manager should ask whether participants will appreciate the risk of harm created by the playing conditions. In this regard, periodic inspections and warnings to participants are a must for the facility operator.