As football players begin their summer regimens, training-camp supervisors feel the heat.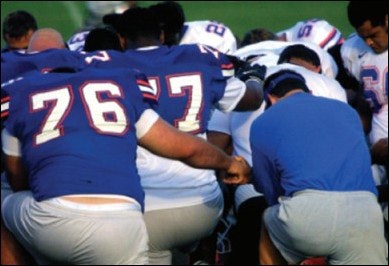 The past several years have seen a number of high-profile lawsuits stemming from the deaths of football players during preseason practices. As a result, program administrators are keeping closer watch on their athletes, and sports organizations are beginning the process of creating standards for trainingcamp supervisors. The focus is on football only partly because of the hot-weather timing of training camps and the suffocating nature of the sport's required equipment. Moreover, football's macho mentality, held by both players and coaches, makes it extremely difficult for athletic trainers to identify and treat injuries. A lot of coaches are still of the belief that training camp is a time to subject players to all kinds of physical and mental challenges - including exposing players to extreme temperatures. It has long been common for coaches to use the first week of training camp to hold two-a-day (and even three-aday) practices to get the athletes in playing condition and teach skill development. This has often occurred even when the heat index climbs into the triple digits. When the extra physical activity is combined with these kinds of extreme temperatures, deadly heat stroke can result. A typical and tragic example of the potential dangers involving high temperatures and football is the case of Eraste Autin. On July 19, 2001, Autin, a 6-foot-2, 255-pound fullback for the University of Florida, was jogging back to the locker room after finishing a voluntary preseason training session when he collapsed. The temperature was 88 degrees with 72 percent humidity, resulting in a heat index of 102 degrees. Autin's body temperature was 108 degrees when he was admitted to a nearby hospital. Although the training staff quickly came to his aid, and Autin was admitted to Shands Teaching Hospital at the University of Florida only minutes later, he lapsed into a coma later that night and was placed on a respirator. He died six days later. The official cause of death was heat stroke. Autin's parents filed a still-pending lawsuit against the University of Florida Athletic Association, a direct-support organization that oversees the athletic department, claiming that it acted negligently and carelessly in failing to prevent, detect or treat the heatrelated injury their son sustained. Autin's is just one of the more than 20 heat stroke-related deaths in football that have occurred over the past eight years, and not the only one to result in litigation. But even though the most well-known of these involve professional or major-college athletes - for example, Minnesota Vikings lineman Korey Stringer, who died while sweating out two-a-day practices, and Northwestern University's Rashidi Wheeler, who collapsed and died after participating in conditioning drills - it is high school and small-college athletes who are clearly at the greatest risk. There are a number of reasons for this. Unlike major-college and professional athletes, who work out year-round, not every high school player comes to camp in shape, thus increasing the risk of heat stroke. In addition, fewer athletic trainers or medical personnel are present at high school practices to identify potential warning signs. Since the National Federation of State High School Associations has so far failed to publish guidelines on the issue, the task of regulating football training-camp practices has fallen to each state high school association. The good news is that a number of the latter have developed guidelines for practicing in the heat. In addition, coaches are getting smarter about the heat, building water breaks and rest periods into their practices. The bad news, however, is that most of the state guidelines only offer precautionary advice, such as a list of heatrelated symptoms and corresponding countermeasures. The guidelines do not typically restrict the number of two- or three-a-day practices a school can have, or require a minimum number of practices without pads to help players get accustomed to the hot weather. In 2003, as a result of the Autin and Wheeler deaths, the NCAA instituted new out-of-season and preseason practice rules to help reduce the risk of heat-related injuries. The most important of these new guidelines is that each school must start the season with five days of single-session, no-pads practices. The NCAA also does not allow colleges to hold two-a-days on consecutive days. While always concerned about the impact of the heat on players, the National Football League has, since the 2001 death of Stringer, demonstrated a heightened awareness of heat-related problems. In an effort to make coaches and medical personnel aware of the danger, the NFL has addressed the issue at league meetings, coaching seminars and other venues. In addition, the league in 2002 banned the use of ephedra, an over-the-counter stimulant that was a suspected contributing factor in the heat-stroke death of Steve Bechler, a 23-year-old pitcher for Major League Baseball's Baltimore Orioles. Even with the various new guidelines in place, it is important for coaches and athletic trainers to remember that players can still get overheated. However, if coaches and athletic trainers keep the following suggestions and precautions in mind when practicing in the heat, they will significantly reduce the risk of heat stroke and heat exhaustion among their athletes:
During the first five days of practice, coaches should gradually acclimatize athletes to the heat, and practices should be run without pads.
Before sending players out to practice, know both the temperature and the humidity. Coaches can do this by using a sling psychrometer to measure the relative humidity; any time the wet-bulb temperature is more than 78 degrees, practice should be altered.
Athletes should be provided with plenty of water during practices and games.
Athletes should be provided with frequent rest periods in cool, shaded areas with some air movement. A sideline cooling system, though marketed as an in-game amenity, is one product that can help in times of extreme heat.
Since athletes can lose up to 14 pounds during strenuous workouts, teams should weigh and record athletes each day before and after practice. Generally, a 3 percent body-weight loss through sweating is safe, while a 5 percent loss is in the danger zone.
Special attention should be given to athletes who are more susceptible to heat injury, in particular those athletes not accustomed to working in the heat, individuals who are overweight, and those athletes who constantly push themselves to their physical capacity.
When practicing in full pads, remember that helmets and shoulder pads trap heat and make it harder for players to cool off. Therefore, allow players to remove helmets and pads while resting.
Last, coaches and trainers should also be able to recognize the danger signs, which include nausea, incoherence, fatigue, weakness, vomiting, cramps, a weak rapid pulse, a flushed appearance and unsteadiness. Heat-stroke victims, contrary to popular belief, may sweat profusely. If heat illness is suspected, seek immediate medical care.