The ultimate stealth sport, commercial indoor soccer has quietly become one of the country's more profitable and consistent sports enterprises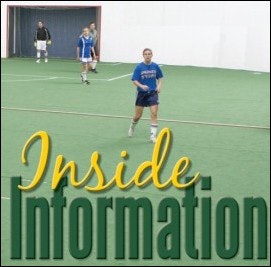 Indoor soccer, once a lowly mom-and-pop sports business, has steadily matured into a vast national network of commercial facilities. Its estimated half-billion dollars in annual revenues may be a paltry amount in the gazillion-dollar national sports industry, but commercial indoor soccer may unassumingly be one of the more profitable and consistent sports businesses in the United States.
From the first indoor "boarded" soccer pitches, which featured rubberized asphalt tennis surfaces ringed by four-foot-high plywood dasher boards, the indoor concept has spread rapidly to encompass 525 indoor soccer-based facilities in the U.S. and dozens more in Canada, according to Don Shapero of the United States Indoor Soccer Association. (Shapero, who estimates indoor soccer's growth at 5 to 10 percent a year over the past five years, adds that there may be many more facilities operating under the USISA's radar.)
Industry expansion in square footage is linked to skyrocketing indoor soccer participation figures. The most recent compiled by SGMA International puts the number of indoor soccer participants at 1,784,000, making indoor soccer the eighth-largest organized sport in the U.S. (Outdoor soccer, with 6,755,000 participants in organized play, was second only to basketball in 2003.)
Indoor soccer has existed in the United States as a spectator and quasi-professional sport dating back to the 1880s, but it got its biggest boost as a recreational sport a full century later with the end of the indoor tennis boom. As it happens, four indoor tennis courts make one very nice 85-by-200-foot, boarded indoor soccer field, so as the tennis market reached a plateau and then declined, soccer leagues took over derelict tennis spaces or farsighted tennis facility owners added indoor soccer to their offerings. And since the sport originated with rules adapted from the outdoor soccer game but with equipment borrowed from ice hockey, indoor soccer was also easily adaptable to underused (or unused) ice hockey facilities and skating rinks.
Commercial indoor soccer remained a minor part of the overall national sports landscape for most of the 1970s and '80s. The business prospered on a small scale, thanks to the low occupancy costs of the not-always-beautifully-renovated tennis and warehouse buildings. Soccer teams located primarily in cold-weather states played an eight- to 10-game session starting in late October or early November, after outdoor leagues finished play. This first phase of buildings utilized for indoor soccer, accommodating one or two boarded fields approximately 75 to 85 feet wide by 180 to 200 feet long, were developed largely in Midwestern cities that were home to indoor professional soccer teams. Beginning around 1975, these early operators (who tended to be soccer coaches and aficionados) took on indoor soccer as a novelty. The retrofit facilities usually had some version of the then-typical synthetic turf carpeting with painted lines.
Facilities custom-built specifically for indoor soccer began appearing around 1990, heralding the game's second phase of development. These buildings had uniform boarded fields, as well as more-elaborate concessions stands and retail stores. Business plans for this generation of facilities were similarly more elaborate because of the greater capital required, and for that reason management was drawn more from the world of business than from within the sport. Most of these facilities initially featured synthetic turf that could be removed for inline hockey and other court sports. The marketing plan for these facilities included the need to recruit and retain teams, and player comfort was often an afterthought.
The third phase of facilities, built since the turn of the century, tend to be larger - often accommodating three or more boarded fields. With the introduction of infill synthetic turf and other player amenities, the individual player has become operators' primary target demographic. Many traditional court sports serving as secondary program offerings have been replaced by activities reflecting the affluent soccer customer, including lacrosse, aerobics, field hockey and indoor climbing. Regional design differences have become more standardized as the industry better communicates on layout and programming issues.
Nowadays, the ubiquitous and innovative nature of indoor soccer operators is resulting in several new and exciting alterations, especially in field size and layout. Some facilities constructed in the past five years have been so bold as to put 70,000-square-foot, outdoor-sized synthetic turf fields indoors. Eliminating the need for traditional dasher boards altogether allows such facilities to mimic the outdoor game - "soccer indoors" as opposed to indoor soccer. The first attempt at building such a field is generally credited to Total Soccer in Wixom, Mich., which installed two outdoor-sized indoor fields in the late 1990s. (The facility's owners have since added dashers to one of them, as well as a third field, this one a 64,000square-foot, infill turf field under an air-supported structure.) Facilities such as Total Soccer (let's call them Phase 3b facilities) tend to address the outdoor game and its training needs, making the soccer coach the primary customer, even when non-full-size fields are specified.
Phase 3c facilities, built in excess of 100,000 square feet, contain multiple field configurations and are designed around a multisport concept that often caters to nine or 10 sports. These megaplexes may have climbing walls, skate parks, sit-down restaurants and even carousels. Some prominent examples include the RexPlex in Elizabeth, N.J., and Chelsea Piers in New York City.
The construction of the large-span buildings necessary to house many of the Phase 3 venues remains prohibitively expensive in most markets, making these mega-fields luxuries in larger metropolitan areas. Likewise, requisite operational costs in these facilities have in some cases threatened to overwhelm returns being generated by the mega-facilities themselves.
Surprisingly - at least to some observers in the cold Midwest - one of the strongest markets over the past 20 years has been Dallas-Ft. Worth. The Dallas indoor sports market currently supports more than a dozen facilities, with several more planned. Both Houston and Dallas, with their warm winter climates, have been somewhat unexpected boomtowns in the commercial indoor soccer business. Other new indoor facilities are being developed in such temperate climates as Orlando, Fla., Columbia, S.C., New Orleans and many others.
Some operators in southern California are putting a different spin on commercial soccer, taking the confines of boarded indoor fields outdoors under the open sky. The reason: a major shortage there (and in the Southwest generally) of outdoor, natural-grass fields and water to nourish them. This trend originated in soccer-friendly cultures such as Mexico and Brazil, where the popular and fast-paced outdoor-indoor concept (hundreds of outdoor walled fields have been built in Central and South American cities) is known as "Rapido Futbol."
Professional indoor soccer leagues - there have been six over the past 30 years, including the current Major Indoor Soccer League (MISL), which came into being in 2002 - were responsible for much of the recreational game's early growth. In professional indoor soccer towns such as Kansas City, Mo., St. Louis, Pittsburgh and Philadelphia, commercial indoor soccer flourished in the 1980s. Ohio, which has been the home of many pro teams over the years, boasts many facilities in the major markets of Cincinnati, Columbus and Cleveland.
Recreational indoor soccer rules were developed roughly around the professional game, and include some significant differences from the outdoor game. The most important is the lack of an offside rule, which increases the scoring. The boards provide speed, dead balls are brought back into play quickly and there are no throw-ins (all balls are kicked back into play). Indoor soccer (six on six rather than 11 on 11) was at the beginning advertised as a game that would enhance soccer players' outdoor skills by allowing them to play through the winter, but coaches soon learned that entirely different skills were required of indoor players.
Indoor soccer rules, as standardized by the USISA, are purposely less complicated and based on higher scoring and the constant motion of the ball bouncing around the arena. This has just been one of the bases for the ongoing political turf wars between the USISA and the United States Soccer Federation (USSF), which represents most of the "sanctioned" players of the outdoor game - the Olympic and National Teams, professional Major League Soccer players, select or traveling youth players, and a considerable number if not the majority of amateur adult and recreational youth players in the country.
The more stark contrast had nothing to do with the actual game, but rather involved moving from the usual nonprofit outdoor soccer league structure into the less-formal nature of for-profit indoor soccer. Although the indoor and outdoor games are certainly close cousins, there often exists a philosophical brick wall between the two. Even with an overlap in players and coaches, the outdoor game is run like a sport, while modern indoor facilities must be operated as businesses.
Some indoor operators feel that in spite of commercial indoor soccer's rapid growth, it remains an overlooked asset to the outdoor game. As Shapero puts it, "Indoor soccer never really received acknowledgement from the outdoor soccer game for its early support of American soccer and growing soccer at the grassroots level, employing many underutilized outdoor coaches, and keeping the game active during its periodic lapses."
Part of the problem may have been that, until recently, the indoor soccer business was extremely regional and disjointed, with very little communication between operators in different parts of the country. Some important developments over the past decade, though, are helping ease the situation. In 1997, Shapero formed the USISA to facilitate communication within the industry as well as to oversee "industry growth, management techniques, referee training and an overall platform for all elements of the business," he says.
Another important step was the establishment of the National Indoor Soccer Championship, a popular and increasingly prestigious national tournament. In 2003, the tournament hosted 1,300 teams in 50 indoor venues around the country. This tournament has fostered cooperation among owners of indoor facilities, and has helped to bring credibility to indoor soccer as a national sport.
In the beginning, indoor soccer facility operators were alone with their soccer teams. Though indoor soccer purists (every so often they'd maybe let a baseball team come in out of the rain), they soon realized the problem of empty fields. Midwestern summers were usually too nice to get anybody to play in a stuffy sports facility, especially youth teams. In addition, games required one's team, and an opposing team, to move indoors. Thus, for the facility operator, the games had to be highly organized from a scheduling standpoint, creating many challenges in the early one- and two-field facilities.
As the industry moved toward larger, custom-built facilities, rents and mortgages moved significantly higher and the long summer layoffs were cash-flow killers. Operators looked at summer partners, but the profitable pickings were slim. To the rescue came the meteoric "homeless" sport of the 1990s: inline hockey. It was noisy, sometimes smelly and hard on the dasher boards, but inline enthusiasts would play anywhere, at any time, and their money was as green as everybody else's. Indoor soccer facility operators (some of them grudgingly) rolled up the turf and let them play on plastic tiles or even on the bare concrete. Other facilities were remade as multisport facilities offering basketball and volleyball; some even managed to accommodate tennis and other racquet sports.
Many other activities have been tried by facility owners over the years - from sports camps, tournaments and clinics to exhibitions, coin shows and even AKC-level dog shows. Many indoor soccer facilities are now versatile enough to change into full exhibition centers (a notable example being the Odeum Sports and Expo Center in suburban Chicago). Most successful indoor operators will tell you they have tried it all, and that the mix is getting perfected.
The downside of the trend toward huge "something for everyone" facilities, though, is not hard to see. One 110,000-square-foot facility, built in the remote and underpopulated suburbs south of Chicago, has suffered because of huge costs and lack of business. A few other facilities around the country that have gone beyond a $6 million or $7 million construction cost may be overbuilt for the margins of sports products. As financing continues to be precarious for start-up ventures, the banks are keenly watching these large facilities for signs of financial stress. As one East Coast operator lamented, after his new full kitchen was found to be too big to be profitable, "More is sometimes less."
Industry veterans like Don Crowe (the successful operator of Seattle-based Arena Sports) and Peter Spanos (owner of Vetta Sports Clubs in St. Louis) see some continued growing pains ahead. Crowe, who has developed league-management software for the industry, believes that along with professional management, the modern indoor soccer industry will need improvements in technology to remain profitable. "Effective technology," he says, "will allow us to hire fewer but more qualified employees, so that employees can multitask to make the business efficient and profitable." (The business has already been boosted significantly by technological advancements in synthetic turf systems, with infill systems being credited with a dramatic decline in turf-related injuries.)
Spanos, meanwhile, sees market saturation as the biggest threat. "We are seeing capital put into the industry as never before," he says, "but we have to guard against the novice facility operator who sees a complex business as overly simplistic and just continues to build bigger and bigger for the sake of ego."
But on the whole, the future looks promising for indoor soccer. With technology developed specifically for the indoor sports business, an increasingly skilled and experienced group of owner/operators, the development of a realistic sports mix and more efficient buildings, the industry is poised to grow even larger. As the business reaches maturity, some of the industry's pioneers just may be able to retire with more than memories.