A legal team from Valparaiso University's Sports Law Clinic provides pro bono legal assistance to Winter Olympics athletes.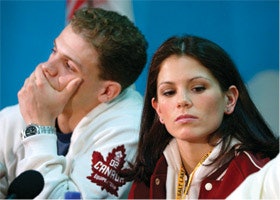 In some respects, the Apolo Anton Ohnos and Bode Millers of the amateur sports world aren't so much different from professional athletes. They, too, lay claim to high-priced sports agents who represent them in virtually all business matters, from financial deals to legal battles. But it's highly unlikely that the majority of the 2,500 athletes participating in last month's Turin Winter Olympics - or any Olympics, for that matter - can afford to say the same.
Primarily for that reason, a legal team from Valparaiso University's Sports Law Clinic made the 4,500-mile trip to northern Italy to provide pro bono legal assistance for athletes in need.
According to a Valparaiso press release, the four-person legal team's goal was to provide Olympians with better access to legal representation than had been available at previous Games. Valpo's team supplemented legal aid already offered by the U.S. Olympic Committee ombudsman, as well as that provided by the Court for the Arbitration of Sport, which settles disputes that arise during Olympic competition. The Valpo Sports Law Clinic also served as a source of information for journalists regarding any Games-related legal matters.
"Any dispute an athlete has during the games - from a doping case to someone challenging a competition decision - we will provide free legal assistance to that person," said Mike Straubel, a Valpo associate professor of law and director of the school's sports law clinic, days before boarding his international flight. "Athletes are in Turin to compete; they simply are not equipped to mount an effective argument on their own if a dispute arises."
And like Miller attacking a slalom course, the Valpo team must navigate the Olympic legal system with speed and dexterity. "These cases are very challenging," Straubel said, "because the disputes usually need to be settled within a 24-hour period."
In preparation for such demands, law students working in the Valpo clinic wrote briefs based on relevant decisions in each of the sports represented at the Games. In addition, the program, which was founded last year, had already represented several athletes in disputes, including U.S. speedskater Shani Davis. Only weeks before potentially putting the legal talents of his students on the world stage, Straubel had high hopes that the experience would provide a litmus test for whether volunteer legal teams should be sent to future Olympic games.
"We've already learned a lot in preparing our database of legal cases, and that will be extremely valuable in future cases," he said. "This exposure to the international sports world also is an experience very few law students get."