As strange as it sounds, curling has the potential to fill up rinks during off-peak hours.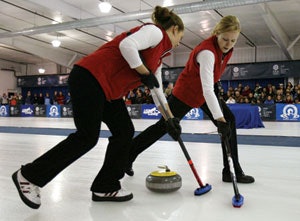 The numbers aren't huge by any stretch of the imagination. According to USA Curling, a 15 percent jump since the Salt Lake City Olympics has brought the organization's registered membership to 13,500, with a total of perhaps 17,000 people regularly taking part in curling in the United States. But their interest in the little-known sport is so acute that they'll play it whenever they can find an opportunity - which, as it happens, isn't very often.
But that might be changing. Fourteen new curling clubs have just come online, bringing the total to 154 - of which around 90 utilize dedicated curling rinks. The other 64 or so rent ice time at private and public rinks, working around the schedules of more established hockey and figure skating programs.
Log in to view the full article