Sports law professor and author Stephen Ross explains why international soccer's league system helps make it the world's game.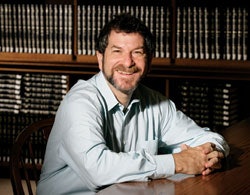 There's a reason soccer inspires such rabid fan interest outside the United States, and it's not necessarily the sport itself. It's how leagues are structured. So argues Stephen Ross, Penn State University sports law professor and coauthor (with Stefan Szymanski) of Fans of the World Unite! A (Capitalist) Manifesto for Sports Consumers, published in November. Ross says American professional sports would benefit greatly if each league had a second-tier league to which poorly performing teams could be relegated and from which top finishers could be promoted. Paul Steinbach called upon Ross to promote his thesis.
Q: How does the system work for leagues abroad? A: There are 20 teams in England's Premier League, for example. Every year, the bottom three teams in the league drop out and go down to another 20-team league called the Championship League, and the top three teams in the Championship League are promoted.
Q: What impact would such a system have on the way U.S. teams are managed? A: The principal effect is that perennial losers would have to improve. The Detroit Lions are a classic example. Under our proposal, that team would not be crummy. As much as I hate to say it because he's a Penn State grad, they would have fired Matt Millen years ago. And if the replacement general manager failed, the owners would have fired him in six months, because the team can't afford to be relegated. No question, Lions fans would be better off with this system.

Q: Is it enough to hold fan interest all season? A: In England, attendance of teams at the bottom actually goes up, because people are going to the games to cheer and keep their team from getting relegated. The reason English soccer is so entertaining is that at the beginning of the season, 12 or 13 teams have a plausible chance of finishing near the top. And there are probably eight or nine teams that with bad luck, injuries, etc., run the risk of finishing in the bottom three. Well, that covers everybody. Everybody at the beginning of the season is playing for something. In baseball today, half the teams start the season knowing they have no chance of playing for anything.
Q: Major League Baseball has its minor league system, but what could the National Football League use as a second tier? A: You're talking about creating a new league. One interesting way that our proposal might get implemented, as we have suggested, is that if the upstart United Football League actually becomes successful, rather than have it heat up into a salary bidding war - as happened with the old AFL and NFL, or with the USFL and NFL - the UFL would just agree to become second tier to the National Football League. And the obvious increase in value of its franchises, which would now be playing for a chance to get into the NFL, would be huge.