Ward Dill takes a swing at developing a new kind of wood baseball bat - one that is nearly unbreakable.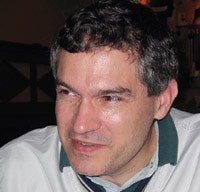 Two full years before the spectacle of maple bats shattering in the hands of Major League Baseball players caught widespread fan and media attention last season, woodworking enthusiast Ward Dill took a swing at crafting a new kind of wood bat - one, it turns out, that is nearly unbreakable. Inspired by the sturdy construction of a single vase made from several pieces of wood, Dill's Radial Bat is turned from 12 wedges of maple or ash glued together lengthwise under tremendous pressure. Its creator claims many advantages, including an ability to adjust bat weight without sacrificing length and balance. But durability is the bat's trademark. Radial bats now in their third season of use are every bit as good as the day they came off the lathe, Dill says, and in the rare instance that a bat should break, it's what he calls a "docile experience. . . unfortunate, but not dangerous." Despite receiving bat-exit-speed-ratio certification last fall, making it acceptable for use in metal-bat-dominated NCAA baseball, the Radial bat remains banned from MLB batting cages - never mind actual games. Paul Steinbach asked Dill to help shape the wood-versus-metal debate.

Q: What can go wrong with single-piece maple bats?
A: Maple is a heavier, denser wood than ash, so if you want to make a bat out of maple that is the same weight and exactly the same shape as ash, you have to do something to reduce its weight. The only variable to manipulate is moisture content. I suspect that many of these maple bats that were provided to Major League Baseball were dried out too much. Anybody who's been camping knows that a dry piece of wood is much more brittle than a moist piece. The second issue with maple is it has a very fine grain, and when it breaks it creates razor-sharp edges. If you combine the increased brittle nature of dried maple and the fact that when it catastrophically fails you get very dangerous edges, then you wind up with the conditions that you saw last year in the Major Leagues.

Q: Do you consider metal bats safe?
A: The conventional wisdom is that they're dangerous because balls rebound off them faster. I think the more important problem is that balls don't rebound off them consistently. If you hit a ball with a metal bat on the small area that allows for the so-called "trampoline effect," then you get an acceleration that has to do not only with the compression and rebounding of the ball; it adds the bending and rebounding of the metal barrel. For fielders trained to perceive the speed of the pitch and the mechanics of the hitter, their perceptions and reality are not going to be the same. Reactions are not going to be what they need to be.

Q: Should all baseball be played with wood?
A: I characterize metal bats as training wheels, because they allow you to do something that is going to hinder your ability to do it better. Anybody who wants to learn to hit a baseball has to be forced to learn good mechanics and to perceive and interpret the pitch early in the delivery. There are substantially important implications when you train and gain confidence if you're learning with a metal bat versus a wood bat. Metal bats are easier to use, but I think anybody who's a serious player, who wants to realize his or her potential, has to be working with a wood bat.