A recreational addition to the windowless 1960s-era Daskalakis Athletic Center, the Drexel University Recreation Center forms an integrated sports facility in a legible new center of collegiate and community activity. Its new face to the Philadelphia streetscape - primarily its south-facing window wall of clear and colored laminated glazing, augmented by metal and wood panels - engages the street with multiple points of access and transparency that showcases the interior activities. The faceted glassy facade evokes Drexel's blue and gold insignia colors and features a random series of undulating bays that define individual user spaces within the larger communal environment of the fitness floor. The color scheme and showcase of activity even spills outside, with an outdoor plaza suitable for diverse functions such as dance, aerobics and commencement featuring a blue and gold permeable rubberized surface.
The judges saw the designers as having successfully met several different challenges - blending old and new building elements, adding large amounts of recreation space within a tight urban site and, above all, creating a signature look. "The exterior window system by day or by night elegantly reduces the overall massing and scale of the facility," one judge remarked. "At night, the amount of activity witnessed from the surrounding neighborhood is quite unusual." Added another judge, "The entire facade functions as an active billboard for exercise and fitness."
This thoughtful addition wraps an existing gym and creates a new exterior expression on both street side and plaza side. Warm and inviting interiors play off of the daylighting and transparency.
- John Dierdorf, Browning Day Mullins Dierdorf Architects
This energetic project successfully transforms its site and provides a strong, contemporary and engaging expression that is successful in making meaningful connections beyond the edges of the site. The integration of abundant quantities of natural light has produced memorable spaces that would be a pleasure to use.
- Darryl Condon, Hughes Condon Marler Architects
That glass facade really makes this an iconic, memorable facility. The program spaces are light-filled and well-detailed, from the outdoor pervious rubber deck to the magazine racks in the fitness center.
- Jeff Piette, Kahler-Slater
Architect of Record:Sasaki Associates Inc.Watertown, Mass.
Associate Architect:Ewing ColePhiladelphia, Pa.
Cost: $42 millionSquare Feet: 85,900Funded By: University fundsMajor Facility Components: Multipurpose gym, jogging track, squash courts, climbing room, fitness center, group exercise rooms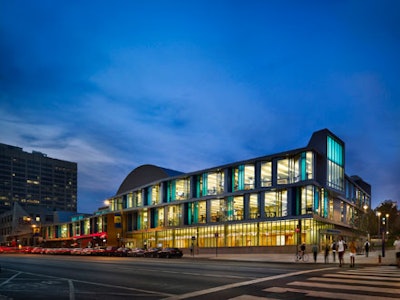 Halkin Photography
Click here for the full photo gallery
The 2011 Athletic Business® Facility of Merit™ awards were recently selected by a panel of sports and recreation facility architects during two days of judging in Chicago. The 10 winners are being announced in this space during the first two weeks in October, and profiles of all 10 will appear in the December issue of Athletic Business. The awards will be presented to the facility owners and architects at the Athletic Business Conference & Expo in Orlando, Fla., on Friday, Dec. 2.