Breaking Ground
A renovation of and addition to the Denver Broncos' Paul D. Bowlen Memorial Broncos Centre (pictured) is under way. The addition includes construction of a new 115,000-square-foot indoor practice facility with a full-length field, as well as locker room and auxiliary spaces. A 12,000-square-foot expansion will house a new kitchen and video operations and technology offices, and the lobby and current media room will also be renovated. The new field house was designed by Denver-based Sink Combs Dethlefs, and the facility renovations are being led by Intergroup Architects of Littleton, Colo.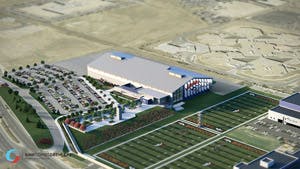 (Renderings Courtesy of Sink Combs Dethlefs)
An expansion of the Weingart-Lakewood Family YMCA in Lakewood, Calif., begins this month. Over the next nine months, 10,000 square feet of space will be added, including two additional group exercise rooms, new family locker rooms and more cardio and strength training equipment. Also included in the $5 million project, designed by Studio One Eleven Architects of Long Beach, Calif., will be a modernization of Y amenities, as well as modifications to make the facility fully accessible.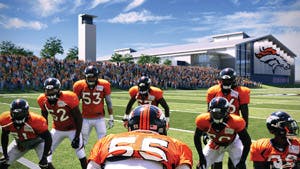 (Renderings Courtesy of Sink Combs Dethlefs)
South Miami has broken ground on a community pool at Murray Park — a project 45 years in the making. After previous iterations, which called for a multimillion-dollar competition pool to be open year-round, proved too costly for the city's needs, the final design from Recreational Design & Construction Inc. of Fort Lauderdale, Fla., will feature a four-lane pool and splash area to be open just 10 weeks during the summer. The $1.5 million project is expected to open this summer with a primary mission of teaching children to swim.
A two-year "fan experience" upgrade plan of the Cleveland Browns' FirstEnergy Stadium has begun. The $120 million package will be completed in two phases, starting with the installation of two new high-definition scoreboards, LED video boards and audio equipment. In the 2015 offseason, improvements will be made to the concessions areas and premium seating areas, including club seats and suites. The renovations are also expected to address issues with cell phone reception and wireless connectivity.
The YMCA of Greater St. Petersburg (Fla.) breaks ground this month on Bardmoor YMCA. The $6.6 million project is expected to serve more than 14,000 residents when it opens in August. Located on a five-acre lot, the 36,000-square-foot facility will include a health and wellness center, group exercise rooms, a full gymnasium, locker rooms, a Kid's Zone and multipurpose spaces. An outdoor sports field is also included.
---
First Pitch
The University of Utah has kicked off a $36 million fundraising campaign for its Jon M. and Karen Huntsman Basketball Center. The project will construct a new men's and women's basketball training facility, as well as upgrade arena elements such as lighting and sound and renovate the strength and conditioning area used by many of the university's athletic programs. Construction is expected to begin this spring... The University of Miami has launched a $7 million campaign to fund upgrades to its athletic facilities. The Football Victory Fund will go toward a new lighted synthetic turf practice filed, as well as a new dining hall and cold-water plunge pool for athlete health and recovery... Conestoga Valley High School in Lancaster, Pa., has received school board approval for a $3.2 million renovation of its stadium. The initial work, which will begin next year, includes improvements to bleachers and concessions stands. Additional work could see the construction of a synthetic turf field, along with field lighting and sound system improvements.
---
Grand Openings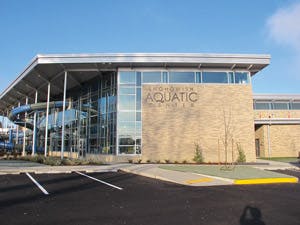 (Photos Courtesy of Snohomish School District)
The Snohomish (Wash.) Aquatic Center is now open. The $22 million facility, owned by the school district and operated by the local YMCA, includes a 10-lane competition pool with a dive area and seating for 420, a recreational pool, a warm-water therapy area, a spray park, a surf-simulation machine and a waterslide. The facility, designed by Dull Olson Weekes Architects of Seattle, will be used for a variety of athletic events; swim, surf and diving lessons; wellness classes and recreational activities...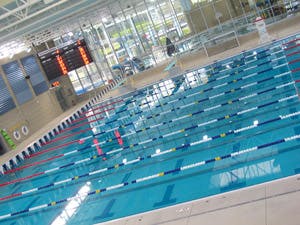 (Photos Courtesy of Snohomish School District) The University of Michigan's Donald R. Shepherd Softball Center opens this month. Part of an overall $350 million athletic facility overhaul, the 10,200-square-foot complex includes locker rooms, office spaces, fitness spaces and hydrotherapy pools. The $5.3 million facility was designed by Integrated Architecture of Grand Rapids, Mich.... Three athletic and recreation fields — two synthetic and one natural grass — opened last month at Duke University. The fields are the first project financed by the athletic department's Duke Forward campaign and part of a larger plan that includes construction of a track and field stadium and new bleachers and lighting for Koskinen Stadium, as well as upgrades to various other facilities. The total cost of the campaign is estimated to be $100 million... High Point Climbing and Fitness in Chattanooga, Tenn., opens this month. The $6 million indoor climbing gym also features an outdoor climbing wall and international speed distance climbing section. Walls extend 40 feet high with an overhang adding an additional 15 feet, and the facility's most challenging routes are found in "the pit," which drops 161⁄2 feet below ground level. The facility also includes a childcare center, a fitness center, space for event hosting and an onsite climbing guide service... A new fitness center opens this month in Atascadero, Calif. GIVE Fitness Health Club offers exercise equipment for cardio and weight training, fitness classes and small group fitness training, tanning and free childcare. GIVE LLC, the gym's founder, has pledged to give 50 percent of gym profits back to the community. Local community leaders will identify three major areas of need in the community each year, and gym members will vote on which project will receive the donation.