Breaking Ground
After seven years of planning and fundraising, the University of Portland breaks ground this month on its Beauchamp Recreation and Wellness Center. The project will be triple the size of the existing Howard Hall, constructed in 1927. The $23 million facility, scheduled to open in fall of 2015, will feature three gymnasiums; spaces for group exercise, cardio and strength training; an indoor track; a climbing wall and a wellness suite. The design, by 360 Architecture of Kansas City, Mo., also incorporates infrastructure for a possible second phase, which would include a pool should funding become available.
The Edmonton Oilers have broken ground on a new $480 million Rogers Place arena, also designed by 360 Architecture. The 20,500-seat arena, expected to be completed in time for the 2016 season, will feature a unique design, mimicking the shape of an oil drop. A "winter garden" will serve as a multiuse public space and connect the arena to a community ice rink, a public transit station and a pedestrian walkway that are part of a larger overall downtown building project. A spectators' catwalk will be the first of its kind in an NHL arena, and clear glass throughout will offer transparency and daylighting.
Construction began last month on a dedicated facility for the University of California Davis women's field hockey program. The $3.2 million facility, scheduled to open in time for August practices, will make UC Davis one of only three NCAA Division I teams on the West Coast to offer a regulation synthetic turf field, which features a smoother surface than that typically used for football and lacrosse. The facility will also include a seating area, scoreboard and sustainable landscaping.
Texas youth sports organization Plano Sports Authority began construction last month of a new recreation facility at Gabe Nesbitt Community Park in McKinney, Tex. The 90,000-square-foot complex will offer eight courts for basketball and volleyball, an indoor multipurpose turf field, a food court and other amenities. A planned second phase will include four more courts.
---
First Pitch
The Kalamazoo (Mich.) City Commission has approved a five-year master plan for park and recreation improvements that includes development of a $16 million community aquatic recreation center in 2016. Other park upgrades include new play areas, restrooms and shelters at various community parks, as well as construction of a splash pad at Mayors' Riverfront Park in 2015... South Oregon University has received legislative approval for a $21.8 million upgrade of its McNeal Pavilion. The renovations will address issues related to accessibility and seismic concerns. As part of a separate project, a worn track and field facility will also be renovated this year... The University of Buffalo has released a facilities master plan, which includes plans for construction of a tennis center, a field house, a soccer stadium and a baseball field around UB Stadium, as well as upgrades to the softball fields and stadium. The construction timeline will be dependent on project financing, which will be raised solely through private donations... The department of recreation in Montgomery County, Md., is evaluating potential sites for a regional recreation and aquatics center, the first of four potential regional facilities in the county. In coordination with the state's Montgomery Parks division, the department is currently considering an area of the existing 290-acre Ovid Hazen Wells Park. Planners expect to present their recommendations to the county planning board in July, followed by a public hearing in September.
---
Grand Openings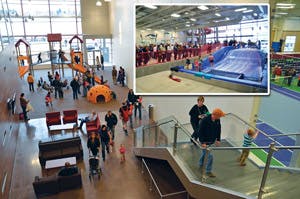 Williston Area Recreation Center (Photos Courtesy of Ty Pritchard, JLG Architects)
The Williston Area Recreation Center held its grand opening this spring in North Dakota. At 236,000 square feet, it's the largest indoor recreation center in the state. Nicknamed "The ARC," partially for a 660-foot wooden wall running through it, the facility houses four basketball courts bounded by a 200-meter track; a field house with synthetic turf to accommodate soccer, football and other athletic activities; four tennis courts; a golf simulator; an indoor playground and event spaces. The $76 million facility also includes an indoor waterpark featuring a lazy river, a waterslide, a whirlpool, an instructional pool and a 50-meter, eight-lane lap pool. Designed by JLG Architects of Williston and Sink Combs Dethlefs of Denver, The ARC also includes 54,000 square feet of fitness space... After complications caused construction to fall 16 months behind schedule, the University of Hawaii at Manoa's Warrior Recreation Center opened last month. The 67,000-square-foot facility offers fitness spaces for cardio, weight training and group exercise, a multipurpose athletic court and an indoor track.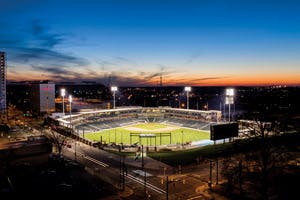 BB&T Ballpark (Photos Courtesy of City Of Maricopa)Designed to meet LEED-silver certification requirements, the $35 million center features photovoltaic panels, green roofs and a solar shading system, among other sustainable elements... The University of Nebraska-Lincoln recreation department's new Outdoor Adventures Center is now open. The center houses new climbing and bouldering walls, as well as an expanded bike shop, challenge courses, outdoor gear rentals and the headquarters for adventure trips, classes and activities. The new climbing and bouldering components offer 3,200 square feet of floor space and range from 36 to 43 feet in vertical climbing height...Minor League Baseball's Charlotte Knights opened the spring season in their new home at BB&T Ballpark.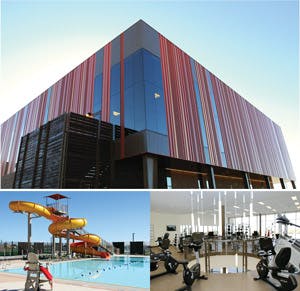 Copper Sky Recreation Complex (Photo Courtesy of ODELL ASSOCIATES)Features of the new $54 million stadium, designed by Odell Associates of Charlotte, include club suites, a skyline view, a rooftop deck and seating for 10,000, with the bowl intentionally depressed below street level to open the stadium for view by passing pedestrians... The Copper Sky Recreation Complex is now open in Maricopa, Ariz. The complex includes the 52,000-square-foot Copper Sky Multigenerational Center, which houses cardio and weight lifting areas, two aerobics studios and two basketball courts; an aquatic facility offering an eight-lane lap pool, a recreational pool and a splash pad; and a 98-acre regional park comprised of a five-acre lake, two playgrounds, eight multipurpose sports fields, a skate plaza, and courts for tennis, volleyball and basketball.