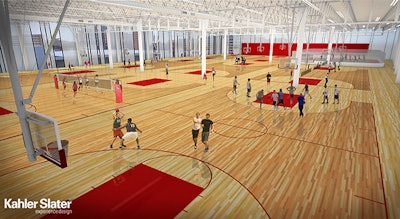 Throughout our project, it has been a priority to engage Wisconsin students in conversations about our new facilities. We have used a variety of strategies, including open forums and electronic surveys, to solicit feedback from students before, during, and after the referendum passed. These tactics have largely been to gather general information in large-group or digital formats, but we also wanted to create an opportunity to have more targeted conversations about specific topics.
Our student employees have the opportunity to join our Student Recreational Leadership Council to offer biweekly insight on a range of topics related to Rec Sports, including issues separate from the Master Plan. We decided to offer a similar format for our members, and so we created the Think Big Member Panel.
Think Big is broken into two separate focus groups, one for students and one for non-students. These groups experience Rec Sports differently in terms of membership structures, access to programs, and costs of participation. Because we are in the design phase of our Master Plan project, many of our discussion topics related to the new facilities.
Recruiting for the Think Big Member Panel was a fairly easy sell once we told our members that they could be some of the first to see concepts for the new facilities. One of the points we emphasized was that these panels are not policy- or decision-making committees, nor are they a forum for members to air grievances against our Division. Rather, we encouraged members to join if they have an interest in sharing ideas and thoughts about current or future facilities, programs, and services. We ultimately recruited nearly 50 total members to participate in Think Big.
The architects for our new facility were equally interested in participant feedback, and we scheduled the focus group discussions to follow each meeting with the architects. We arranged for snacks to be delivered to each meeting and collaborated with our leadership team to determine which topics should be prioritized. We even arranged for our focus groups to meet directly with the architects during one meeting.
Technology allowed us to conduct mobile polling within the meeting. We began several meetings with several topic choices for discussion and allowed our participants to vote on the matters that were most interesting or significant to them. We also used this system to create word clouds with answers to questions such as, "What do you think of when you hear Rec Sports?" Including these types of activities kept each meeting interesting and different from the one before. The last thing we wanted was for our participants to be disengaged or bored in our meetings.
Guiding the discussions has proven to be a great learning experience for our staff. It is important that we ask open-ended questions without leading the group toward a specific viewpoint. It is also critical that we ask follow-up questions as needed. For example, one of our female participants mentioned that she feels intimidated in the weight room. Instead of stopping the conversation there, we asked her what creates that intimidating environment for her. Her answers included the layout, the demographics of other lifters, and the type of equipment available. While this may seem fairly straightforward – and honestly, it's not too difficult to dig for more information – it is important to stay patient and open-minded, to forego our own biases and approach the conversation objectively.
Our Think Big Member Panel provided us with a variety of insights this semester. Some of the most helpful conversations we facilitated led to increased understanding about the following topics:
Overall perception of Rec Sports

Locker style and function

Locker room access and

Running track design and flow

Gym activities and layout

Rebranding concepts
We are looking forward to continuing our discussions with the Think Big participants throughout the summer and into the next school year. As we continue to build trust with our members, we are finding that they are more comfortable speaking to a wider variety of topics. We hope to soon expand the conversations to include issues such as trends in fitness, participation barriers, cost structures, and more.
Hopefully this information can help you think about unique ways to engage your participants. Focus groups can obviously serve a wide range of functions for an organization. We feel our success this semester has been due to the planning we put into each discussion and the structure we provided to our members. Being clear about expectations for the panel as a whole and about the agenda for each meeting kept everyone (including us) on track. Finally, we made a concentrated effort to make our participants feel like they were part of something important.
Even though hosting the panel discussions added another task to our project, it challenged us to see things from a different perspective. And most importantly, it challenged us to think bigger.
Editors' note: In March 2014, students at the University of Wisconsin-Madison approved a $223 million referendum to overhaul the campus recreation facilities, badly in need of improvement. Since then, the recreation program has been busy planning, fundraising, vetting architects and much more. As the project progresses, Alex Peirce, UW-Madison Rec Sports Assistant Director of Marketing and Communications, will be offering an inside look at the process of coordinating such a monumental planning effort.
Alex Peirce joined UW-Madison Rec Sports in 2013 as the Division's first professional marketing staff member. Read more about Alex on the UW Blog Page.