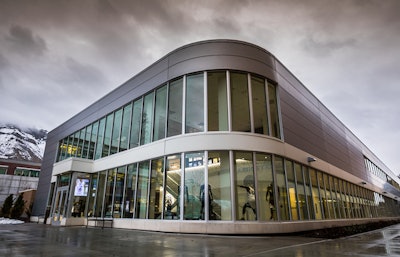 On Tuesday, Bringham University in Provo, Utah, held an open house for its new Marriott Center Annex, a practice facility for the men's and women's basketball teams.
Designed by Rossetti Architects of Detroit, Mich., the Annex broke ground in November of 2015 and has been funded entirely through private donations. The 38,000-square-foot building houses a strength and conditioning center, a team lounge and study area and a training room complete with Cryosauna and hydrotherapy.
In a release, women's basketball head coach Jeff Judkins said, "I'm grateful to the BYU administration and the many donors who have worked together to make this practice facility a reality. It provides world-class resources to further develop our student-athletes and better prepare them to achieve their goals—both athletically and academically."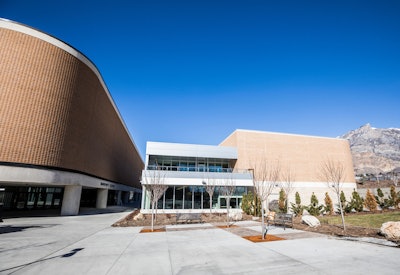 The extra court will be a huge factor in resolving conflicts between the men's and women's team practice schedules, both of which need regular access to the Marriott Center. Men's head coach Dave Rose told Deseret News, "We've had a lot of situations this year where the women's team has been coming home and we've been leaving and we both needed to practice at the same time."
The new facility also allows athletes unlimited access to practice space. Sophomore Eric Mika said, "We can be there as long as we want, whenever we want, all day, every day, six times a week. It's really helpful. I've noticed after practice, a lot more guys stay after and get shots up because you don't feel like anything has to be taken down or that we're rushed to do anything. It's nice to be in our own little world."
Both coaches also expect the Annex to be instrumental in facilitating their recruitment efforts.
BYU director of athletics Tom Holmoe said, "I'm grateful to the university administration and the Board of Trustees who were incredibly supportive in our efforts to build this remarkable facility. I'm so thankful for their commitment to excellence. I'm also appreciative of the many donors and skilled construction workers who made this dream a reality. This is an exciting day for BYU basketball."