It's no secret that rapid advancements in home theater and entertainment technology have made in-home sports viewing more popular than ever. To get fans back into the stadium, venue owners and operators understand they must offer more than a game. They need to deliver a compelling experience.
Audiovisual technologies are behind a variety of new fan experiences now available in and around stadiums and arenas. From shape-defying, high-definition displays and digital content to state-of-the-art projection mapping and augmented reality, audiovisual technologies are becoming central to game-day experiences.
Detroit
When Detroit's Little Caesars Arena opened in September 2017, the first-year home of the NHL's Red Wings and the NBA's Pistons featured floor-to-ceiling visual innovations designed to enhance the fan experience. On the venue floor, operators began to use laser projectors to show compelling imagery and motion video on the court or ice rink.
"We're doing some pretty interesting 3D animations, where it looks like the ice is turning into a wall of ice, or it's cracking, or that there's something under the ice that is powering it," says Pete Skorich, vice president for entertainment services at Olympia Entertainment and the Detroit Red Wings. "We're also having fun with showing images of our team's history on the ice."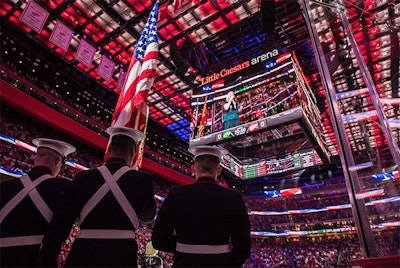 Little Caesars Arena is using a one-of-kind video system comprised of 12 laser projectors to cast images and video on its "jewel skin," a 600-foot metal-panel canvas that runs along the Via, an enclosed, street-level concourse that surrounds the arena with restaurants, concessions areas, a team store and other amenities. This unique feature has a massive impact with fans, and the venue may just be scratching the surface of its potential.
"I don't want to say we're just figuring out how to work with it, but we've had a year to play with it and now our motion graphic artists are becoming a little bit more daring," Skorich says.
Minnesota
The NFL's Minnesota Vikings moved into the new $1.1 billion U.S. Bank Stadium at the start of the 2016 NFL season and felt as though they were playing catch-up in the evolution of AV in sports venues. Their old home at the Metrodome featured what the team's vice president of content and production Bryan Harper referred to as "postage stamp-sized" display boards. They've upped the ante quite a bit since.
U.S. Bank Stadium has a 68-foot-high by 120-foot-wide video board in the west end zone and a 51-foot-high by 88-foot-wide board in the east end zone. The screens are hung as low as possible to provide a more engaging experience for fans.
"By positioning expansive video boards in low-proximity locations surrounding the seating bowl, fans feel like they're in the middle of the action as live game video, highlights and replays are displayed," Harper says. "We invested in both high-pixel-quality video boards and camera production equipment to produce a completely unique and immersive game-day experience that our fans can only enjoy in the venue."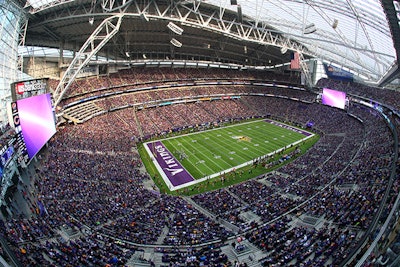 Atlanta
When baseball's Atlanta Braves were looking for a new home after 20 years at Turner Field, they wanted a stadium environment that gave fans a reason to come early and stay late. With SunTrust Park, the organization feels like it has exceeded its goal. The Braves built much more than a stadium 10 miles northwest of Atlanta — the team established an entertainment complex called The Battery Atlanta, with a series of AV systems playing an integral role.
"It's got a vibe like a theme park. Literally, what we've done is we've built a neighborhood and put a stadium in it," says Scott Cunningham, vice president of fan experience for the organization. "It's unlike any other place I've seen. It's revolutionizing the sports industry in how new stadiums are being planned and built."
Various audiovisual technologies in and around the stadium have become part of the team's strategy to make the complex a destination. The Braves have installed about 32 LED scoreboards throughout the park, the largest being a 122-by-64-foot, 16mm-pixel scoreboard in center field. The location of the board is a strategic decision by the team to make it easy for fans to get the information they want.
The park also features a 90-by-30-foot scoreboard in left-center field and LED displays above each bullpen in right-center field. An 830-foot LED ribbon spans the seating bowl from the left field foul pole to the right field foul pole, and a massive baseball with a curved LED screen wrapped around it sits just outside the stadium. The team's staff operates all the LED displays from a central control room.
Notre Dame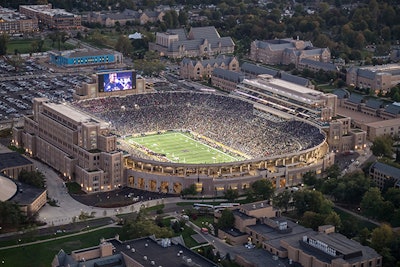 The transformative impact of audiovisual technology on the modern fan experience isn't restricted to professional teams. In fact, it is rapidly becoming a central part of the fan-engagement strategy at colleges and universities that rely on sold-out stadiums and arenas to help boost revenue. The University of Notre Dame, home of the Fighting Irish, is a case-in-point.
A $400 million stadium-wide renovation completed in 2017 included a 96-by-54-foot video screen, ribbon video boards, enhanced Wi-Fi networking and state-of-the-art control rooms and studio spaces. Notre Dame is now utilizing its football games to tell an institutional story that goes beyond football. The university launched Fighting Irish Digital Media to create content for its AV systems, and that later became Fighting Irish Media as the school rolled print and other operations into the unit. In addition to showing action on the field, the university uses the stadium's board to present content such as scholarship promotions, pregame prayers and announcements of the weekly mass schedule.
Rob Kelly, senior associate athletic director for media and brand, explained that the new AV capabilities in the stadium have become popular with fans. "After every game, we do a game survey. We ask about the satisfaction levels around various components of the game-day experience," he said. "This past season, the video board has been one of the top-three highest-satisfaction-level components of the game. It's been tremendously well received."
AV in sports venues has evolved into something of an arms race. With each new stadium construction project or renovation, the bar is raised higher. As competition heats up to get fans off the couch and into stadium seats, the fan experience becomes more engaging. Sports venues, leagues and teams are recognizing the opportunity to design that experience around state-of-the-art audiovisual and digital technologies.
Brad Grimes is Senior Director of Communications for AVIXA™, the Audiovisual and Integrated Experience Association.